USA at the ITTF Hopes in Jordan: Three in Top Eight!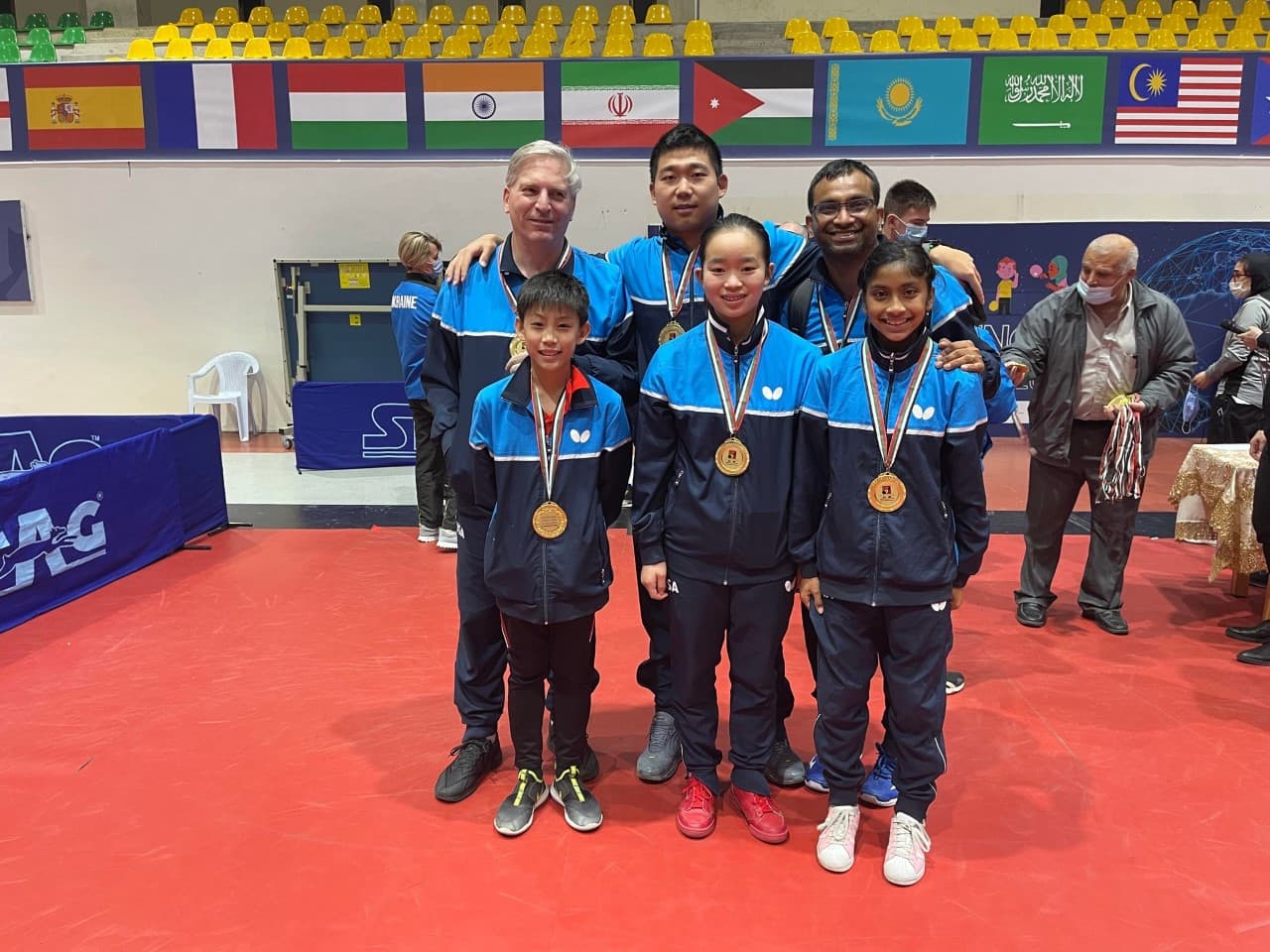 Front: Ryan Lin, Mandy Yu, Tashiya Piyadasa; Back: Larry Hodges, Wei Qi, Thilina Piyadasa. Photo taken in Amman, Jordan December, 2021.
Three USA Hopes players not only had a great time at the ITTF's World Hopes Camp and Tournament in Amman, Jordan, Dec. 8-14, but they learned a lot, improved a lot . . . and had great results! The three were Ryan Lin (12), Mandy Yu (12), and Tashiya Piyadasa (11). The event was for the best players in the world under age 12 as of Jan. 1, 2021. A great thanks for this fantastic event go to the ITTF, their coaches and staff (see below), USATT, and USATT's Sean O'Neill and Jasna Rather, who helped organize the trip. A great thanks also goes to the Jordan Table Tennis Association. Here is the ITTF article on it, and the final standings.
The ITTF Hopes program is a worldwide series of camps and tournaments. The three USA players qualified for their spots at the regional Hopes Camp and Tournament held in Cuenca, Ecuador in October, where Ryan finished second in the boys' division, and Mandy and Tashiya came in first and third in the girls'. Each player brings a coach with them. I coached Ryan, Wei Qi coached Mandy, and Tashiya's father, Thilina, coached her. All three coaches are professional coaches.
Others qualified in other regional events around the world, though Asia was under-represented. But there were a number of Asian players, and most of the best players from Europe, Africa, and the Americas were there. In all, there were players from 23 countries: USA (including Puerto Rico), Colombia, Dominican Republic, Ecuador, Romania, Hungary, Czechia, Ukraine, Spain, France, Kazakhstan, India, Iran, Egypt, Saudi Arabia, Syria, Jordan, Tunisia, Sri Lanka, Thailand, Singapore,and Malaysia attended. (Players from England, Germany, Russia, Belgium, and Australia were also entered, but for various reasons - mostly Covid - were unable to attend. Two boys from Qatar joined the training.)
Eva Jeler (AUS) was the head coach for the boys, and Zoltan Batorfi (HUN) for the girls. They were assisted by Matilda Ekholme (SWE), Pacinthe Osman (EGY), Ahmed Al-Mohannadi (QAT), ITTF High Performance Elite Coach (and former ICC coach in the US) Massimo Costantini and ITTF High Performance Manager Dominique Plattner. They did an excellent job throughout, with just the right balance of fun and sternness. I had many discussions about Ryan's game with the coaches, especially with Eva and Dominique. Eva had many pearls of wisdom, such as her "Mount Everest" lecture to the boys on how improving in table tennis is like climbing a mountain - you have to keep going if you want to reach the top. Some of the things stressed were footwork, attacking and covering the middle, proper warm-ups, and much more. Here's video (64 sec) of the camp, with the girls training while the boys meet around the table as Eva (in green and yellow) demonstrates the next drill.
The camp was five and a half days, with two three-hour sessions per day. The sessions included lots and Lots and LOTS of drills and physical training. Some of the drills were rather complex, such as a nine-shot sequence drill (18 shots total), but the kids picked up on them rather quickly. As Eva said, "At this level, they should be able to handle them." They did the standard footwork drills, such as the famous three-shot Falkenburg drill (backhand from backhand side, forehand from backhand side, forehand from forehand side, and repeat), but they would start with a backspin serve, a long push, a loop, and then the Falkenburg part of the drill would commence. We also did a lot of multiball, with the coaches and players pairing up, two players and two coaches to a table, and taking turns.
The playing hall had twenty tables in two rows of ten, with the boys training on one side, the girls on the other. I was always on the boys' side with Ryan. Often the sessions would end with up-down tables, where they'd play games for a certain amount of time, and then an ITTF coach would yell, "Stop!", and whoever led moved up, whoever was behind moved down. After a few days of this, it became clear the rough level of play of the players. Of the 16 boys, 13 of them ranged in level from about 2100 to 2300, with nine or ten at least 2200.
But before we could take part in the camp, we had to get there!!! Because of the Covid pandemic, parents were not allowed inside the "bubble" - only players and coaches - and so Ryan's and Mandy's parents didn't go, and so the coaches were tasked with both coaching and supervising. Because Wei Qi was coaching at the World Youth Championships in Portugal, he didn't arrive until the third day. So, Ryan and I flew from National Airport in DC to Chicago so I could be Mandy's chaperone. From there, we flew 11.5 hours directly to Amman.Ryan did a lot of homework on the way, and we filled the rest of the time with brain teasers and "Elephant in Refrigerator" stories (which get hilariously long and elaborate), and of course sleep.
Even before going to the camp, the coaches were busy. The roughly 35 coaches at the camp were all required to take an online three-week course (about ten hours work total), which included three final exams. (The USA coaches all passed with flying colors.) The coaches also had nightly sessions that lasted over an hour, which included three seminars. Practice & Match Habits: Basic Tactical Skills (by Zoltan Batorfi); "Theories Behind Table Tennis(by Omar Zaineddin); and "Table Tennis Exercises According to Different Aims of the Practice" (by Eva Jeler).
It was my first time in Jordan. Surprisingly, much of it looked little different than the US, other than the Arabic signs (though many had English) and the occasional camel (I saw seven during the trip, all one at a time). The ride from the airport to the hotel was an experience. First, the drivers often ignored the lines between the lanes. Cars would often drive midway between two lanes, straddling two lanes. Much of the way was on a three-lane highway, but often there were four lines of cars. Most striking was the honking - not only do they honk horns far more often, but there's a cultural thing the driver explained to me where, when one car honks, others join in, leading to a symphony of honking - or as I called it, "Jordan music."
We stayed at the Amman Rotana Hotel, which I was told was both the nicest and tallest (50 stories) hotel in the city. Both the coaches and players agreed - the food was excellent!!! The playing site was Princess Sumaya Hallin the Amman's King Hussein Sports Centre.
There were many precautions against Covid. Anyone not actively playing, eating, or drinking had to wear a mask at the playing hall and hotel. I'm fully vaccinated (including the booster shot), but was tested four times in all, while unvaccinated people had five, plus another one required when they returned to the US. Originally there were 20 boys and 20 girls in the camp and tournament, but several tested positive for Covid in advance and had to drop out, and we ended up with 16 boys and 18 girls. (Regionalplayers came in during the camp to replace some of the missing players, but they couldn't play in the tournament.)
However, Covid wasn't the only health problem. Tashiya came down sick with food poisoning on the third day, throwing up and unable to eat much of anything, and had to go to the hospital. She was sick the next few days, missing several sessions. She had not yet recovered when the tournament began. And yet, despite her weakened condition, she did very well - more on that below. One day after her, I came down with the same thing, though not as severe, and for the last three days I had a queasy stomach and had to watch what I ate - lots of toast and rice. (There was a doctor at the playing hall at all times, and he gave us both medicine.) I also pulled the Achilles tendon in my right foot on the first day while demonstrating a footwork technique for Ryan and had to wear running shoes for most of the rest of the trip, with their extra cushioning, which for a time threw off my multiball feeding. But I was still able to hit with him at various times, including some sessions of the camp where the coaches worked one-on-one with their players.
Adjusting to the different time zone was also a problem. Amman is seven hours ahead of Eastern time, and ten hours ahead of Pacific time. So when they had their first practice session on Day One from 9AM to noon, for Ryan (Maryland), it was essentially 2-5AM, for Mandy (Minnesota) it was 1-4 AM, and for Tashiya (California) it was 11PM to 2AM!
I've always adjusted rather easily to time zone changes and was literally on Amman time within a day. For others, it wasn't so easy. The first morning, when Ryan didn't answer texts, I called his room three times, letting it ring over ten times each time, no answer. Then I went up to his room and pounded on the door for five minutes, still no answer. I ran down to the breakfast area to see if he was there, but he wasn't. I told two of the ITTF coaches, and we fanned out to see if he could be somewhere else in the building. I went up one last time, but as I approached, he called me, still half asleep. He'd slept through his alarm, my phone calls, and my door-pounding! The next day was worse - once again he slept through his alarm; three phone calls; and a door-pounding where I hurt my fist and began kicking at the door. I finally went to the front desk and explained the problem. They called the room, still no answer. They sent two security people up with me, and after giving the door another pounding (no answer), they opened the door and we all entered. Ryan was there, sound asleep. Fortunately, after that he adjusted and woke up to his alarm clock the rest of the trip. (He gave me permission to tell the story.)
I have many notes on things Ryan needs to work on, as do the other coaches on their players. It's not all about weaknesses that need to improve; it's also strengths that can get stronger. For example, Ryan is quicker than most players, so it's important that he mostly stay close to the table or he loses that advantage. So, we spent time at the camp working on footwork to make sure he follows through back into position so he's ready to continue his attacks without backing up. I'll be going over my notes with the other coaches he works with.
It wasn't all work and no play. We all had one afternoon off where they organized a trip to the Dead Sea, which is both the saltiest lake in the world (nine times the saltiness of the ocean) and the lowest land-based elevation at 1400 feet below sea level. There is no life in it - no fish, plants, not even microbes. Many of us tasted the water, and the saltiness is intense! Because of the saltiness, not only can anyone float in the water easily, but they practically bob up and down like a cork. A number of players and coaches went out in it, but among the American six, only Ryan Lin had the courage to jump in - here's video (19 sec by Wei Qi). I took my shoes and socks off and waded up to my ankles. Afterwards we raided a gift shop for souvenirs - I bought Dead Sea and Ammon, Jordon magnets. A number of us took home souvenir "salt rocks," and Wei Qi gathered a bottle of water from the Dead Sea. (He was unable to take it through customs, so we put it in my bag, which I checked in, so it's now sitting on my desk at home.) One side effect - Ryan came down with a rash on his arms and legs from the salt, apparently from dry skin, and spent two days of training with itchy skin. Eva gave him a lotion that greatly helped.
Finally, it was time for the tournament, which started the afternoon of Day Six and continued all day on Day Seven. Seeding was based on the ITTF coaches estimates, along with world rankings for a few of the non-USA kids. Ryan was seeded 9th out of the 16, which seemed in the ballpark. But Mandy and Tashiya were seeded 12th and 13th out of 18, which did not seem accurate to me. So none of the USA players were seeded to make the quarterfinals. Talk about a challenge!
The format was two groups of eight for the boys, two groups of nine for the girls, with the top four advancing to the quarterfinal playoffs, and the rest to playoffs for 9-16 or 9-18. And sure enough, the USA girls' duo both reached the quarterfinals. After a series of playoffs, Mandy finished sixth, Tashiya eighth. Tashiya might have done even better but she had to play Hansini Mathan Rajan of India in the quarterfinals, the eventual winner.
On the boys' side, Ryan played sloppy on the first day, going 2-2, losing one match badly to a 2250 Czech player that should have been close. He also didn't have his "A" game when he played the top seed, a 2300+ lefty Romanian. At this point I was worried about his play. However, on Day Two he brought his "A" game, with three wins against 2200+ players, including the #3 seed from India. After the playoffs were done he came in seventh. (He could have done better, as he lost in the RR to a 2200+ Egyptian player, 11-9 in the fifth after a series of net balls, including one at 9-all in the fifth - he'd later beat this player 3-1 in the playoff for 7-8. Like Mandy, he also had to play the eventual winner in the quarterfinals, the lefty Iranian serving specialist Komeil NiknejadDivshali from Iran.) So the USA players, seeded 12th, 9th, and 13th, came in 6th, 7th, and 8th.
However, there was something more important than making the quarterfinals - that was making the ITTF Hopes Squad, which would be ten players selected by the ITTF coaches to take part in various international camps and tournaments. The selections will be based on the tournament results (35%), and other numerical evaluations with varying degrees of value for Anticipation (positioning and reactions), Kinesthetic (body positioning, balance, control of movement, etc.), technical, serve & receive, speed, training, and competition skills. All the coaches were asked to do their own evaluations of the other players in their group - I did mine for all fifteen other players - but only the ITTF coaches' evaluations would count. They will announce the squad sometime around Dec. 21 or so. Based on their tournament results and how hard they trained all week, I have high hopes that all three will make it.
But training and competition wasn't the only thing for the kids in Jordan. They not only trained with players from all over the world but made friends with the very players they will likely be battling with over the next decade or more as friendly rivals. A French girl, Nina Guo Zheng, joined Mandy and Tashiya as an almost inseparable trio for much of the camp. Ryan spent much of his free time (when he wasn't joshing with the girls) with kids from Columbia, Puerto Rico, Hungary, Malaysia, and others. And I got to know many of the other coaches.
Then it was time to fly home - this time 13 hours to Chicago (because of wind patterns, I'm told), and then two hours to Maryland - and then, one day later, I flew out to coach at the US Open in Las Vegas, where I'm writing this in my hotel - already acclimated to the ten-hour time zone difference!