Jenson Emburgh in Prime Position to Earn Class 3 Gold Medal at the 2020 Paralympics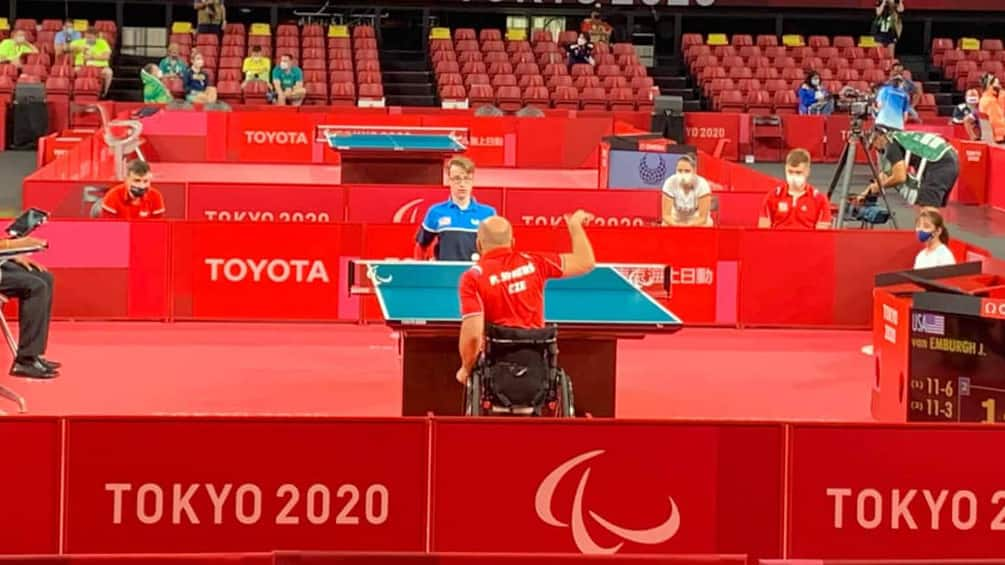 Jenson Emburgh has readied his pursuit of a gold medal in Men's Singles Para Wheelchair Class 3 at the Tokyo 2020 Paralympic Games. Emburgh, ITTF Para Table Tennis World Rank (10) of Bellair, FL, is in the hunt to reach the gold medal match tonight for Team USA.
The winning streak for Emburgh began in his second Class 3 group stage match with a 3-0 win over CZE Petr Svatos (26). The impressive performance landed Emburgh in the Class 3 Round of 16, where he overcame GER Thomas Bruechle (4) 3-2 in five games. A match that came down to the wire with long rallies topping out at a 30-stroke rally in game four.
Emburgh outplayed in Svatos and Bruechle in all Player Statistics Categories including Points Won, Biggest Lead, Points Won/Lost on Own Serve, Most Consecutive Points Won, and Greatest Deficits Overcome.
In the Quarterfinals Round, Emburgh (10) dictated the entire match versus RPC Vladimir Toporkov (15) with a 3-0 victory in just over 20 minutes to secure a spot in the Class 3 Semifinals.
The Class 3 Semifinal match between Jenson Emburgh (10) and CHN Panfeng Feng (1) is tonight at 9:20 p.m. EST, 6:20 p.m. PST. Beating the World Rank number (1) would solidify an opportunity for Emburgh to compete for a gold medal.
Stream the Semifinal match through NBCOlympics.com, on Peacock, and through the NBC Sports app. Find a full schedule of events available at NBC Olympics.