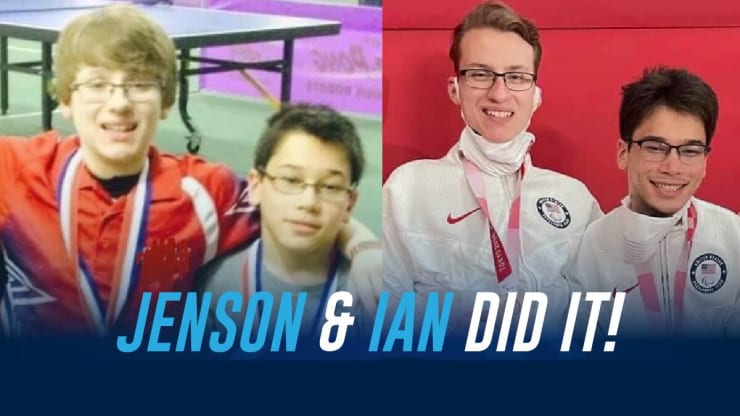 USATT Designates Nine US Table Tennis Training Facilities for Free Group Para Coaching Sessions
​
(Colorado Springs, CO – October 19, 2021) – USA Table Tennis, in conjunction with the United States Olympic and Paralympic Committee, today announced the launch of a brand-new Table Tennis Para Athlete Development Program throughout the United States. Under the new program, nine facilities in various geographic regions in the US will offer free group coaching sessions over a span of seven weeks with the goal to recruit and train para athletes at all stages of development in their table tennis experience.
"We're extremely excited about this new program," said Jasna Rather, the USATT Para High Performance Director. "Obviously, we had tremendous success in table tennis at the recently completed Tokyo Paralympics. Those types of results begin with the introduction of the sport of table tennis to para athletes in a supportive environment that instills a dedication to training and a desire for competition – and, really, inspires a love for the game – under the guidance of proper coaching. We're hopeful that this new program will motivate a number of new participants in our sport, which has so many physical and mental benefits for all, and maybe even lead to the discovery of a couple of future Paralympians!"
The nine facilities hosting the Para Development Program are:
Samson Dubina Table Tennis Academy – Akron, OH

Austin Table Tennis Club – Austin, TX

Morningside Recreation Center – Clearwater, FL

Ross Norton Recreation Center – Clearwater, FL

Maryland Table Tennis Center (MDTTC) – Gaithersburg, MD

Gilbert Table Tennis Center – Los Angeles, CA

Paddle Palace Club – Portland, OR

San Antonio Table Tennis Club – San Antonio, TX

Table Tennis Minnesota – South St. Paul, MN
Atlanta Georgia Table Tennis Association - Atlanta, GA
Persons interested in participating in the USATT Para Developmental Program should contact the above-noted table tennis clubs directly for more information, including dates and times. Further information about the USATT Para Development Program can also be obtained by contacting Jasna Rather: jasna@usatt.org.
The US Paralympic Table Tennis Team had unprecedented success in the recently completed Games in Tokyo. Ian Seidenfeld and Jenson Van Emburgh, who started playing table tennis at about the same time as young athletes and have been training and competing for years, experienced international breakthrough success in Tokyo with Seidenfeld winning the Gold Medal in the Men's Singles Class Six and Van Emburgh taking the Bronze in the Men's Singles Class Three. Six-time Paralympian Tahl Leibovitz just missed the medal round in the Men's Singles Class Nine, and Michael Godfrey had success in the Group Stages for Men's Singles Class One in his first Paralympic experience.