International Talents Visit LYTTC for an Exciting Amergy Cup Table Tennis Championship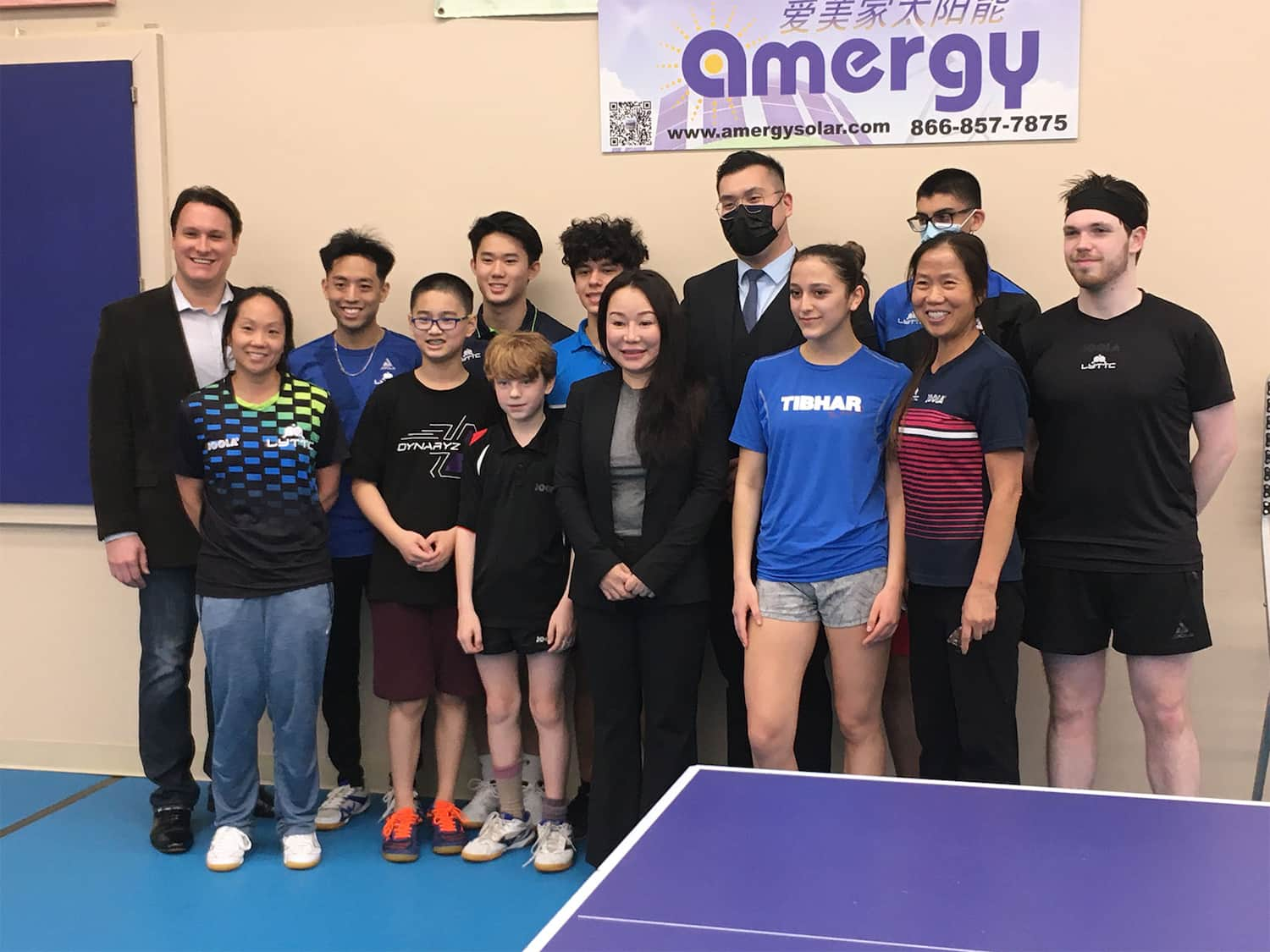 From left to right; Mayor Jason Cilento, Judy Hugh, Joaquin Kanashiro, Marcus Yao, Max Mouchinski, Jayden Zhou, Darius Fahimi; sponsors Angela and Tony; Daria, Lily Yip, Sushant Labaka, and Alex Averin. Lily Yip TTC Amergy CupFebruary 2022, Dunellen, NJ.
Lily Yip Table Tennis Center hosted The Amergy Cup Tournament championship on a snowy Super Bowl Sunday. There were seven (7) levels of competition and more than 100 national and international passionate participants. There were athletes from Boston, Philadelphia, and New York as well as two world-class players from Nigeria with ratings of over 2600. In the most highly competitive event, Oljide Omotayo of Nigeria defeated Aditya Sareen 3:2 in the semi-final and the exciting match entered deuce in the fifth game. Ojo Onaolapo beat Darius Fahimi in another semi-final 3:0 with very close and intense play. In the under 2200 event first place went to Bradley Robbins. The second-place winner was 14-year-old Daria Fahimi, who after many previous defeats finally figured out how to beat her experienced nemesis, Richard Dewitt, in the semi-finals. Prajeet Kanchi lost to Bradley in a very close match 2:3.
The following are the results of all the categories in the tournament:
Under 1900: 1st - David Katz, 2nd - Kang Chongsheng, 3rd - Ali Ammar and Zhu Hongxuan.
Under 1700: 1st - Marcin Motyka, 2nd - Chris Timasonravichki, 3rd - Kevin Doyle and Austin Chen.
Under 1600: 1st - Marcin Motyka, 2nd - Hammad Malik, 3rd - Srinath Nandyala and Bob Leming.
Under 1000: 1st - Ishan Rangdal, 2nd - Johnathan Prince, 3rd - Fan Huafeng and Roberto Bentjerodt.
Under 800: 1st - Gantcho Radoslavov, 2nd - Daniel Radoslavov, 3rd - Sai Senthilkumar and Evan Wu.
Tournament director and head coach Judy Hugh thanked tournament sponsor Amergy Solar Panel Company for their support. Township Mayor Jason Cilento took time out from his busy schedule to visit and chat with our sponsor, the US youth team members, Youth Pan Am Games Bronze Medalists Jayden Zhou, Darius Fahimi, and US Open under 19 men's single champion Aditya Sareen. He congratulated them for their outstanding performances in last year's international competition. In his address, Mayor Jason Also mentioned Sydney McLaughlin, a Dunellen resident who won 2 Gold Medals in Track & Field at the last Summer Olympics Games to encourage our junior members to strive for the coming 2024 Olympic Games. Former Olympian and US Olympic team coach Lily Yip was there to thank everybody for participating in such a wonderful event… She continues to be an expert coach who inspires players to become future champions… Also in attendance and making extraordinary contributions to the success of the event were primary coaches Cory Eider, Joaquin Kanashiro, and Alec Averin.
Amergy Cup Table Tennis Championship Winners - February
2022