News
Ping Pong Diplomacy Event Visits Bay Area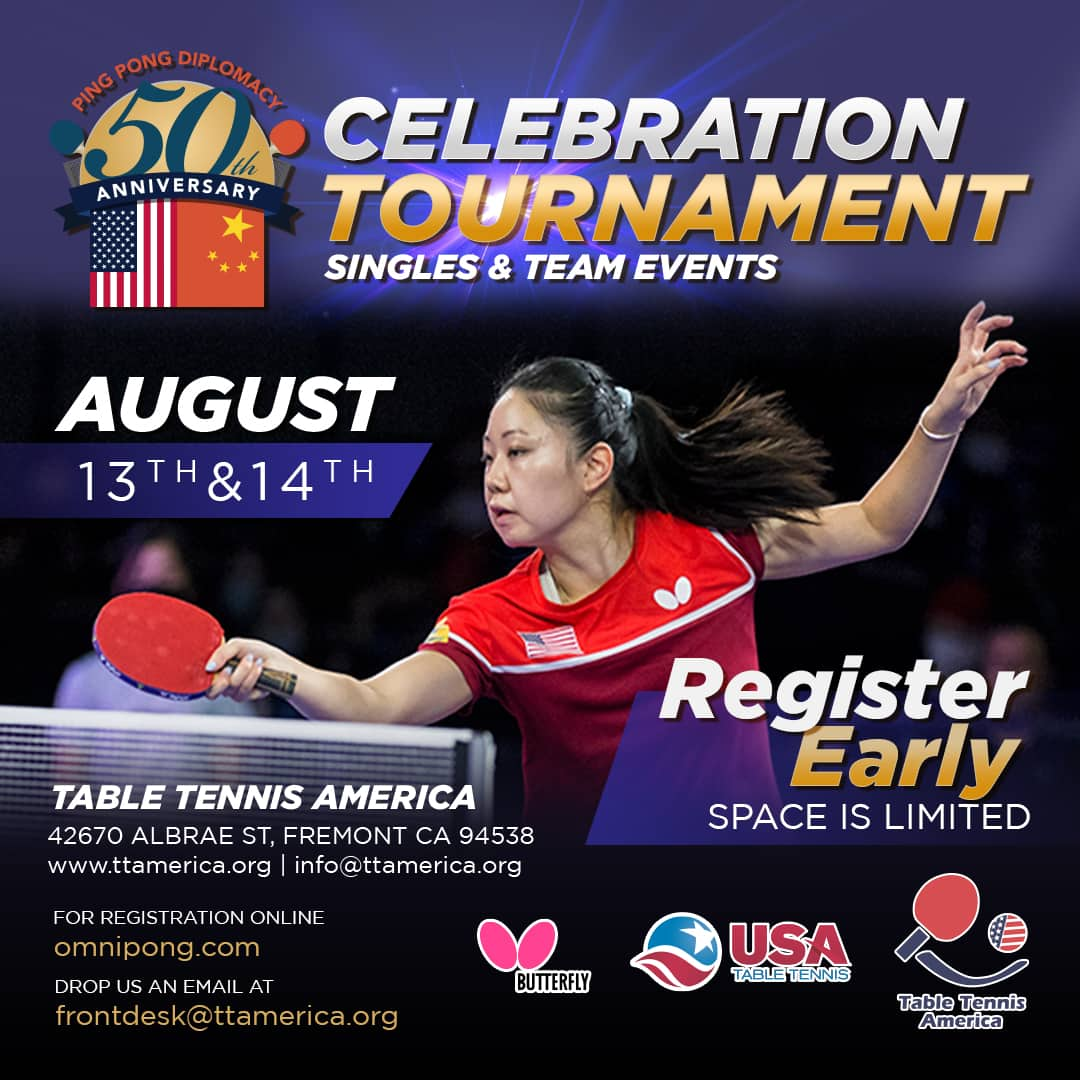 Dear USATT Member:
USA Table Tennis is pleased to invite you to a gala dinner to commemorate the 50th anniversary of Ping Pong Diplomacy. The historic visit by US table tennis players to China in 1971 and Chinese table tennis players to the US in 1972 helped to open the door for President Richard Nixon's subsequent visit to China. The anniversary of Ping Pong Diplomacy provides us with an opportunity to celebrate international friendship and sportsmanship.
The dinner will be hosted by USATT, the San Francisco Chamber of Commerce, the AAMA Silicon Valley, and the Northern California Chinese Culture Athletic Federation.
The dinner will take place at the Grand Dynasty Seafood Restaurant in Cupertino, California, on August 14 2022. A reception will start at 5:30, the ceremonial part of the program will start at 6:00, and dinner will begin around 6:45, ending at 8:30.
Joining us will be the new Consul General of China Zhao Jian Ming, along with representatives from the US Olympic Committee, the National Committee on US China Relations, and the host organizations. Congressional, state and local community leaders will also be attending. Other guests will include players who made the historic exchange of visits in 1971 and 1972. Exhibition matches will be played by members of the 2020 US Olympic Team and the USATT Hall of Fame
USATT and the China Consul General have hosted Ping Pong Diplomacy dinners in Houston and Los Angeles. Additional dinners are planned this summer for New York, Chicago and Washington D.C.
The dinner will be preceded by a three day tournament August 12-14. We hope to include teams from Bay Area table tennis clubs, as well as teams from Bay Area companies. If your club or company is interested in entering a team to play in the tournament, you can register at www.omnipong.com.. Tournament awards will be presented at the dinner.
Dinner sponsorships opportunities are as follows:
Platinum sponsor (2) $8,888
Gold sponsor (5) – $5,888
Silver sponsor (20) - $1,888
Individual dinner tickets are also available to USATT members.
Please RSVP to Virginia.Sung@usatt.org
We very much hope that you will be able to join us and look forward to hearing from you soon.
Sincerely,

Virginia Sung
CEO
USA Table Tennis

Richard Char
Chair of the Board
USA Table Tennis