My Texas Table Tennis Road Trip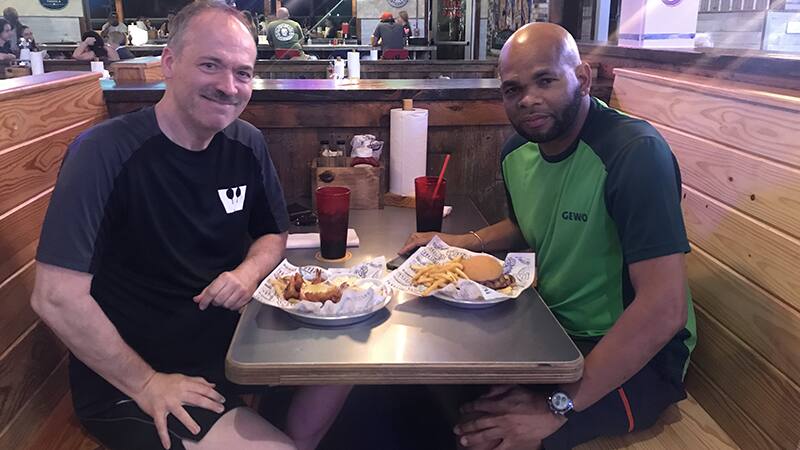 Will Shortz and Robert Roberts at Willie's Grill and Icehouse in San Antonio after a day of play at the San Antonio TTC.
Earlier this month my friend Robert Roberts and I went on an eight-day road trip around Texas, in a rental car, playing at table tennis clubs all over the state. Texas is home to a big, vibrant table tennis scene, and we'd never traveled there before, making it a natural locale for one of our trips.
Robert and I started doing table tennis road trips in 2008. We'd been friends for about two years, after he came to New York from Barbados, and I'd become his de facto driver, as he didn't have a car. He wanted to go to Toronto. I said I'd take him if we could make a table tennis road trip out of it. Somehow we managed to play at 10 clubs over seven days and had such a blast that we've been doing trips like this ever since.
Past trips have included the Northeast, the Midwest, the South, Alaska (all five table tennis clubs that we could find), and Hawaii. Once we went island-hopping through the Caribbean, playing at a club on a different island every day. Most memorably, in 2011 we flew from New York to San Diego, played at Stellan Bengtsson's club, and drove 3,500 miles home in a rental car, playing everywhere we went.
Of our eight days in Texas, here are some highlights:
Day 1
• Houston International Table Tennis Academy
Manny Velazquez runs this excellent club, which has 16 tables and is designed for training. When Robert and I arrived, summer camp was in operation. Every table was full with kids and coaches, with the younger students on the front tables and the older, more advanced ones in the back. Not wanting to disturb things, we drove to the …
• Texas Table Tennis Center
… also in Houston. The members are mostly Vietnamese, but all players are welcome. Nine tables. Excellent lighting. Robert gave me training for about 90 minutes.
Next we returned to the HITTA and played for another hour. Afterward we took Manny to dinner at a fine Chinese restaurant next door.
Day 2
• San Antonio Table Tennis Club
San Antonio is about three hours from Houston. When we visited, the club there had just moved to a new location, so they were still settling in. It's in a warehouse-like facility with a high ceiling. 11 tables. Lots of good players. Lighting not so good, honestly, but that will soon be fixed. We saw our old friends Vlad Farcas (manager) and Ojo Onaolapo (coach).
I had a good win, 3-2, against a player with pips — pips usually being my downfall. Robert, who's rated around 2500, was the center of interest. He graciously took on all comers.
Afterward we had dinner at Willie's Grill and Icehouse, a place along the I-35 route north to Austin that we happened to light upon. Good food and a great atmosphere. We'd definitely go back.
Day 3
• Austin Table Tennis Club
This has to be one of the best table tennis facilities in the country. 15-16 tables in a high-ceilinged sports bubble facility. Good lighting. The tables and flooring give true bounce. The manager, Shahin Akhlaghpasand, let us in early, and we spent all afternoon there.
• South Austin Pong Club
At 5 pm we left for this amateur club about 40 minutes away. It plays in the corner of an indoor soccer facility three times a week. Seven tables. Unfortunately, the place is not air-conditioned, and on the day we visited it was in the mid-90s. Friendly group. Very soon, though, after several matches with members, we were drenched in sweat and left.
Later we enjoyed a BBQ dinner at the home of Chase Womack, of the Austin TTC, along with Shahin and his family. (If there's one thing we learned from this trip, it's that Texas loves its BBQ!)
Day 4
• Waco Table Tennis Club
Waco is 90 minutes north of Austin, and it has an interesting club. It's run by Jim Henry and plays weekdays from 3:30 to 7:00 pm in the basement of a church facility. Seven tables. Good lighting. Mainly older players. Not air-conditioned, but the basement was relatively cool when we were there. Robert and I took on all comers. I went 3-2. Robert, of course, didn't lose any games. Very enjoyable.
Day 5
• TopSpin Table Tennis Club (Amarillo)
Amarillo is 6-1/2 hours from Waco, and on Saturday, when we were there, the club opens at 10 am. Dauntlessly, driving into the night through a storm, we arrived in time for the start. The club is located in a small warehouse on a two-lane country road about 20 minutes SSE of downtown. When we were getting close to the address, I was sure that the GPS had messed up. All we saw was farmland with scattered houses.
But, no, we were at the right place. Entering the club, we were greeted by the owner/manager, Patrick Pitre. He arranged an informal tournament in our honor, with two round robin groups of six, and two players coming out of each group for single-elimination playoffs. The skill levels ranged from under 1000 to 1900-2000. I went 2-3. I had trouble dealing with the club's all-white walls and barriers while playing with white balls — although, of course, everyone had the same handicap. Not surprisingly, Robert went undefeated and won the tournament.
We had a great time and would have stayed longer, except …
• Dallas Table Tennis Club (Carrollton)
… we had arranged to play in the evening at this club, which was five hours away. Again, a long drive, but fortunately the club was open until 11 pm, so we had no trouble. It's owned by coach Kil Soo Kim. Located in a Korean shopping center. Nine tables. Lots of good players. Mr. Kim wasn't around, but Scott Ryan, an umpire who's been to our club in New York, was present and made us feel at home. The club was packed. Robert and I grabbed the one open table and played for 45 minutes.
Day 6
• North Texas Table Tennis Club (Plano)
Sunday was our busiest day, as we raced to cram in three more clubs in the Dallas/Fort Worth area in the course of five hours. First up was the North Texas TTC, run by Shuai Wang, in Plano. Shuai was away umpiring a tournament in Houston when we were in town, but he kindly arranged for us to play at his place. It's primarily a facility for kids' training. Robert and I hit for a short while.
• Dallas Fort Worth Table Tennis (Richardson)
The Dallas Fort Worth TT club is run by Donna Chen and has sessions seven days a week at five different recreation centers. The day we were there the club played in Richardson, between Plano and Dallas. 10 well-spaced-out tables. High ceiling. Good light. Lots of good players. Sunlight from large windows was a little distracting, but no one seemed to mind, as the room was full, with people waiting to play. Donna kept things moving, ushering players on and off tables. I went 1-1. Robert, of course, didn't lose a game.
• Grapevine Ping Pong Club
Our last club for the day was in the city of Grapevine, located midway between Dallas and Fort Worth, near the airport. The club is managed by Owen Li and plays at different places on different days. The day we were there they played at the The Rec, a gorgeous (and huge) municipal facility that offers about every recreational activity you can think of, including an indoor water park. Eight tables in the gym. High ceiling. A little chaotic, with few barriers and balls bouncing everywhere, but we still enjoyed ourselves.
In the evening we drove three-and-a-half hours back to Houston.
Day 7
• Korean Table Tennis Club (Houston)
Just one club this day — the Korean TTC, owned by Young Sik Kim. It was officially closed for the day, but Mr. Kim opened for Robert and me and even came to play with us. Five tables. Ingeniously, devices have been placed under the tables to prevent balls from getting stuck. We played for over an hour. Another good time.
Day 8
• Houston International Table Tennis Academy (return visit)
We went back to the HITTA once more. This was lucky. My flight to New York was due to leave at 6 pm, and no club in Houston was open early in the day. I would have had to miss a day of play, which I can't do! Happily, Manny Velazquez texted Robert the code for the front door so we could get in, and I got 45 minutes of training.
---
In sum, over the eight days, Robert and I played at 12 different clubs. We didn't make it to Texas Wesleyan, whose club was temporarily closed; El Paso, in the far west part of the state, which was too far away; Corpus Christi, whose club plays only once a week for two hours, and we weren't near there that day; and any other Texas clubs we didn't know about.
I came home with a new admiration for Texas, improved table tennis skills, a few extra pounds from all the BBQ, a bunch of new friends, and several new ideas for my home club in New York.
For anyone else who might be inspired to try a table tennis road trip, I recommend it!
Westchester Table Tennis Center