Ping Pong Diplomacy Shines Through 2021 World Table Tennis Championships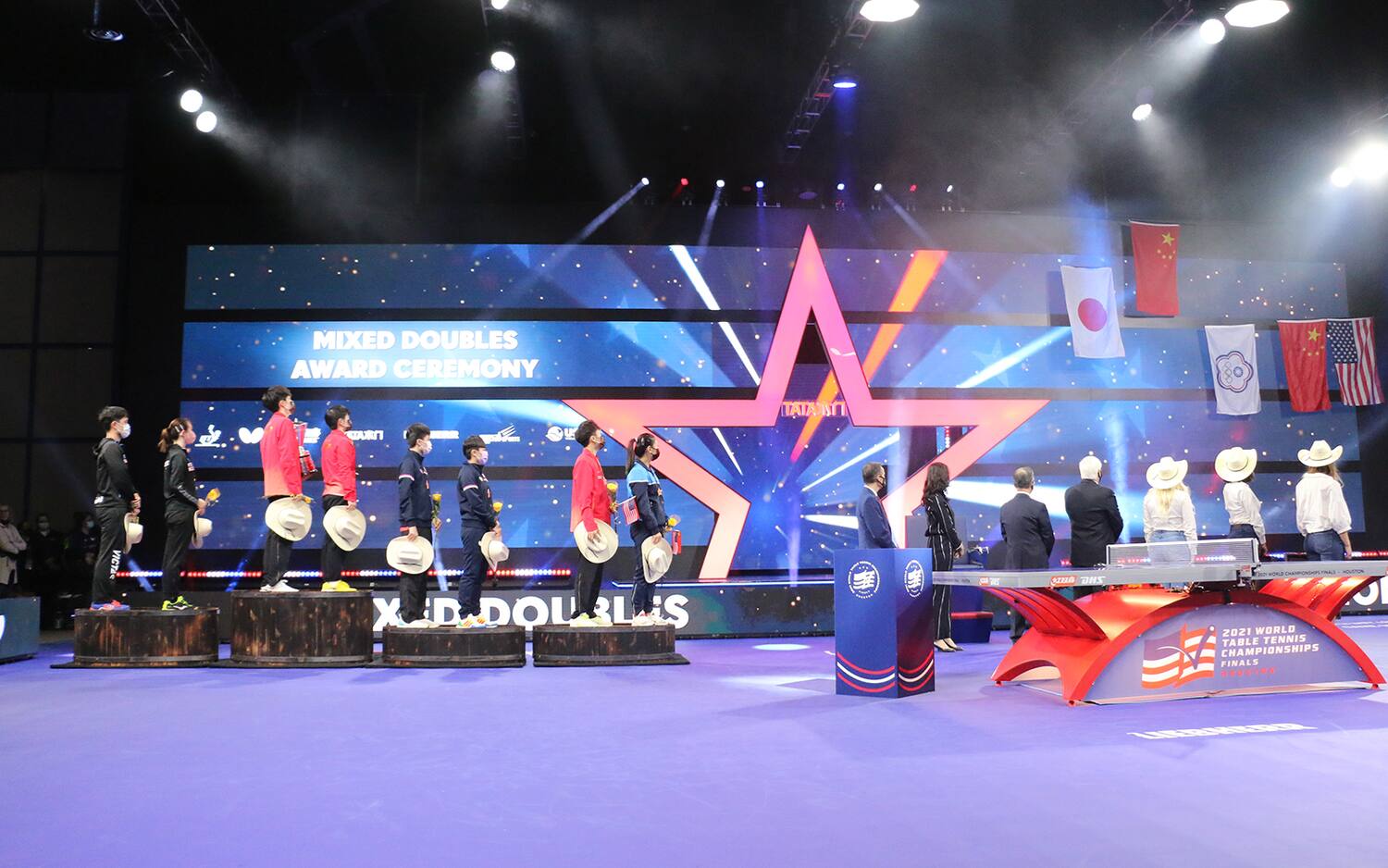 World Table Tennis Championships Mixed Doubles medal ceremony during the national anthem at the George R. Brown Convention Center. November 28th, 2021, Houston Texas.
(Colorado Springs, CO - December 1, 2021) - The World Table Tennis Championships gave home spectators plenty to cheer about in Houston. USA's own Lily Zhang made it into the semi-finals for Mixed Doubles, and Kanak Jha made it into the quarter-finals for Men's Singles. Jha played German southpaw Timo Boll in the quarter-final, losing a hard-fought match 2-4 (11-4, 5-11, 10-12, 7-11, 11-9, 7-11).
"We are so proud of Kanak for his outstanding achievements at the 2021 World Championships," said Virginia Sung, Chief Executive Officer of USA Table Tennis (USATT). "This is the best result for Men's Singles since 1959. Kanak is a great fighter, true sportsman, and role model for our young athletes. There is so much potential and possibility ahead of him, and we know that he will continue advancing to new heights," said Sung.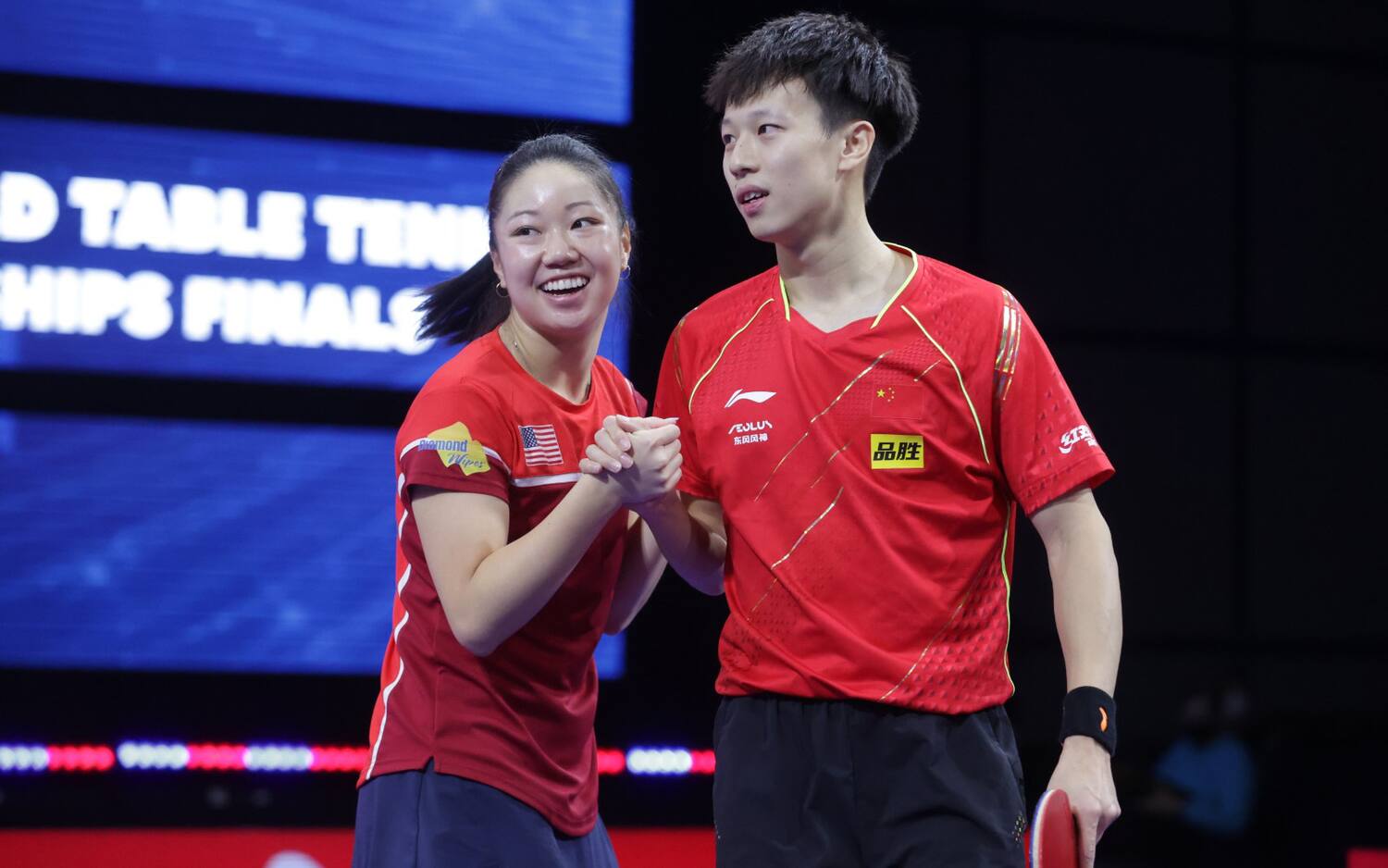 World Table Tennis Championships, Lily Zhang/Lin Gaoyuan reach the Mixed Doubles semifinals at the George R. Brown Convention Center. November 27th, 2021, Houston Texas.
As for Lily Zhang and partner Lin Gaoyuan, the semi-finals would be the end of their journey, conceding to the Japanese duo of Tomokazu Harimoto and Hina Hayata 2-3 in games (9-11, 1-11, 11-6, 11-8, 2-11).
"What an achievement for Lily (Zhang) and Lin Gaoyuan, and also big kudos to our coaches for their collaboration and hard work. This is a perfect way to celebrate the 50th anniversary of Ping Pong Diplomacy. Thank you to the Chinese Table Tennis Association, ITTF, and the Olympic Committees from both countries for making this outcome possible. It is a glorious moment for USA Table Tennis, and I want to take this opportunity to thank our members, our clubs, coaches, officials, volunteers, sponsors, contributors, and supporters. To get this far, we are standing on the shoulders of the generations that came before us, of those who dedicated their lives for the betterment of the sport. This is a moment of joy that belongs to everyone in our community and this is also a moment of transformation for the sport of table tennis in the US," said Sung.
For Women's Singles, Yue Wu made it to the Round of 64, losing to Jeon Jihee 0-4 (3-11, 1-11, 2-11, 7-11). Amy Wang battled to the Round of 32 but fell short to Cheng I-Ching 0-4 (5-11, 7-11, 7-11, 4-11). The Sung sisters advanced to the Round of 32 where they lost to the Slovakian duo of Balazova and Matelova 1-3 (9-11, 11-2, 8-11, 9-11). On the Men's side, Nikhil Kumar and Kai Zhang lost to England's Paul Drinkhall and Liam Pitchford 1-3 (4-11, 11-5, 17-19, 5-11). Congratulations to all the athletes who participated in a historic World Championship. See all results for the 2021 World Table Tennis Championships.
Next up will be the US Open in Las Vegas, Nevada at the Mandalay Bay Convention Center. Events will begin December 17 and run through December 22. More information on the 2021 US Open Table Tennis Championships.