US Open Review by Steve Hopkins
Article originally posted on butterflyonline.com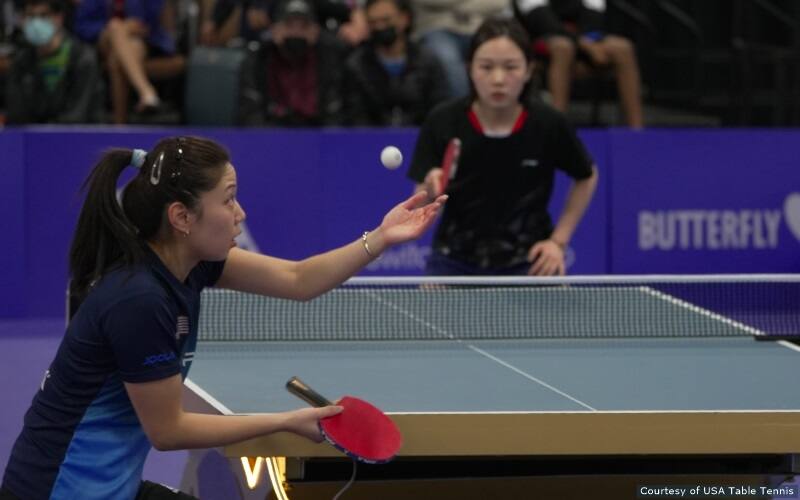 The 2021 calendar year ended with the US Open. Usually, this event is the premier event in the country, but with the World Championships held in Houston just a few weeks earlier, this was not a typical year. It seems we've had a lot of atypical events (and atypical years) of late – and COVID played a part at this event in Las Vegas as well. There were mandatory mask rules, efforts were made to promote social distancing, and USATT made sure to arrange for free COVID testing. Its clear efforts were made to create a safe playing environment.
That said, at the highest levels, participation by elite players was not much different from past years. The Men's Final pitted a former US Open Champion against a solid European Title-Holder, and USA's Lily Zhang was back to repeat on the Women's side – again facing a series of tough competitors. Despite the ongoing challenges of COVID, the US managed to pull off two premiere international events in a very short period (changing focus, recourses, and staff quickly away from the World Championships in Houston to stage the US Open in Las Vegas).
For the Men, one Semifinal matched Lei Kou (now a Ukrainian citizen who has won that country's national title several times) versus Daniel Gorak (a Polish player who played in the 2016 Olympics). The other Semifinal was American Olympian Nikhil Kumar against Canada's Eugene Wang. Kou and Wang each won their match 4-0 and in the Final, it was Lei Kou taking the title. By USATT rating, it was the 2826 rated Kou topping the 2735 Zhen in 4 straight.
In Women's Singles, USA's Lily Zhang was the headliner – repeating her 2019 performance and taking the US Open title. The event actually progressed almost by rating, with three of the top four seeds advancing to the Semifinal. The small upset was Yixiao Wang (California) who topped Jiaqi Lin to reach a Semifinal (where she lost to second seeded Deng Deng). Zhen Deng, a Hunan China- trained student at Texas Wesleyan, took the first game against Lily Zhang. Lily then ran off three in a row to take a commanding lead. Deng again fought back – winning two in a row and forcing a seventh game. The seventh game, however was all-Lily Zhang. An 11-2 victory lap on her way to another US Open title.
Lily won another title, taking Mixed Doubles with partner Zai Zhang. Zhen Deng managed first place in Women's Doubles with her partner Jiaqi Lin. The Men's Doubles title went to Kai Zhang and Jishan Liang.
Like the US Nationals, the US Open is more than just the featured events. The Open this year included over 70 events, naming Open Titles in each age division and also allowing competition in rating events. There were also hardbat and sandpaper events, team events, and seven Para Open Titles as well. Of note in that last category were three different first place finishes by Paralympic Gold Medalist Ian Seidenfeld (who has rounded out a great year, sweeping just about every major title possible).
For full results, visit the USATT website or jump straight to the OmniPong results page.


Original article by Steve Hopkins from https://butterflyonline.com/us-open-review-lily-zhang-lei-kou-and-ian-seidenfeld-among-the-winners/