California SQT – Table Tennis America, Hailong Shen & Miya Zhu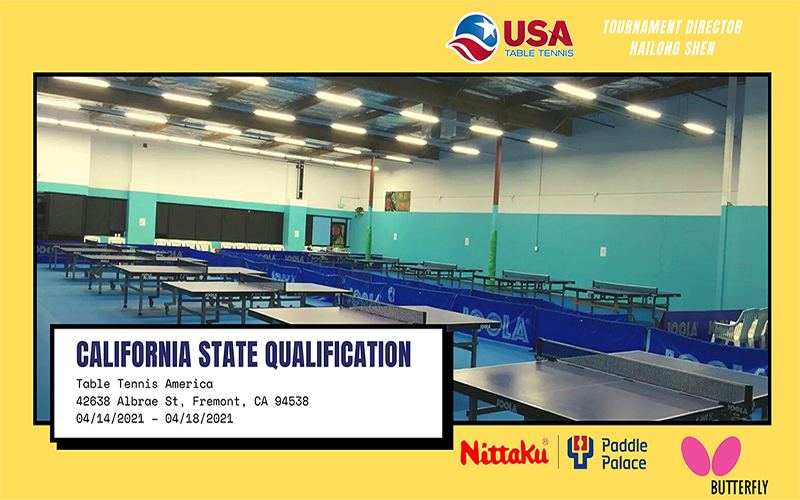 Sunny California has scheduled their 2021 US Nationals Table Tennis Championships State Qualification Tournament (SQT). Table Tennis America (TTA) will host the California State Event from Wednesday, April 14th to Sunday, April 18th.
The TT America facility is located at 42638 Albrae St, Fremont, California. The NorCal club is thirty minutes North of San Jose and just an hour away from San Francisco. There is also a surplus of notable table tennis cities that border the San Francisco Bay in California. The TT America locale makes for an optimal venue for the 2021 State Qualifier.
Table Tennis America was founded in 2015 when owners Hailong Shen and Miya Zhu converted from private lessons into establishing a full-time table tennis club. The club features thirteen courts and four practice tables. The already 7,000 square foot club is expanding to add capacity for five more tables, bringing them up to a total of eighteen courts.
TT America has a wide variety of members that frequent their facility, from beginner students to competitive players. The desirable club environment seeks to cater to recreational players and students who are looking for professional training. They represent a favorable climate for players of all skill levels.
The club highlights ten high-level coaches with multiple styles – including Left-Handers and Choppers – during a normal year. Club Founder Hailong Shen played table tennis professionally in China and has been coaching in the Bay Area since 2008, including the former 2012 Olympian Ariel Hsing.
Although all talent levels are welcome, Table Tennis America frequently produces elite-level athletes. Miya Zhu stated, "We have a large coaching team and a large pool of students training here regularly." Ms. Zhu continued, "Currently training at our facility is Rhagav [Thiruvallur], who is on the US National Team."
The TTA coaches are constantly scouting and training skilled juniors, cadets, mini-cadets, and hopes players with aspirations to make the US National Team. In California, the prospects seem to be limitless.
The player talent pool in California is on equal footing among table tennis players across the country. Having a history of producing National Championship talent, Table Tennis America looks forward to the California State Qualification tournament with an excited staff. The expanding club is interested to see the player turnout in mid-April and looks forward to the high level of competition at the California State Qualification Tournament.