Liu and Kumar Cap a Perfect Opening Day with a Pair of Wins for the US Olympic Table Tennis Team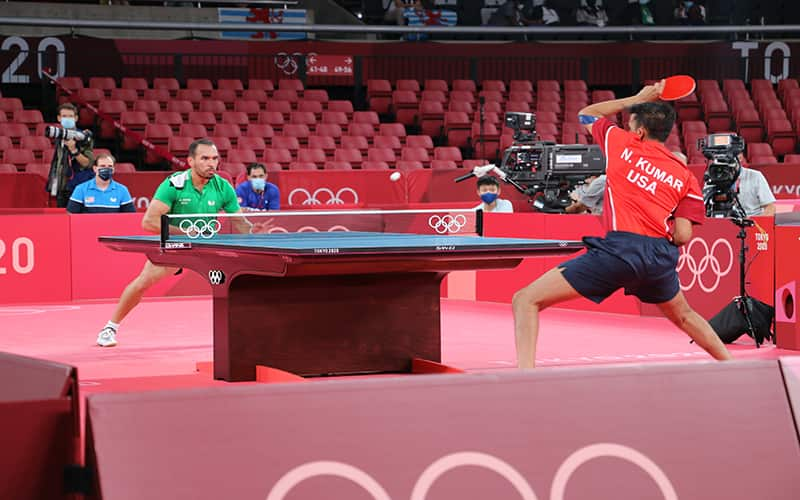 Liu and Kumar Cap a Perfect Opening Day
with a Pair of Wins for the US Olympic Table Tennis Team
Liu Juan and Nikhil Kumar Advance to the Second Round of the Women's and Men's Singles Events, Respectively, with Their Second Wins of the Day at the Tokyo Metropolitan Gymnasium
(Tokyo, Japan – July 24, 2021) – Liu Juan and Nikhil Kumar advanced to the Second Round of the Women's and Men's Singles events, respectively, at the 2020 Tokyo Olympics after each of them won for the second time of the day in the evening matches at the Tokyo Municipal Gymnasium. Liu defeated Galia Dvorak of Spain in the best-of-seven First Round matchup in five games (4-1); and Kumar followed that with a six-game victory (4-2) over Alberto Mino of Ecuador. The late day wins completed a perfect 4-0 record for the US Olympic Table Tennis Team on the opening day of competition.
Liu opened the early evening match against Dvorak with an 11-9 victory in Game One, during which Liu never trailed. However, Dvorak, who was playing her first match of the tournament, found her sea legs in Game Two and swamped Liu, 11-4. Liu then re-grouped, re-assessed and re-attacked, running off three straight wins in relatively dominating fashion (11-5; 11-5; and 11-8) to add a celebratory tone to her debut day of Olympic action.
"I thought Juan played well in both of her matches today," said US Olympic Coach Gao Jun. "Although this is her first time to play at the Olympics, she's a smart player with a fair amount of experience, and she adjusted a couple of elements in her serve and return in the evening match against Galia that worked out well."
Liu does not play again until Monday (July 26), when she'll face Barbora Balazova of Slovakia in the Second Round. The time of that match is yet to be determined.
It took six games for Kumar to take care of Mino, who Kumar had played previously in a Pan Am Games Teams match a couple of years ago. Mino started strong, winning Game One, 11-8. He also started really well in a couple of the other games – particularly Three and Four, where he led by as many as four points in the early going. But Kumar didn't appear to mind playing from behind, and he was able to finish strong in all four games that he won, particularly dominating the late game action in Games Two, Three and Four (11-8; 11-8; 11-7).
Mino didn't go away quietly, however. He utilized his size and strength and vocal exhortations to take Game Five (11-13). But Kumar, who matched Mino with an energetic stream of positive self-talk, jumped out early lead in Game Six and never really looked back, winning that game, 11-6, and the best-of-seven match (4-2).
"Nikhil had a good first Olympic day," said US Olympic Coach Stefan Feth. "The evening match against Mino may not have been Nikhil's best, but he was able to find the mental strength to win the important points at the important moments."
Kumar gets right back at it, playing his Second Round match on Sunday afternoon (5:00 pm local time; 4:00 am, Sunday, July 25, US Eastern Time Zone) against Anton Kaellberg of Sweden.
End.21 07-24b
Chief Operating Officer
USA Table Tennis