US Olympic Table Tennis Effort Opens with a Pair of Wins in the Morning Session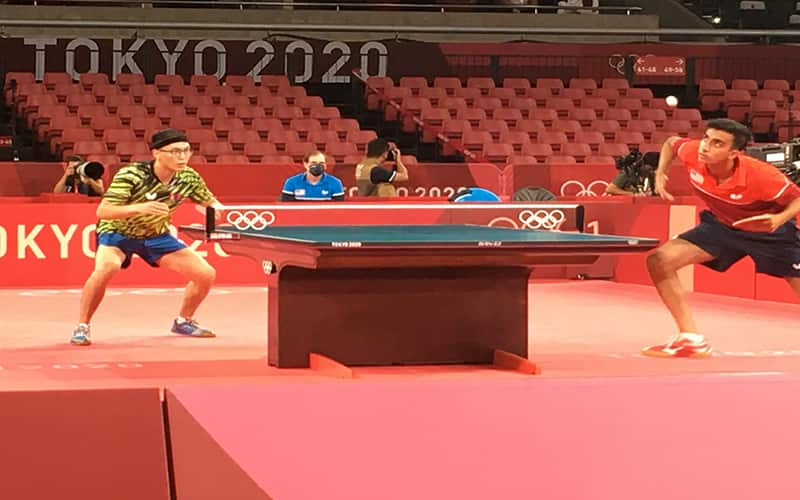 US Olympic Table Tennis Effort Opens with a Pair of Wins in the Morning Session
Liu Juan and Nikhil Kumar Take Five-Game Victories in Preliminary Round Matches in the Women's and Men's Singles Events, Respectively, at the Tokyo Metropolitan Gymnasium
(Tokyo, Japan – July 24, 2021) – The United States Olympic Table Tennis Team kicked off the 2020 Tokyo Games by picking up a victory in the Women's and Men's Singles events in the morning session at the Tokyo Metropolitan Gymnasium. Liu Juan opened her first Olympic experience with a four-games-to-one victory in the Women's Singles Preliminary Round over Olufunke Oshonaike of Nigeria; and eighteen-year-old Nikhil Kumar kicked off his Olympic debut with a similar result in the Men's Singles Preliminary Round over Lkhagvasuren Enkhbat of Mongolia.
Liu utilized her power and agility to handily jump out to a three-games-to-none lead over Oshonaike (11-7; 11-3; 11-4) before the veteran Nigerian was able to bounce back and take the see-saw battle in Game Four (11-13). However, the penhold lefty from New York was unfazed by the result in Game Four and bounced back to close out the match with a commanding performance in Game Five (11-4).
US Olympic Coach Gao Jun was pleased with what she saw from Liu. "It was a good start," said Coach Gao. "It's been a while since Juan has played in international competition, and she did what she needed to this morning to advance to the next round. I believe she will use this match as a positive base to build her effort for what should be a greater challenge in this evening's match."
With this morning's victory, Liu advances to face Galia Dvorak of Spain in the First Round of the Women's Singles tonight at 7:30 pm local time (6:30 am, Saturday, July 24, US Eastern Time Zone).
The Men's Singles competition kicked off this morning with the one and only Preliminary Round match of the event, which pitted Kumar and the sixty-fifth seed in the tournament, Enkhbat. Kumar used a strong combination of power forehand loops and backhand blocks to handily win the first two games of the match (11-2; 11-6) before Enkhbat bounced back in Game Three (7-11). The last two games of the match were evenly played, but Kumar, who was his usual expressive self, was able to take control of the latter stages in both of those games to close the match out in five (11-5; 11-8).
US Coach Stefan Feth stated that he was pleased with Kumar's performance. "Obviously, this was Nikhil's first match in Olympic competition, and I believe he handled himself well," said Feth. "We are always seeking to improve match to match, and this was a good start."
Kumar will face Alberto Mino of Ecuador tonight (9:00 pm local time; 8:00 am, Saturday, July 24, US Eastern Time Zone). Kumar and Mino have previously played in a Pan American Games Team event with Kumar coming out ahead in that match.
End.21 07-24a
Chief Operating Officer
USA Table Tennis