Nikhil Kumar's Olympic Table Tennis Bid in Men's Singles Ends in the Round of 48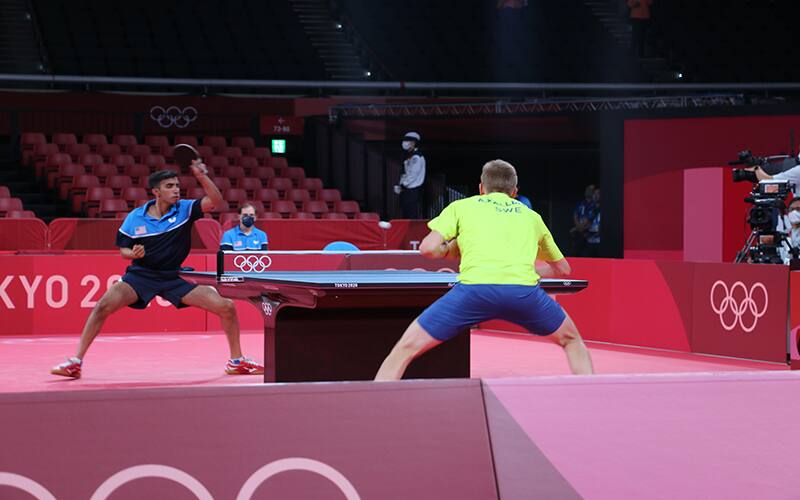 Nikhil Kumar's Olympic Table Tennis Bid in Men's Singles Ends in the Round of 48
The 18 Year-Old Californian and First Time Olympian Wins Two Rounds
But is Knocked Out by Sweden's Anton Kaellberg
(Tokyo, Japan – July 25, 2021) – Nikhil Kumar, participating in his first Olympics, won two rounds to advance to the final 48 in the Men's Singles table tennis event, but was defeated on Sunday evening at the Tokyo Metropolitan Gymnasium by Anton Kaellberg of Sweden. Kumar, an eighteen-year-old from northern California did not have an answer for the up-and-coming twenty-three-year-old Swedish pro, Kaellberg, who won the Second Round best-of-seven match in four straight games (11-7, 11-5, 11-6, 11-5).
Kumar fell behind early in Game One and never seemed to get fully on track, although he did rack up four points in a row in that game to get to 7-8 before Kaellberg pulled away. By the third game, it was clear that Kaellberg was in command of his game and control of the match, running off the game's first six points before Kumar broke through. In the final game, Kumar grabbed his first lead of the match by taking the first three points (3-0), but Kaellberg never seemed in trouble, as he took six of the final seven points of Game Four to close out the young American.
Although Kumar is now eliminated from the Men's Singles competition, he will get another shot at Kaellberg and his Swedish teammates when the United States takes on Sweden in the Round of Sixteen for the Team Event in table tennis, which is schedule for August 1.
With the win, Kaellberg advances to face Lin Yu Jun of Chinese Taipei in Round Three of the Men's Singles event on Tuesday.
Monday is a big day for the US Olympic Table Tennis team, as the three remaining players in the singles events are set to play in the morning matches. The number one American male player, Kanak Jha, will face Kirill Skachkov of the Russian Olympic Committee team on Table Four of the TMG at 10:00 am Japan Time (9:00 pm US Eastern Time, Sunday, July 25) in the Second Round of the Men's Singles competition.
The two American representatives in the Women's Singles event, Liu Juan and Lily Zhang, will also play Second Round matches on Monday morning. Liu will play her third match of the competition when she faces Barbora Balazova of Slovakia at 10:00 am JT, and Zhang will kick off her third career Olympic journey when she faces Offiong Edem of Nigeria at 11:00 am JT (10:00 pm US Eastern time, Sunday, July 25).
End.21 07-25a
Chief Operating Officer
USA Table Tennis