USA Table Tennis Launches Tournament Sanctioning Web App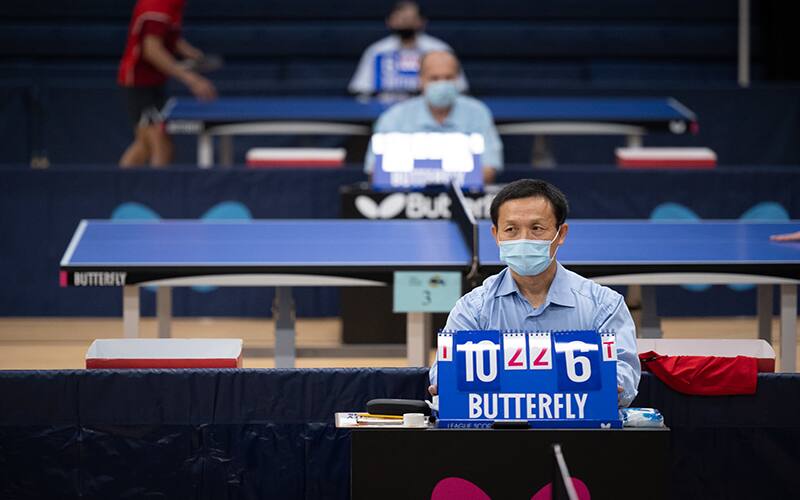 USA Table Tennis Launches Tournament Sanctioning Web App
Tournament Directors Will Now Be Able to Initiate and Expedite Tournament Sanctioning Approval Process
Through a New, Innovative and User-Friendly Digital Experience
(Colorado Springs, CO – June 1, 2021) – USA Table Tennis ("USATT"), the National Governing Body for the sport of table tennis, today announced the launch of a Tournament Sanctioning Web App designed to streamline and expedite the table tennis tournament sanctioning process. The web-based app, which was developed by Sportfist.com and is accessible on USATT's website, is fully functional on desktop computers, as well as smart phones, and can be accessed through the Tournament Director Information page on the USATT website (https://www.teamusa.org/USA-Table-Tennis/USATT/Directors-and-Officials/Tournament-Director-Info) or by directly launching the following link: https://tournaments.usatt.org.
USATT's Tournament Sanctioning Web App utilizes a simple and innovative step-by-step user-friendly interface that prompts Tournament Directors to easily and directly input the information required for tournament sanction approval. The TS Web App automatically provides an accurate and real-time determination of the status of the requirements for sanction approval, including SafeSport Compliance of the Tournament Director, the certification and SafeSport status of the Tournament Referee, and the membership status of the host USATT member club. This alone will eliminate a full step in the sanctioning process as USATT's National and/or Regional Sanctioning Coordinators will no longer be required to conduct these checks manually, which in turn should allow the Sanctioning Coordinators to focus their efforts on accurately evaluating tournament conditions in order to award appropriate star ratings to USATT's sanctioned events.
"Sportfist.com is proud to partner with USATT and excited to launch the new tournament sanctioning application," stated a representative of Sportfist.com. "This responsive web app allows for quicker sanctioning of the tournaments by Eliminating the need for exchanging Excel spreadsheets via email, Paypal integration for online payments, Email notification at each step of the workflow & a Fully auditable workflow."
"When I was appointed the National Sanctioning Coordinator back in 2009, one of my primary goals was to create an online portal for Tournament Directors and Sanctioning Coordinators to more easily submit and process sanction requests," said Larry Thoman, the USATT National Sanctioning Coordinator. "It's taken 4 administrations and lots of broken promises, but the reality of that envisioned portal is finally here. This new online process automatically checks the SafeSport and membership statuses that are required before a sanction request can be approved. So this new app tells the Tournament Director upfront if those statuses are up to date. This step by itself saves the Tournament Director and the Sanctioning Coordinator time and will result in faster processing of requests. Besides making the sanctioning process more transparent and faster, the new system modernizes the current system of using Excel spreadsheets and email to submit requests and manual checks for SafeSport and membership."
In addition, the TS Web App facilitates transparency by allowing Tournament Directors to see pending tournaments in the sanctioning pipeline prior to approval, which should help reduce conflicts that result when tournaments are scheduled on overlapping dates within the same geographic region. The TS App should also save busy Tournament
Directors time and repetitive actions, as it permits utilizing the information input for prior tournaments as a template for upcoming events.
One goal of the TS Web App would be to encourage a brand-new generation of table tennis Tournament Directors to easily and efficiently run sanctioned events at USATT Member Clubs. USATT further views the TS App as an important step in promoting progress towards the development of a fully integrated, digital table tennis tournament management system. The ultimate goal of such a system would be to offer a seamless, efficient, transparent and paperless process of launching a table tennis tournament from the earliest moments of preparation, through the marketing and registration phase, to the actual staging of competitive tournament play, and all the way to the real-time digital upload of the final tournament results within the USATT rating system.
It is important to note that, in order to provide time for Tournament Directors to become familiar with the new TS Web App, USATT's Sanctioning Coordinators will continue to accept Sanction Request Forms on the excel sheets that have been traditionally used in the sanctioning process through December 31, 2021.
Questions regarding the new Tournament Sanctioning App can be directed to admin@usatt.org.
About Sportfist.com
Sportfist.com (https://sportfist.com) creates and supports table tennis tournament software with online/offline capabilities that seeks to take table tennis into a new era by generating interesting analytics for players, directors, referees, coaches, club owners, and other officials.