April Westchester Little Open - FINALS MATCH - Jimmy Butler vs Mishel Levinski
by Will Shortz, Westchester Table Tennis Center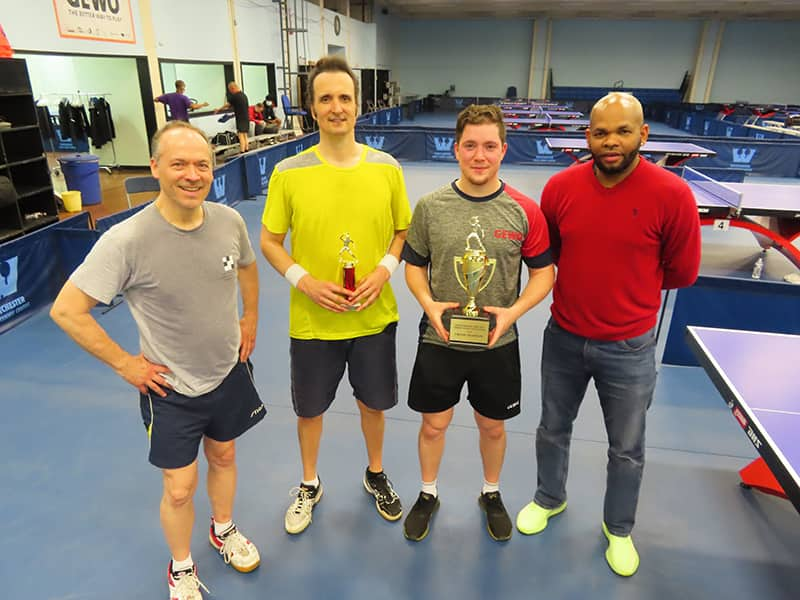 April Westchester Little Open
By Will Shortz
The April Westchester Little Open this past weekend had a strong contingent from Texas -- Jimmy Butler, Vlad Farcas, and Nate Dilworth, all from San Antonio and Houston. Another Texan, USATT Board member Dan Reynolds, came to help umpire. Altogether 93 players competed, making this Westchester's largest tournament since the start of the pandemic.

Both semifinals in the open event went to five games. New York's Mishel Levinski (USATT-rated 2561) defeated Gal Alguetti (2641) (-9,6,3,-5,6). And Jimmy Butler (2542) edged out Yutian Wang (2588) (-10,6,-5,10,4).

In the final, which you can watch on YouTube, Mishel triumphed over Jimmy (7,-7,4,6).

The May Westchester tournament will be held May 29-30. With New York's Covid-19 restrictions easing, we plan to add events and prize money. And on June 27-28 (fingers crossed) we intend to resume our full monthly Westchester Opens, with 18 events and $6,000 in prizes.
Will Shortz, Westchester Table Tennis
Center
April 2021 Open Singles Final | Jimmy Butler vs Mishel Levinski