JANUARY WESTCHESTER "SNO-O-OPEN"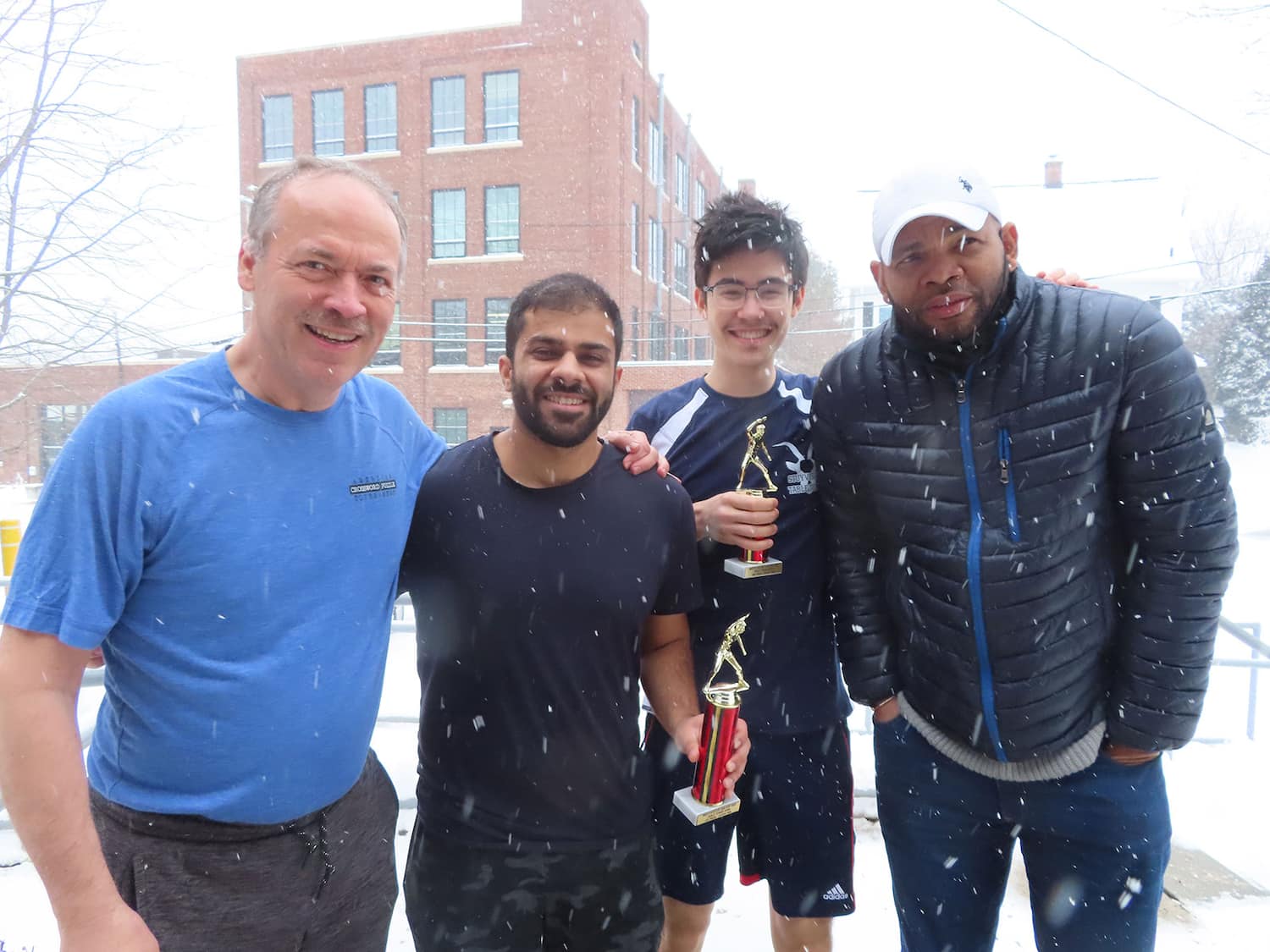 Snow limited attendance at the January Westchester Open. From left to right: Will Shortz (club owner), Shehroze Aamer (winner, U1600), Cyrus Cursetjee (runner-up, U1600), Robert Roberts (club manager)
Anytime you schedule an event in January in New York, there's the danger that snow will disrupt everything. That's what happened last weekend at the January Westchester Open. A fierce storm swept through on Saturday, and only 33 intrepid players made it to the club that day. But the show went on. Sunday was more normal, with the quality of play, oddly, being even higher than usual. Seven players on Sunday were rated over 2500, including Olajide Omotayo (ITTF-ranked #92) from Nigeria, now playing professionally in France; and Jishan Liang (seven-time Westchester champion; USATT-rated 2693), who flew in from North Carolina.
The Westchester Open is not easy. Both Jide and Jishan were stunned in the semifinals. Jishan lost to Ojo Onaolapo (4,-8,8,6), a former member of the Nigerian national table tennis team, now coaching full-time at the Matchpoint TTC in New Jersey. He was a little better on service returns and a little more consistent in rallies. Several times he redirected balls for surprising putaways, leaving Jishan shaking his head with a look of "What just happened?"
In the other semi, Jeremy Hazin -- former Canadian men's champion, now a first-year student at New York University in Manhattan -- defeated Jide (-8,6,9,8). With his win, Jeremy picked up $2,000 to apply to his expensive college tuition!
Jeremy Hazin and Ojo Onaolapo in the final of the January Westchester Open [credit: Rich London]
In the Under 2500 event, the Westchester TTC's Kokou Fanny defeated Alex Averin in the final (2,8,6). Kokou recently switched to pips on his backhand and now chops a lot, stymieing many opponents. In the final of the Under 2350, Santiago Acosta defeated Sho Miyazaki (11,4,3).
Films of the finals and semifinals have all been posted on YouTube. Search for "westchester table tennis 2022."
The February Westchester Open, with $6,000 in prizes again, will be held Feb. 26-27 — when we hope there will be less snow!
Westchester Table Tennis Center