US Jr National Teams Look for Early Success in Europe at 2022 WTT Youth Contender Events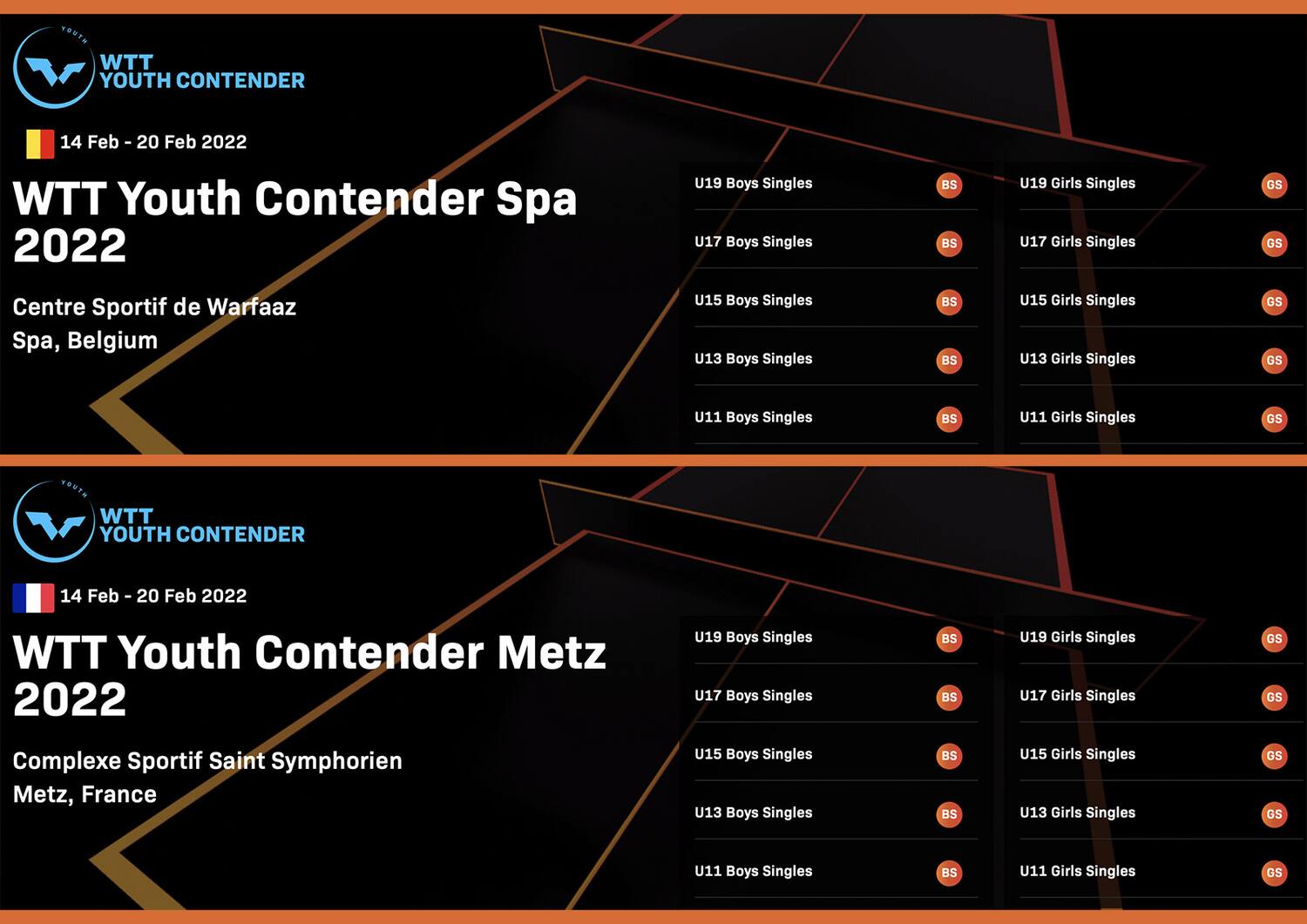 Today, USA Table Tennis Jr. National Team members will start their journey in the opening rounds in Spa, Belgium, and Metz, France to compete in the World Table Tennis Youth Contender events.
The European trip is the first international event on the calendar for both the male and female youth National Team members of USA Table Tennis.
The U.S. Jr. National Boys will begin the first half of their trip at the Youth Contender Spa, Spa (BEL) from February 14-16, 2022. During that time, the U.S. Jr. National Girls will be competing at the WTT Youth Contender Metz, Metz (FRA). The two teams will swap locations from February 18-20, 2022, to finish the remainder of their respective events.
The U.S. National Junior Boys Team will consist of Andrew Cao and Darrel Tsao playing in the U15 and U17 Boys Singles. Nandan Naresh will play in the U17, and U19 Boys Singles and round out the boys' squads is Sid Naresh will play U19 Boys Singles.
The U.S. National Junior Girls Team will include Sarah Jalli and Linda Shu who will each play in U17 and U19 Girls Singles.
Samson Dubina, Jishan Liang, and Wilson Tsao will coach the Jr. athletes at the Youth Contenders in Belgium and France this week.
Coach Samson Dubina on the trip to Europe:
I am very happy that Linda, Sarah, Andrew, Sid, Nandan, and Darryl are going to the WTT events in France and Belgium. With these events directly next to each other, all the players can get two international tournaments within seven days. This a great opportunity for them!
The US had some great results last year and we look to continue building on this success. International tournaments are a great way for each of these players to test their skills against the rest of the world. Based on their results, they will be able to train with more clarity on the specific details needed to beat the rest of the world. Practice is great, but specific targeted practice is even better!
As far as pre-tournament advice, I just recommend to the player to relax, have fun, and try to play their normal game. The US juniors are at a high enough level now that they can play their normal level and win, they don't need to try to play two levels higher than normal. They need to believe in their shots, make good decisions, trust their rallying abilities, and look at the entire tournament as a means of gaining experience. I'm convinced that these experiences will give them more clarity in practice and more and more confidence in the future!
The youth squads will look to capitalize on the momentum in international play and expand on the success at the ITTF World Youth Championships (Vila Nova de Gaia, Portugal) – December 2-8, 2021, and the Cali 2021 Pan American Junior Games (Cali, Colombia) – November 30 - December 5. The youth athletes tallied six medals, including two silver medals at the end of last year; they are ready to continue in that fashion in the new year.
After advancing through the group stages, the schedule for the U17 Rounds of 64 on Feb. 14, 2022, are as follows.
The U17 Boys Round of 64 (Spa Belguim):
USA, Darryl TSAOvs NLD, Gabrielius CAMARA 11:15 a.m. ET
USA, Nandan NARESH vs SPA, Daniel BERZOSA 11:45 a.m. ET
USA, Andre CAO vs FRA, Milhane JELLOULI 11:45 a.m. ET
U17 Girls Round of 64 (Metz, France):
USA, Sarah JALLI vs BEL, Lilly LAFFINEUR 11:30 a.m. ET
For more event information visit World Table Tennis at:
WTT Youth Contender 2022 Spa, Spa (BEL)
WTT Youth Contender 2022 Spa, Spa (BEL) & Metz, Metz (FRA)
The live stream for the events is available on the World Table Tennis YouTube page.