Nikhil Kumar Wins First National Men's Title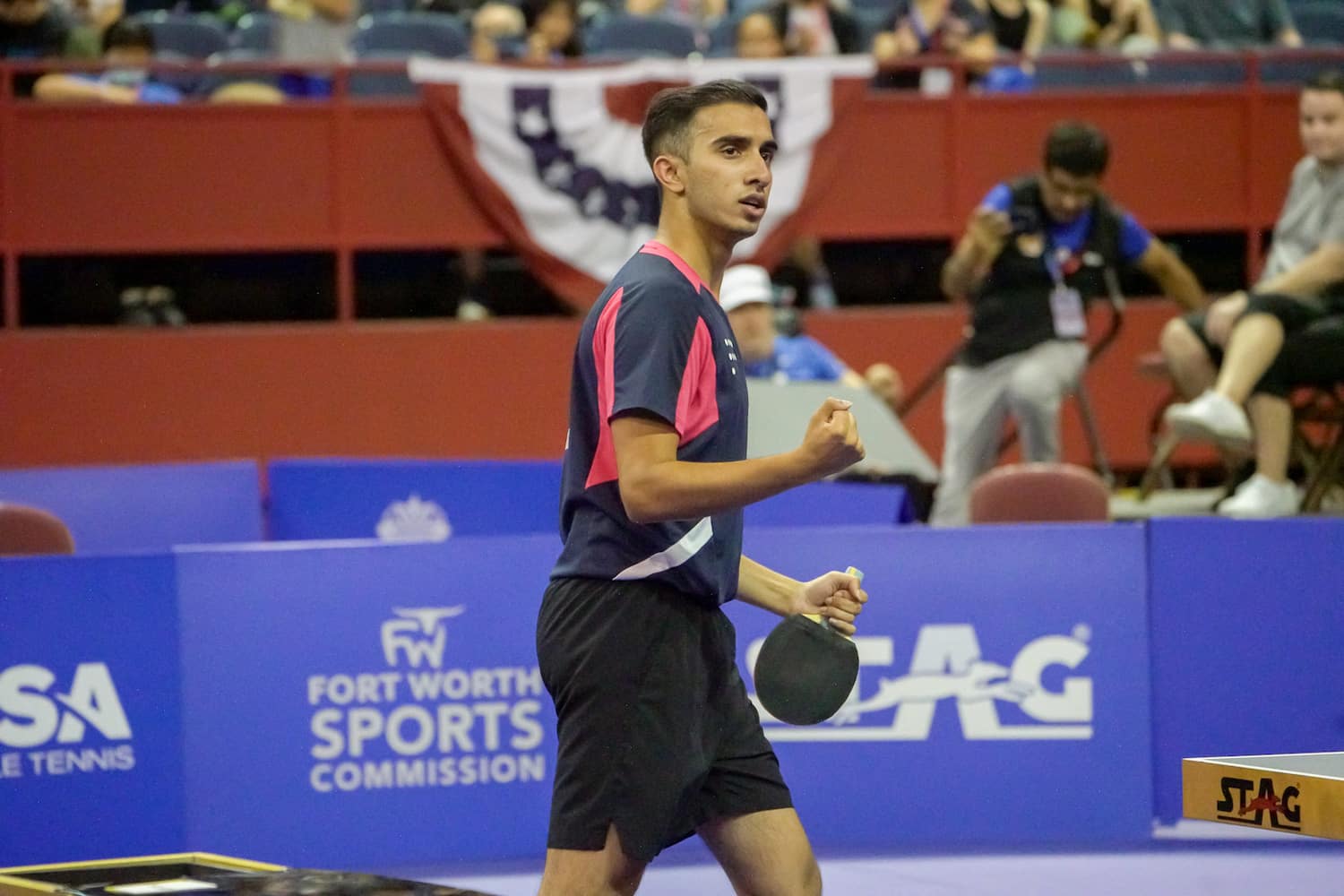 Nikhil Kumar comes from behind to become Men's National Champion
over a powerful Sharon Alguetti
Nikhil Kumar entered the final as the clear underdog. Head-to-head, Sharon Alguetti held a dominating advantage with 11 wins to Nikhil's 5. Only a week before, Sharon had beaten Nikhil in a 7-game battle at the US National Team Trials. In the semifinal, Sharon won against top seed Jishan Liang in 6 games, with clever return of serve and impressive variation. Before the finals, many bet Sharon would be the new men's champion after such an impressive run at US Team Trials just one week before (0 losses). Nikhil had other plans.
The opening two games in the best of 7 match were a struggle for Nikhil. Sharon started the match strong with aggressive play and impressive power. He looked unbeatable. Nikhil's back was against the wall when he started game 3 down 0-2, having only earned 7 points total in the match so far. He needed some answers. Partway through the third game, Nikhil found them. Instead of serving into Sharon's backhand, he started the points by serving into Sharon's forehand, baiting Sharon to the forehand side before attacking wide into the backhand. Shakily, but steadily, Nikhil squeaked out the third game 11-7, which kept him in the match. Keeping the momentum going, Nikhil won the next game 11-2, creating an even 2-2 match.
Undoubtedly Nikhil felt determined to make the most of this final, having lost in the final twice before. Sharon had his own ideas, winning game five 11-7. Nikhil, down again, 3 games to 2, dug deep and unleashed a new flurry of energy to not only block Sharon's aggressive attacks but also force mistakes. Having been behind almost the entire match, Nikhil takes games six and seven 11-7 and 11-8. A true come from behind story, as Nikhil can now call himself the US Men's National Champion.