Lily Zhang World Bronze Medalist Returns to Houston to Celebrate Ping Pong Diplomacy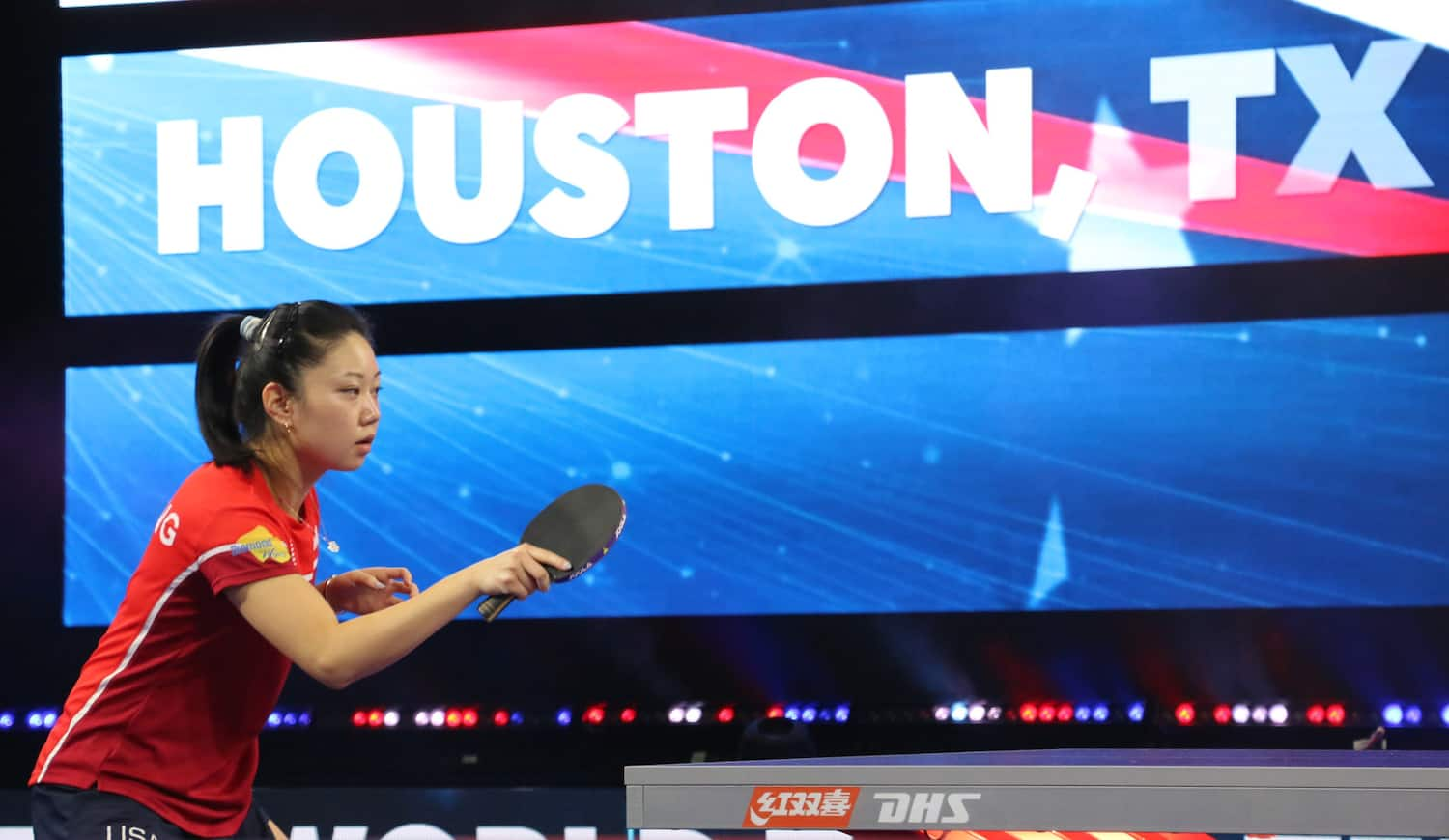 Lily Zhang headlines first stop on USATT Ping Pong Diplomacy tour at Houston International Table Tennis Academy this weekend (June 8-10th)
Lily Zhang needs little introduction for US Table Tennis fans. Since she picked up a paddle almost two decades ago at the age of 6, she has won over American table tennis fans with her speed, dedication, and passion for the sport. She holds 5 US National Championship titles and represented Team USA at 3 Olympics (2012, 2016, 2020). In November 2021, Lily became the first US World Championship medalist in 62 years when she won bronze with Chinese teammate Lin Gaoyuan in mixed doubles at the 2021 World Table Tennis Championships in Houston, Texas.
This weekend, Lily returns to Houston alongside her 2020 Tokyo Olympic teammate Nikhil Kumar and other California Bay Area players as the team to beat in the opening USATT Ping Pong Diplomacy tour event. Hosted by Houston International Table Tennis Academy in Katy, Texas, the team event features 20 teams who will battle for two qualifying spots on the tour finals held later this year. For Lily, this tour event marks the beginning of a busy month of competition including the WTT Contender Peru, U.S. Nationals and WTT Budapest Grand Smash.
Although competition and results are understandably important, friendship "was and still is one of [Lily's] favorite parts of playing this sport." In the 19 years since she started playing table tennis, she has had the opportunity to meet, train and compete with a diverse array of people across the world. She has "met so many wonderful people, some of whom have become her closest friends…it's an incredible feeling knowing that she has a home in almost every country she travels to."
Throughout her table tennis career, Lily has lived the Ping Pong Diplomacy motto of "friendship first, competition second." None more so than when she competed alongside Lin Gaoyuan at the 2021 World Championships in Houston.
"I truly had one of my all-time favorite table tennis experiences playing with Lin Gaoyuan. To say I was extremely nervous prior to the matches was an understatement because the last thing I wanted was to let the team down. But I remember he would always emphasize really encouraging words to me out on the court even when I missed, like 'no problem, next ball!' Or 'good try, it was the right move!' It was such a humanizing experience because it showed me that he's not just an incredible athlete, but more importantly, a great and admirable person." – Lily Zhang
Playing with one of China's great players can be intimidating, but Lily's reflection underscores the importance of friendship in the partnership over the outcome of competition. Winning a medal and making history is the icing on the cake of a warm, open, fun and supportive experience playing together as partners.
Lily hopes that we can all "continue to use table tennis to transcend boundaries and connect people from all walks of life… Whether you're 5 or 85 years old, the table is a safe and welcoming place for you." In a world that often feels divided, let the table tennis table remain a safe space built for friendship.