Ping-Pong Diplomacy Tour Draws Near in Houston, Texas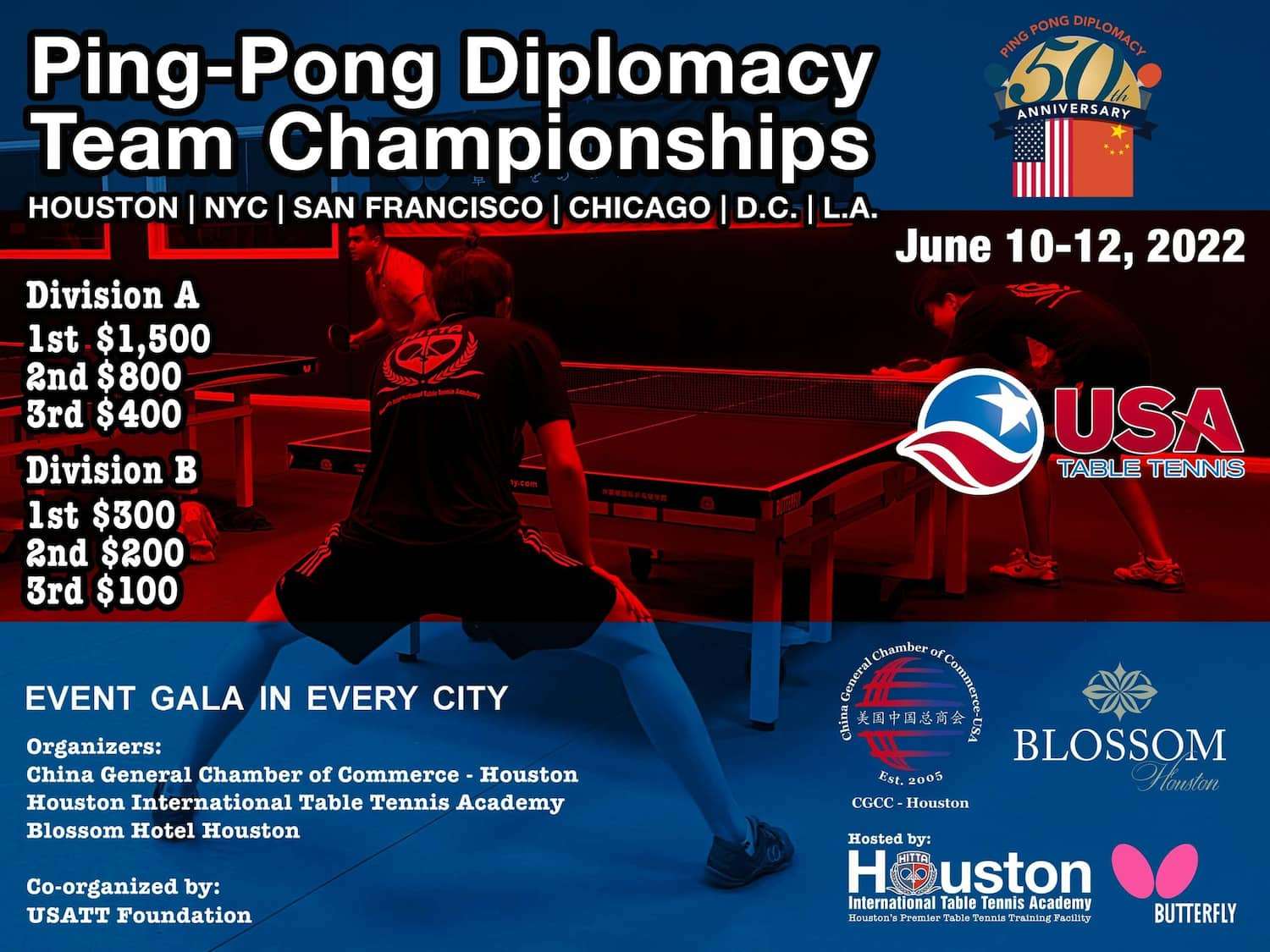 The Ping-Pong Diplomacy Team Championships Tour slated to launch June 10 – 12 has available registration slots open for teams. The first-come, first-play signups are open to all USATT members for event registration.
Teams signed up for the tournament may receive a 25% discount on the after-event US-China Ping Pong Diplomacy 50th Anniversary Celebration Gala Dinner. The gala dinner will be held at the Blossom Hotel – Houston at 5:30 p.m. on June 12, 2022, following the tournament conclusion.
The dinner gala has limited ticket reservations available. Event teams and lifetime members may purchase remaining gala tickets at the discounted price of $126 while tickets last by contacting tina.ren@usatt.org.
Talented squads from around the U.S. have committed to participate in Houston, including but not limited to:
Team One (CA)
Wenzhang Tao (C), Wei Wang, Nikhil Kumar, and Boliang Lyu.
Team 888A (CA)
Jensen Feng (C), Victor Xie, and Raymond Zhu.
MN-R (MN)
Alex Luo (C), Aarthi Loganathan, and Qi Wei.
Puerto Rico Team (PR)
Sergio Perez (C), Chrisnomar Aviles, and Airam J. Santiago.
HITTA-3 (TX)
Bruno Ventura Dos Anjos (C), Diwei Shi, and Marco Navas.
Team Tran (TX)
Michael Tran (C), Daniel Tran, and Li Kewei.
Avocado Lovers (TX)
Kelly Zhao (C), Leijie Qi, Nicolas Alvarez Mondrag, and Bryan Wu.
CCC-Dominator (TX)
James Wang (C), Mark Xu, Bangping Yu, and Changcai Xiong.
All players are welcome to join in the Ping-Pong Diplomacy celebrations and friendship with their favorite squad. Sign up your team for the Ping-Pong Diplomacy Team Championships Tour before the June 5, 2022, entry deadline.