2022 Pan Am U11 & U13 Championships - Boys' Team Matches, Days 1-2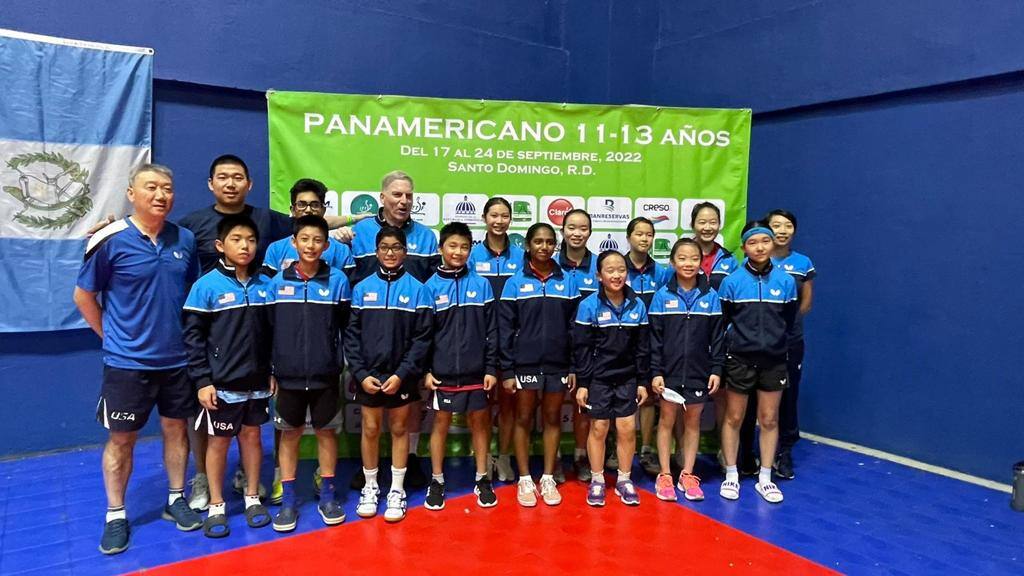 Here's an update on the USA Boys' Teams first two days here at the Pan Am Under 11 and Under 13 Championships. I'm head coach for the Under 11 Boys' Team (Kyler Chen, Jason Liu, Caillou, Arjun Kumar), with Qi Wei coaching the Under 13 Boys' Team (Ryan Lin, Winston Wu, Kef Noorani, Dhruv Chopra). Since they often play matches at the same time, we often coach players from both teams. Coaches Cheng Yinghua and Thilina Piyadasa are also coaching some of the matches. (Wu "Jennifer" Yue and Xinyue "Taylor" Wang are coaching the girls' teams.) A big thanks goes to USATT (and National Team Head Coach Gao Jun, who tonight held a Zoom meeting with the coaches to go over various issues), ITTF, and the local organizing committee for arranging all of this, and to uniform sponsor Butterfly. Also great thanks to the players, who worked so hard before and during this tournament, and handled the various tribulations they faced like professionals. Here are complete results.
And they faced a number of tribulations. There is no air conditioning, so the gyms are extremely hot and humid - it was difficult to keep the rackets dry. (I did drills with the players, and even just blocking I almost died out there.) We make sure the kids go through water like Niagara Falls. (Also drinks with electrolytes.) The perpetually late buses are also ancient and falling apart. During one ride a large window fell in on three people, leaving one girl with scratches (not from USA). The left mirror fell off another during a trip I was on, and the right mirror fell off another I wasn't on. (Driving without these mirrors is somewhat dangerous.) Twice the turnstiles have locked and we all had to climb over them to get on and off. Another near-accident - some of our kids went on the first-place pedestal they use for awarding gold medals, and almost fell through the flooring as I grabbed the kid off quickly. I alerted the authorities and warned our kids not to stand on it.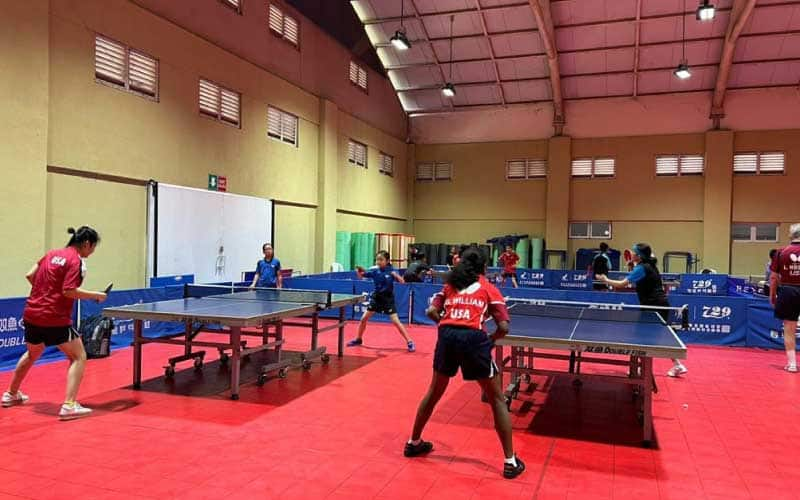 The U11 and U13 team in the practice hall before the matches
The hotel is, incredibly, an hour's drive away, with meals served at the hotel. This means an hour drive to the playing hall in the morning, an hour's drive back for lunch, an hour's drive back after lunch, and then an hour's drive back. Since the buses are almost never on time, we are spending 5-6 hours/day waiting for or riding buses - and this will be for eight days! There are no eating places near the venue - though some have used Uber Eats - but they are now offering meals at the playing venue. But that means spending the entire day there, which is cumbersome if you have a morning match and then an afternoon or night match. So we can either take the long bus ride four times a day, or only twice, and spend lots of time sitting around in the stands rather than going back to the hotel to rest and relax. (I won't get into the problems with flies at meals. There's a cat there much of the day that the kids feed and have informally adopted. But the food itself has been delicious, by all accounts, including my own. And they have the best lemonade…)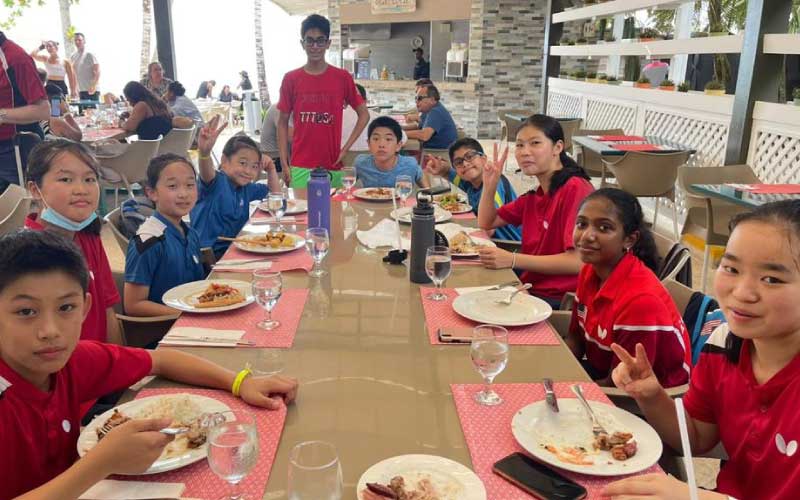 Team Breakfast at the host hotel
Things started out poorly for Team USA as we were initially taken to the wrong hotel on Thursday. We spent a long time there before that was verified, and then had to wait for another bus to take us to the correct hotel. We also ran into complications at the second hotel, which had somehow assigned rooms completely randomly - awkward when you have eight girls, eight boys, six coaches, and about twenty parents! Qi Wei took charge, and after a lot of back and forth, got the rooms straightened out. We arrived at the (first) hotel around 4:30 PM; I didn't get into my room until about 10:15 PM. (Qi Wei is now everyone's superhero, as he's both coaching and taking charge of organizing everything. I hope he gets a bonus.)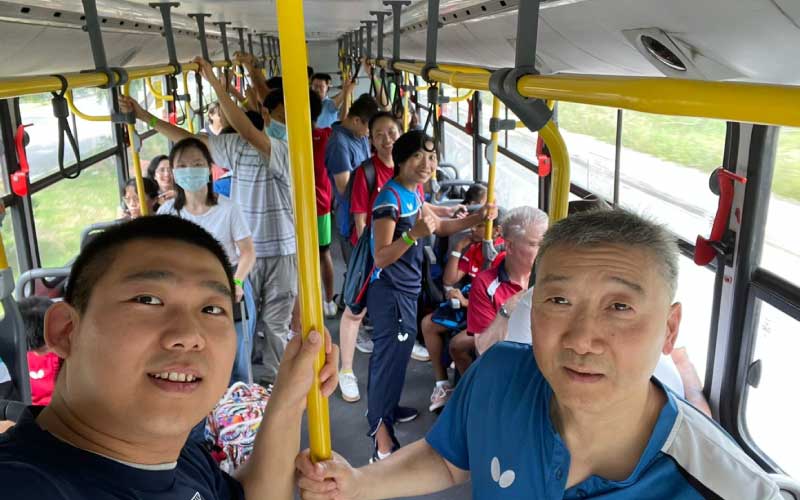 Happy smiling faces loving the bus ride
We had two practice sessions on Friday, Sept. 16. A key issue was getting used to the heat and humidity. I'd arranged in advance for all the players to bring "cleaner sponges" (available at major table tennis dealers), which are better at taking off moisture than a towel. We also had to prepare the kids for the reality of playing in Latin American tournaments (as well as at the Worlds) - constant horns and drums played during points at ear-splitting levels. I am still surprised they allow this. It throws off timing as players are used to timing shots to the sound of the ball hitting the table. (Key when playing with all this noise is to watch the ball closely and time shots to the ball hitting the table.)
The Team Competition takes up the first four days, with singles and doubles the final four days. Here's a rundown of their play on the first two days - with Breaking News at the end, which explains the several "postponed" notes. (Two teams advance to single elimination out of each group.)
Mini-Cadet Boys - Under U13
There's a good chance that USA Team A (Ryan Lin & Winston Wu), Brazil A, and Puerto Rico (top seeds with Enrique Rios and Steven Moreno) are the three strongest teams here. The problem is that much of the seeding is done randomly, and Ryan and Winston do not have world rankings. Result? USA A and Brazil A were in the same preliminary group, along with Mexico. Even worse, they played first match! It almost hurt the eyes trying to watch the blistering pace these four consistently played at.
In match one, Winston played Felipe Yoshihiro De Melo Okano. Felipe easily won the first two, 11-3 and 11-6, and Winston seemed out of it. But with some incredible close-to-table counterloops, he won game three, 11-8, and fought off a match point in game four before winning 12-10. Then he came from behind again to win game five, 11-9! Final scores were -3,-6,8,10,9.
In match two, Ryan played Vinicius Rech, a blond-haired penholder with a nice reverse penhold backhand. Once again the Brazilian completely dominated the first two games, 11-5,11-8. I think Ryan had trouble adjusting to how the penhold backhand came out - no one from his training group plays that way. But then he adjusted, winning the next two games (with lots of screams), 11-9, 11-4. Could USA pull off another incredible comeback? Alas, no. Final scores were 5,8,-9,-4,7.
And now comes the pain of losing close games. In the doubles, Brazil won at 9,10,10. In the fourth match, Ryan played Felipe Yoshihiro De Melo Okano, and won the first 11-7 - but the match went to the Brazilian, -7,8,8,9.
Brazil easily beat Mexico, winning all three matches 3-0. Next up was USA vs. Mexico, at 5PM Sunday . . . postponed to 9AM Monday . . . now postponed to 9AM Tuesday. Brazil is 2-0 and will advance. The winner of USA vs. Mexico will also advance.
Team B (Kef Noorani & Dhruv Chopra) are in a group of four. They started off with an easy win over Honduras, winning all three matches 3-0 with their strong two-winged looping. Against Peru B, Kef started things off with an 8,7,9 win over Samuel Duffoo. Dhruv then faced Luciano Dongo, who blocks with medium long pips on the backhand and a looping forehand. Dhruv dominated the first two games . . . and yet somehow lost the first 11-8 when he made all the hard shots but missed some easy ones (often over-hitting them rather than smoothly looping winners) and had problems with the pips. He won the second 11-7 and often seemed in control, ending the points quickly, but never really got comfortable against the pips. Match to the Peruvian, 8,-7,6,5.
The doubles was a nailbiter for the Americans, who dominated at the start and finish, 6,4,-9,-12 (at least one match point),6. The medium pips blocks made things tricky.
Then Dhruv was up against Duffoo, and again the American dominated . . . at the start, 11-6,11-4. Then it was 11-6,11-9 for Peru, who also led 7-5 in the fifth - but under tremendous pressure, Dhruv won six out of the last seven points to win the match, 6,4,-6,-9,8.
Their final preliminary match will be against Cuba at 5PM Sunday . . . postponed to 9AM Monday . . . now postponed to 9AM Tuesday. Both teams are 2-0 and will advance, but the winner will get the better seeding and draw.
Hopes Boys (Under 11)
Team A (Kyler Chen & Jason Liu) went undefeated in their preliminary group, defeating Columbia, Dominican Republic B, and Ecuador B, all 3-0. In singles, no one has scored more than eight points in a game against them as they steamrolled the competition. They have a bye in the first round of single elimination and will play in the quarterfinals against Brazil B on Monday at 5:30 PM . . . postponed to Tuesday.
Team B (Caillou Chen & Arjun Kumar) had an unfortunate start. Due to complications with immigration at the airport, Caillou had missed his flight on Sept. 15 (Thu), and so arrived around 11AM Friday morning. But the driver took him and his dad to the wrong hotel - as they had done with the entire USA team the day before - and since the hotel was an hour away, they had no transportation to the playing hall for our afternoon practice session. The result? Caillou's first practice in the hot, humid gym, and first time practicing doubles with Arjun, was that morning. This likely affected Caillou's play, and it definitely affected their doubles play. Ironically, they got extra practice that morning as the 9AM matches started at 10:15AM, since the buses were arriving so late.
They started off by losing to Peru A 3-0. In the opening match, Caillou, often ripping forehands, led 6-2 in the fifth but (perhaps nervously in his first internationally match), missed a few shots and lost the match, 5,-7,7,-11,8. In the second match, Arjun dominated and led all three games, looping from both wings, but (also in his first international match) missed a few key shots each time and lost, 12,9,8. In both matches, the Americans often dominated play with their looping, with their opponents mostly (and effectively) blocking. USA also lost the doubles, 8,2,9. With experience in tournaments like this, both USA players will likely win such matches in the future as they become seasoned veterans with promising TT futures. If they replayed that team match, I think they would win both singles matches.
Against Dominican Republic A, they won the two singles matches with ease. But there's an advantage to representing a country that's about 19,000 square miles in area (about 1/200th the area of the US's 3.8 million) - the top players live near each other and so can practice together - and this Dominican team was obviously experienced, while the USA team first played together that morning. The first four games were close. In the fifth, USA finally figured out how to take advantage of their higher level of play and "coasted" to a 10,-10,8,-9,4 victory, and so won the team match 3-0. They will next play Peru B in the round of 16 on Monday at 11AM . . . postponed to Tuesday.
And now, the Breaking News. Due to the incoming Hurricane Fiona, all matches starting at 5PM or after on Sunday were postponed to Monday morning. But the Big News is that on Sunday night the Dominican Republic issued an announcement closing just about everything on Monday - and so all matches on Monday are now cancelled. The tournament will start up again on Tuesday morning - with the huge task of trying to make up over a day's worth of matches in the last five days. It's already raining here - I got soaked running back from the dining hall in a pouring rain. But it was worth it for the lemonade, the best drink in the world after Dr Pepper (not available here).