2022 ITTF Pan Am U11 & U13 Championships - Boys' Teams Finals
Santo Domingo, Dominican Republic, Sept. 17-24
By Larry Hodges (Under 11 Boys' Team Coach)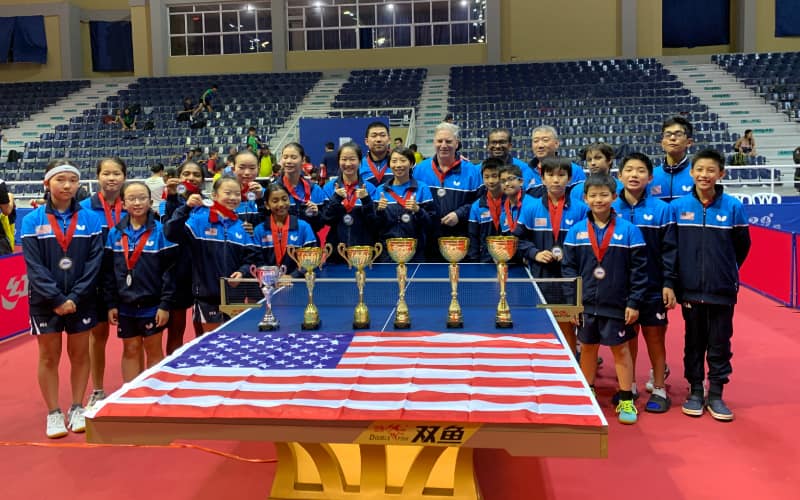 3 Golds, 2 Silvers & 1 Bronze for the Teams Events and hopefully more to come at the 2022 ITTF Pan American U11 & U13 Championships
What a day, this Wednesday, Sept. 21! USA Boys and Girls won three of the four golds, two of the four silvers, and a bronze. So, how did it happen? (I'll be covering the boys, while LiFeng Yu covers the girls separately.) A great thanks goes to all the players and coaches - Qi Wei, Jennifer Wu, Taylor Wang, Thilina Piyadasa, Cheng Yinghua, and oh yeah, me.
As noted in the previous article on the first two days of the Boys' Team competition, we lost over a day to Hurricane Fiona. The 5PM and 7PM matches on Sunday, and all matches on Monday were cancelled. When we went to bed on Sunday night it wasn't really that bad, and it probably was a mistake to cancel that night's matches, though of course the tournament directors didn't know that at the time they postponed them. It was windy and only lightly raining when we went to dinner Sunday night, and the same when we went to bed. (Before I go farther, here are complete results.)
The following morning it also seemed just windy and rainy - until we went outside and saw the destruction most of us had slept through. Knocked-down trees and branches were strewn everywhere. Either Fiona had hit in full force during the night or The Incredible Hulk had been on a rampage! We learned that over a million people in the Dominican Republic were without water, due to broken water mains. (It was far worse in Puerto Rico, and the Puerto Ricans - including the top seed in Under 13 Boys' Teams - were worried about it.) We spent most of Monday in our rooms but were able to walk to lunch and dinner. (We even had a birthday party and cake for reigning US Under 11 Boys' Singles and Doubles Champion Kyler Chen, who turned eleven that day. I gave him one of my books.) Once again, they probably could have played matches, but since the country had declared a National Emergency and ordered non-essential businesses closed, they again had no choice - and it's better not to play then have the players stranded at the playing hall during a hurricane, an hour from the hotel. (Meanwhile, after the storm the water from the faucet in our hotel room, which we only use to brush our teeth, tasted salty.)
But all the tribulations paid off when the boys won gold and bronze in Under 11, and the girls swept Under 11 and Under 13 with two golds and two silvers. Yoohoo!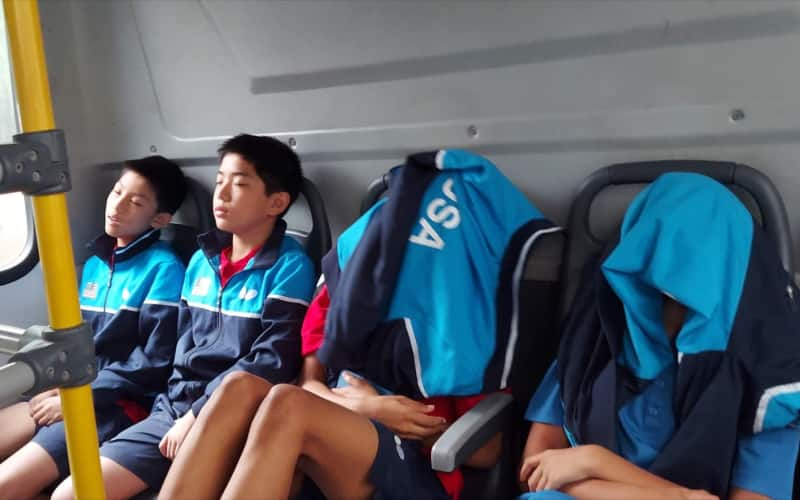 USA Under 13 Boys' Team on long ride to playing hall. Photo by Arjun Kumar.
Under 11 Boys - Single Elimination
USA A had cruised through the preliminary round robin with a 3-0 record, while USA B had had a bad loss to Peru A to come in second. Both advanced, but because of the loss to Peru, USA B was in the same half of the draw as USA A, with the two moving toward a semifinal clash. The quarterfinals were oddly USA A vs. Brazil B, and USA B vs. Brazil A. Brazil B was seemingly stronger than Brazil A - I'm told it's because the top two Under 11 Brazil players didn't play in some qualification tournament while the others did.
USA A (Kyler Chen & Jason Liu) had a bye. In the quarterfinals against Brazil B the key match was the very first one, where Jason faced Argemiro Mory. The scores tell the story: -10,11,-7,4,9. They dominated the rest of the way, with Kyler over Murilo Tassi Bacaline, 7,9,5, and the doubles, which also tells a tale: -4,7,6,2 - yeah, they got better. And so they were in the semifinals, awaiting USA B.
USA B (Arjun Kumar & Caillou Chen) dominated against Brazil A in their quarterfinals. In the first match it was Arjun over Igor Higa, 6,5,9. In the second match it was Caillou (pronounced "Kai-You" with Kai rhyming with "hi" - and his full name is, of course, just an anagram for "Cocaine Hull" and "A Null Choice") Chen over Flavio De Sousa, 6,9,-4 (oops), 6.
And so we're into the USA vs USA Semifinals! The rule when USA plays USA is no coaches (including parents), just the players coaching themselves. We also don't want parents to go overboard rooting for their kid against their teammates, but the parents were very cooperative, and on their own agreed to sit near the top of the stands and not clap (though a few reflexively did so).
Once again the first match was the "big" one, featuring two ten-year-olds rated 1970 (Jason Liu) and 1989 (Arjun Kumar). Both seem better than that. I'm told they always have great shot-making matches and this was no different as both went at it from both wings, looping and counterlooping like they didn't know the word fear. (C'mon, guys, it's spelled "F-E-A-R," how can you keep counterlooping in such a pressure-packed international match?) Every game was close, and it could have gone five as Arjun led 10-8 in the first. Match to Jason, 10,-9,9,9. Close, huh?
The more consistent Kyler Chen (2045), with a big backhand loop to go with his forehand, next won against Caillou Chen in the Battle of the Chen's (no relation), with Kyler winning at 7,-4,3,6. Caillou's more of a forehand player - and you had to see some of his almost falling backward forehand rips from his backhand corner, especially in that second 11-4 win where it's a miracle he didn't break the ball. But Kyler's a veteran these days and his two-winged attack won out. When Caillou gets a little bigger he'll be scary(er).
Arjun/Caillou gave the USA National Under 11 Doubles Champions a run for it in the second half of their match, but USA A won out, 8,7,-8,10, and advanced to the final. But it's BRONZES for USA B in their first international tournament, and they're pretty happy . . . for now. Soon they will hunger for gold and will practice that much harder.
Final Under 11 Boys' Teams - USA A vs. Ecuador A
Holy Moly, was Jason Liu on fire in the first match! I can barely breath, both because of the thick humid air and because I'm afraid if I exhale he'll remember he's human. Match one over Boris Nestor Villavicencio, 7,3,5, and Boris is pretty good.
Before the final I'd taken both of them to the practice hall, and after a normal session (where I drilled with one and the other hit with either Arjun or Caillou), I pulled out a racket with long pips I'd borrowed from Arjun's father, Pavan Kumar. Spoiler Alert - maybe we owe a chunk of the upcoming gold to them, both for helping warm up USA A, and also for that racket. I blocked with the long pips for 25 minutes each with both Kyler and Jason until they could rally against it in their sleep. Why? Because the Ecuador A's stronger player, Joaquin Velez, has long pips on the backhand (no sponge) and dead blocks everything with it. He also has an effective forehand attack.
It paid off as Kyler sort of romped to an almost 3-0 win - except he got careless and blew a big lead in the first and was up 10-8 before losing 12-10. But I assured him he was playing the right way, just needed to keep his focus and a couple minor adjustments, and he didn't let it bother him. He won the next two easily, 11-6, 11-6, often dominating with his backhand loop, which is scary now and I'm petrified about where it'll be in a few years. Down 5-10 in the fourth (he later told me he was got nervous at the start of this game), I was all ready with great tips of wisdom - but he didn't need them, winning seven straight points - not easy for someone just turned eleven against those weird long-pips blocks! And so he wins, -10,6,6,10.
Surely the doubles would be easy for the best of their age doubles team in the US? Yes it is, as they win the first two games, 11-1, 11-6. But in game three, both USA players seemed to let up, plus Velez is much more aggressive with his long pips, taking serves right off the bounce and jabbing them aggressively. In the first two games, we completely dominated when we served to him, with non-stop serve and rips. Now they were dominating this sequence, and our players are erratic, and Ecuador wins game three, 11-9. Ecuador leads 8-6 in the fourth, with us serving to Velez. I call a time-out, tell them to serve deeper. (Their "long" serves were getting too short, allowing Velez to quick-hit them at wide angles.) It works, and they go on to win the match, 1,6,-9,9 - and the GOLD MEDAL!!! (Afterwards, they both admitted that after winning the first two so easily and being on the verge of winning the gold, they were extremely nervous, which showed in their play.)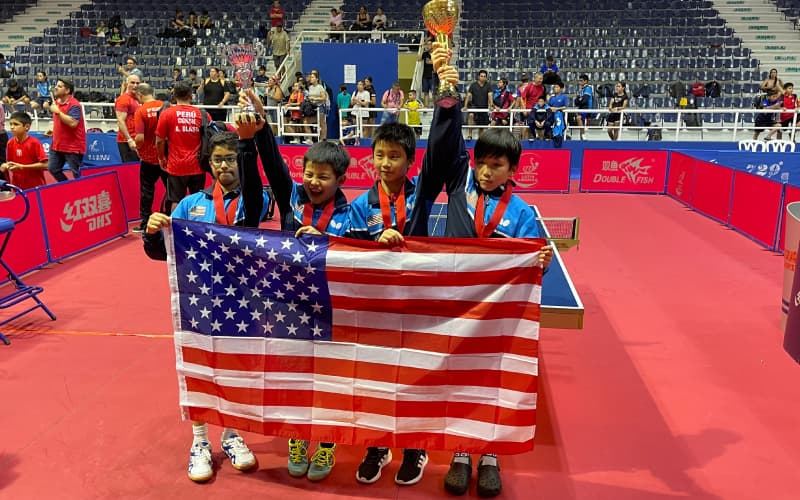 "Winner, Winner, Chicken Dinner" indeed for Arjun Kumar, Caillou Chen, Jason Liu & Kyler Chen
Under 13 Boys - Final Preliminary Matches
We started up again Tuesday morning with Under 13 Boys' Teams, who would be playing their final preliminary group match that was supposed to be on Sunday at 5PM. As usual, we caught the first bus at 7 AM. Unfortunately, it left ten minutes late, and had three stops, and so we didn't arrive at the playing hall until 8:20 for our 9AM matches. Apparently a later bus after ours didn't have to make these stops and arrived before us, and so when we arrived, all the practice tables were jammed, most with four players. So we didn't get on the tables until 8:30 AM. The problem is that players are required to turn in their rackets twenty minutes in advance, so both of our Under 13 Boys' Teams got very little practice before they were sent out to play at nine. We asked the tournament director if they could postpone the start so the players could get a real warmup but were turned down, and so they had to play "cold." (Ironic in the extreme heat and humidity they also faced. I'm writing this in the bleachers at the playing hall between coaching matches, and I'm dripping sweat all over my laptop, going for my towel every six sentences.)
USA A (Ryan Lin, Winston Wu) won easily against Mexico, 3-0, losing only one game and winning seven of the nine games by 11-5 or worse, including a pair of 11-2s, an 11-3, and a pair of 11-4s. So they advance to Single Elimination.
USA B (Kef Noorani and Dhruv Chopra) had already defeated Peru-B 3-1 and Honduras 3-0 in their four-team group. Now they were up against Cuba1. (Not sure why they used numbers for some teams and letters for everyone else.)
First up was Dhruv, and this time he was the one on fire as he won the first two games, 11-9 and 11-4. He had match points in game three before losing . . . 18-16!!! Struggling with consistency, he lost the last two games and the match, -9,-4,16,6,5.
Next up was Kef. We'll skip right to the end, where Kef is down 8-5 in the fifth and also struggling with consistency. But he digs in deep, and under great pressure pulls off some nice shots and wins deuce in the fifth, 6,-7,9,-7,10.
Oh, those pesky doubles matches. Cuba wins 9,10,7. Then it's Dhruv in the last match, but after at least one game point in the first, he loses, 12,8,6. So Cuba comes in first, but USA advances in second.
Under 13 Boys' - Single Elimination
In the round of 16, USA A played ECU 1, starting with Ryan Lin against Cesar Revelo. It was another five-gamer, and once again Ryan got the short end of the paddle, losing at -7,8,9,-7,6. Winston Wu then played Ricardo Bernal, who Ryan and I knew from last year's Hopes Week in Ecuador where Ryan had won against him - and Winston wins easily, 7,7,3. If we can get this to the fifth match, we expect Ryan would win. But USA gets Ecuadored in doubles, 4,4,10. Then it's Winston against Revelo - and as Winston seems to enjoy giving coaches minor heart attacks, it's obvious why Winston is, of course, just an anagram of "Sin Town." He lost the first two (heart tremors!), then won two gutsy close ones where his play shot up a level or two. He continued his great play to 9-7 in the fifth. We're on the verge of Ryan vs. Bernal, and the maybe quarterfinals against Brazil B, where they'd be favored, and maybe the semifinals against Columbia (and a bronze and great chance of making the final). But four points later, with some great play by Revelo, USA A is out . . . 9,3,-9,-10,9.
The "What ifs" only got worse for USA B. Kef Noorani (which is, of course, just an anagram for "Freak Onion" and "Oak Inferno") starts off against Columbia star Emanuel Otalvaro, who's won Hopes Singles two years in a row. He's incredibly consistent and all-around, can seemingly do anything except perhaps continuous attack, has incredible fishing and lobbing touch, and most estimates put him at 2300-2350. If a tactic works, he adjusts and you have to adjust as well. But we've been up against Emanuel a number of times and know exactly how to play him - and Kef had lost to him 0-3 in the Hopes final just a few days before. Usually losing to someone 3-0 a few days before hurts your chances next time out, but the key thing is Kef now knew exactly what he was up against - and exactly what to do. He executed perfectly in game one, 11-7, ripping winners all over the place, as he would throughout the match. But Emanuel's sheer consistency, serves, sudden attacks, and defense wore him down and the Columbian won the next two games. But Kef ekes out game four, 11-9, and leads 9-8 in the fifth. Then it's 9-10, 10-10 . . . and Emanuel pulls out another close one, -7,4,6,-9,10.
The thinking going in is both players have to beat their #2 player, Juan Garzon, who's about 2000 level. But USA's Dhruv Chopra didn't get the memo and loses the first two. Then he's down two match points in the third. Then he's down 4-8 in the fourth . . . and scores seven in a row (!). Into the fifth, and he's still on a roll, going up 7-2 (a 14-2 run). Then it's 7-6 (heart tremors begin), and then he goes on another tear (heart tremors end) and wins, -9,-8,13,8,7. It's one-all, and it was so close to a 2-0 lead. (What ifs…) Regarding Dhruv, he's one of those on-off players - when he's on, he's scary with his two-winged rips, though he needs to do more against short and half-long serves than just push long. When he's off . . . well, let's just find a way to turn him on and then break the on-off switch.
Next up is doubles. They split the first two games, and led 10-9 in the third, but lost 12-10. They won the fourth 11-8, and then it was 9-all in the fifth - and we got Columbianized, 6,-8,-10,-8,9. Another "What if."
Kef and Garzon have a good battle, but in two of three close games, it's Kef who plays great under pressure, winning 10,-9,6,11. And it's on to the fifth match, Dhruv vs. Emanuel. Great rallies, great battle by Dhruv who could have won two of the games, but another win for Emanuel, 11,6,9, who would only lose one match in the team competition (to Steven Moreno in the final). And so Columbia advances, and beats Dominican Republic A 3-2 in the quarterfinals, Ecuador 1 3-1 in the semifinals, but finally lose 3-0 in the final to the top-seeded team, Puerto Rico's Enrico Rios and Steve Moreno.
As I work on this article in the playing hall I feel like I have to towel off every six words. It's like typing in a broiling ocean - so imagine the ones trying to play this Olympic sport in this heat and humidity! But we still have three days left - singles and doubles start tomorrow morning. Due to Hurricane Fiona, they've managed to schedule four days' worth of matches into three days, so it's going to be non-stop action for both players and coaches, so I'm going to be busy. I will write it up, but it might have to wait until after it's all done - and after I've had a shower and a dozen glasses of cold lemonade or Dr Pepper.
Speaking of Dr Pepper, I had a bag of Dr Pepper candy - they're like Dr Pepper-flavored jellybeans! On the bus ride back I made the mistake of letting the kids try them out, and all 16 went crazy for them. What to do? I did what any good coach would do. The rest of the trip I called out presidential trivia questions, and whoever answered got a Dr Pepper candy. (Quick, who was the best pianist among all US presidents? Hint - this classically-trained pianist president was a true man! But don't get too harried trying to figure it out.)
On a final note, I've been asked repeatedly why I'm only writing about the boys' events. It's very simple - those are the ones I'm coaching and seeing, and there's no time to research and write up the girls' events as well. For example, I wrote much of this article at the playing hall, but much of it had to wait until after the final. After the final was the award ceremony, and then the one-hour bus ride to the hotel, then dinner. I didn't get to my room until about 10:30PM. We had a bunch of scheduling and other issues to deal with and I didn't get to the article until after midnight. I finished it at after 2:30AM. I have to get up at 5:30AM, so I'll get less than three hours of sleep. Or I could also do the girls' article, and finish around 4:30AM and get one hour of sleep. I think you see the problem! Meanwhile, tomorrow (actually, today) they start singles and doubles, and I will be coaching nearly non-stop from 9AM until the end, with the last matches scheduled at 8:30PM. They will likely run late - they are scheduling only 25 minutes per match - so who knows when I'll get back tomorrow, but it'll likely be later than tonight. So there simply isn't time for me to personally do both. Fortunately, LiFeng Yu (Under 13 Girls' Team member Mandy Yu's dad) did one writeup already and plans to do a short one to cover the rest of the team event.
On to more gold, silver, and bronze!!!