2022 Pan Am U11 & U13 Championships - Girls' Singles and Doubles Events
The 2022 ITTF Pan American U11 & U13 Championships in Santo Domingo, Dominican Republic finished the 10 singles and doubles events during the last 2 days after one day's break due to Hurricane Fiona, following the Teams events at the first 3 days (See earlier reports on the Teams events). Team USA won 20 medals, including 9 Golds, 7 Silvers, and 4 Bronze, out of total 56 medals in 14 events. The Girls Teams had great success, contributing 17 medals, including 7 golds (2 shared with Boys Teams in the 2 mix double events), 7 silver (1 shared with Boys Teams in the U11 mix doubles event), and 3 bronze.
Congratulations to Team USA! Thanks to all the coaches (Qi Wei, Larry Hodges, Wu "Jennifer" Yue, Wang "Taylor" Xinyue, Cheng Yinghua, Thilina Piyadasa) and Coach Gao for all the help and support. Special thanks to the two coaches for the Girls Teams, Coach Wu Yue and Wang Xinyue, for the invaluable guidance they provided to the young players on and off the court. Great appreciation goes to Coach Qi Wei for being a great point of contact during the past week, leading the whole Team to overcome so many difficulties and achieve huge success.
Below are some updates on the individual events during the last 2 days, focusing on Girls Singles and Doubles events. Boys events and mixed double events are covered by separate articles written by Larry Hodges.
Under 11 Girls' Singles
The four girls (Sophia Chen, Abigail Yu, Irene Yeoh, and Tiana Piyadasa) continued their dominance in Singles, just like in the previous Teams events. All of them advanced from their own group as the No. 1, without losing a single match.
As expected, the semi finals were all USA players: Sophia vs. Abigail and Irene vs. Tiana. Like in the Teams final, Sophia lost to Abigail again (1:3). Irene defeated Tiana (3:1) just 2 days after her loss in the Teams final. The final was between Irene and Abigail, who were the Teams event partners. Irene won convincingly (3:0) using her strong and consistent loops. Once again, the 4 U11 girls swept all the medals in the Singles event. Picture below shows the 4 girls winning all the medals for the U11 Singles event during the award ceremony.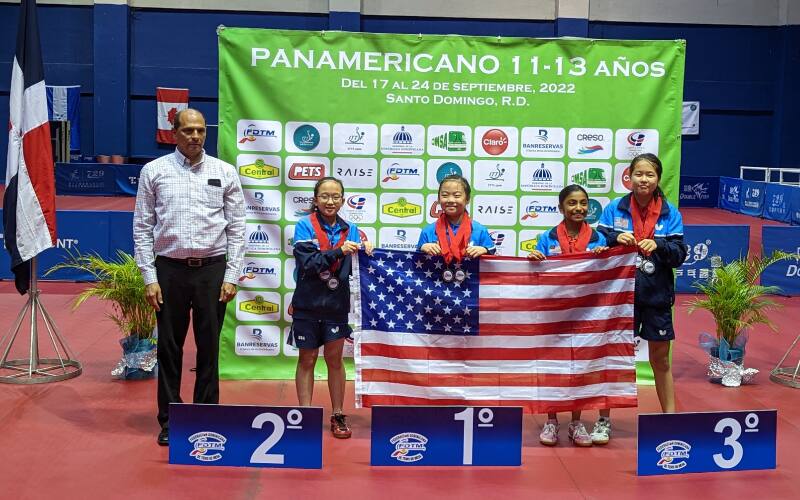 Under 11 Girls' Doubles
There was no surprise at all during the Doubles. The two pairs (Irene & Abigail and Sophia & Tiana) entered the final without losing a single game, all 3:0! In the Final, Irene & Abigail beat Sophia & Tiana in 4 games, winning their 2nd Gold as partners. Sophia & Tiana got Silver.
While competing with each other on the course, the young girls forgot about wins and losses after the matches and became good friends right away. Pictures below show Irene & Abigail having a fun time with their new friends from Guatemala right after their doubles match.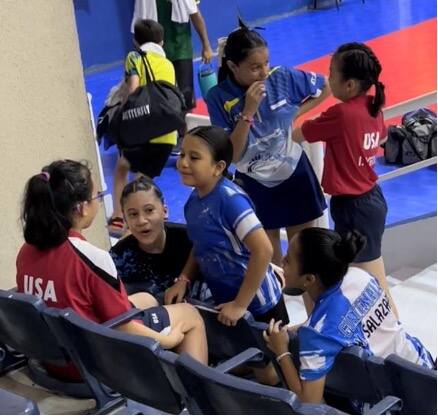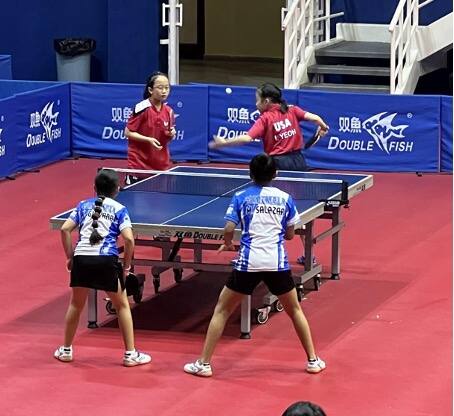 After Irene won the championship for the U11 Girls Singles event, she automatically qualified for the World Hopes Challenges that is going to be held later in the year, along with Tashiya Piyadasa and Kef Noorani, who qualified by winning the Pan American Hopes Challenges earlier.

Under 13 Girls' Singles
This event turned out to be the most challenging one for the four U13 girls (Amina Batkhuyag, Aria Shi, Genelia William, and Mandy Yu). At the group stage, Amina lost to Dakota Ferrer from Venezuela (1:3) and Genelia lost to Dafne Sosa from the host country (0:3), both getting 2nd in their own groups. Aria and Mandy won their individual groups. All 4 advanced to the single elimination stage. Fortunately, they were at different quarters so they would not need to face each other before the semi finals.
In the round of 16, Ivy Pan from Canada gave Amina a lot of trouble by winning the first 2 games using her quick forehand, which has short pips just like Amina. Amina came back strongly and won the match by 3:2. The 2nd seed in this event, Valentina Aquije Condezo, from Peru, also gave some real challenge to Genelia by winning the first 2 games. Again, Genelia fighted all the way back with a win. Mandy's opponent, Andrea Moscoso from Guatemala, was also not easy. She almost beat Mandy during last year's Hopes Challenge Semi finals, but this year Mandy did not let that happen again and won the match at ease (3:0) using good serve and attack strategies. Finally, with Aria's easy win over Gabrielle Pincerato, all 4 advanced to the Quarterfinals, when the real challenge began.
During the 4 Quarter Final matches, Amina lost to Nathacha Dennys Mata Apointe from Venezuela (1:3) and Mandy lost to Dakota Ferrer (0:3), although she won her the first time during the previous Team event. Dakota had medium pips in her backhand and returned most of Mandy's serves using aggressive attacks with backhand, which worked quite well against Mandy. Aria had a tough battle against Dafne Sosa, the star from the host country. Playing under the loud cheering from the audience for Dafne, Aria still won the match (3:1). With a win over Ana Gomez (3:0), Genelia entered the semifinals, along with Aria. Each would play against a player from Venezuela: Genelia vs. Dakota and Aria vs. Nathacha.
In the semifinals, Dakota beat Genelia 3:0 using her strong backhand punches with medium pips although Genelia won their first match easily during the Teams event, winning a bronze medal in U13 Singles. In the other semifinal match, Aria learned from the lesson during the Team event (she lost 1:3) and beat Nathacha 3:0 this time.
The final was between Aria and Dakota. After winning the first game and leading by 7:3 at the 2nd, Dakota came back after a timeout and won three games in a row. It was a tough loss for the USA Girls Team, especially after sweeping all the medals possible for other girls' events: U13 & U11 Teams, U13 & U11 Doubles, and U11 Singles, but they tried their best and fought very hard during each match, with many exciting comebacks. We were happy to see Girls from other American countries competing well with the USA Team. Picture below shows Aria (2nd place) and Genelia (3rd place), with the two girls from Venezuela, during the award ceremony.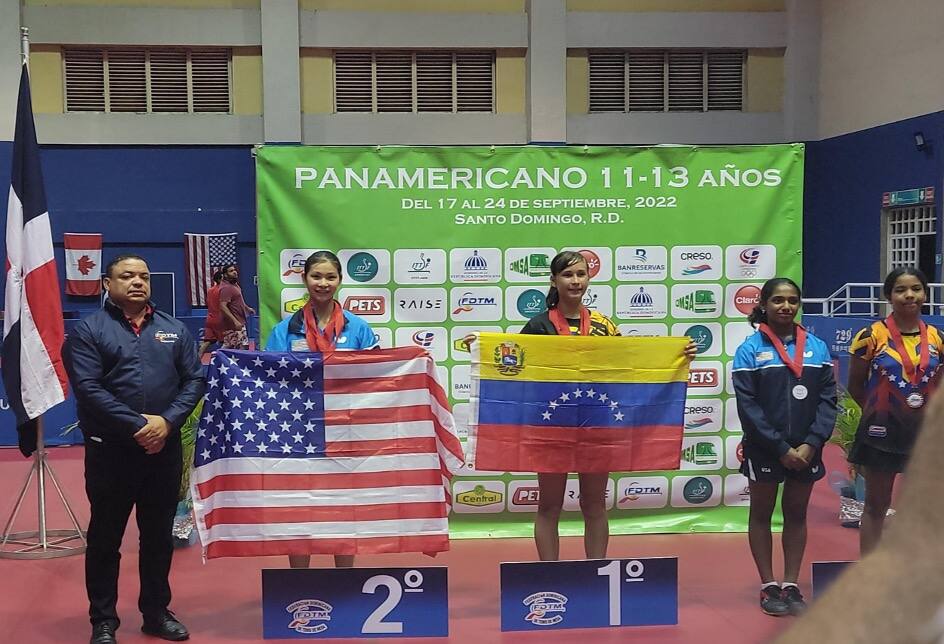 Under 13 Girls' Doubles
Aria & Mandy entered the final with four 3:0 in a row, including against the pair from Dominican Republic, Dafne Sosa and Eduanni Mercedes De La Cruz Figueroa. Their only challenge was the top seed from Venezuelan, Dakota Ferrer and Nathacha Dennys Mata Apointe, who they barely won in the Team event. But this time they defeated the Venezuelan pair easily, probably because of their preparation before the match.
Amina from Illinois and Genelia from California, who had no prior experience playing doubles, were paired together for the first time in this Pan Am tournament. In the beginning rounds in-spite of all the challenges, Amina & Genelia surprised strong teams from Canada in Round 32 winning 3:1 and Guatemala (Andrea Moscoso & Ashlye Corado) in Round 16 winning 3:2. In the quarter finals, they beat Venezuela easily with a 3:0 win. In the semi finals versus Puerto Rico (Velentina Davila & Camila Cruz Rosarico), Genelia and Amina were down 2:0, but the doubles pair did not give up easily and won 3 straight games in a row. The new duo, Amina & Genelia, fought their way into Finals and met the 2021 doubles champions Aria & Mandy. They played really hard and gave a tough challenge to Aria and Mandy playing a 5 set game. In the end, Aria & Mandy fought their way back and claimed the 2022 U13 doubles championship. Both the U13 girls doubles teams played exceptionally, winning both the gold and silver medals for the USA. Pictures below show the girls waiting in chairs to receive their Gold and Silver medals for Doubles and during the award ceremony.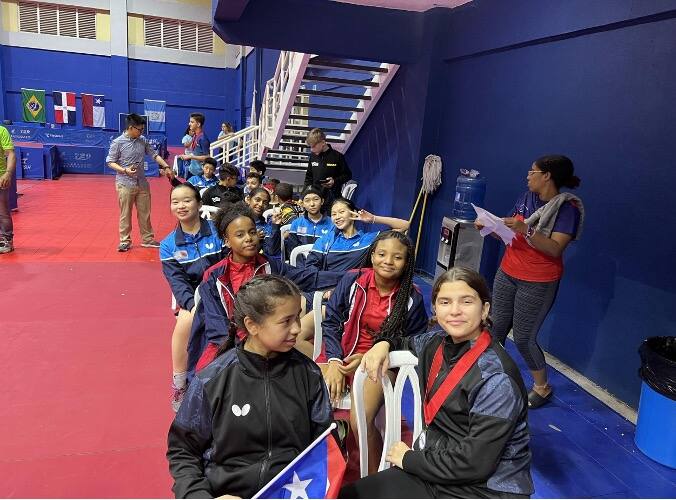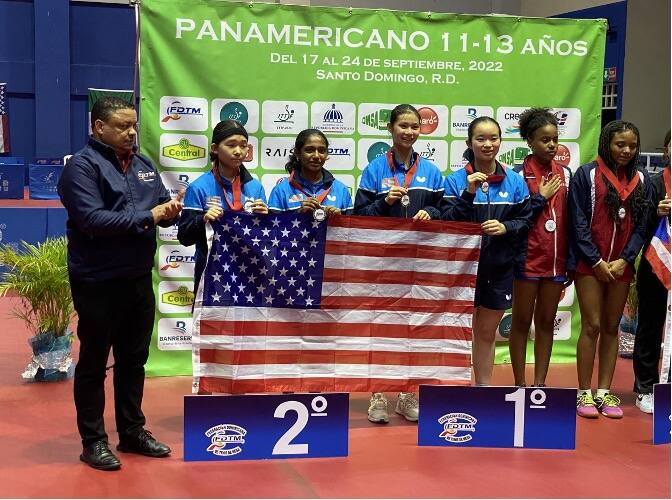 Below is a summary of medals from Girls' Team:
U13 Teams: 1 gold (Amina Batkhuyag & Genelia William), 1 silver (Aria Shi & Mandy Yu)
U13 Singles: 1 sliver (Aria Shi), 1 bronze (Genelia William)
U13 Doubles: 1 gold (Aria Shi & Mandy Yu), 1 silver (Amina Batkhuyag & Genelia William)
U13 Mix Doubles: 1 gold (Amina Batkhuyag & Ryan Lin)
U11 Teams: 1 gold (Irene Yeoh & Abigail Yu), 1 silver (Sophia Chen & Tiana Piyadasa)
U11 Singles: 1 gold (Irene Yeoh), 1 sliver (Abigail Yu), 2 bronze (Sophia Chen & Tiana Piyadasa)
U11 Doubles: 1 gold (Irene Yeoh & Abigail Yu), 1 silver (Sophia Chen & Tiana Piyadasa)
U11 Mix Doubles: 1 gold (Irene Yeoh & Kyler Chen), 1 sliver (Sophia Chen & Jason Liu)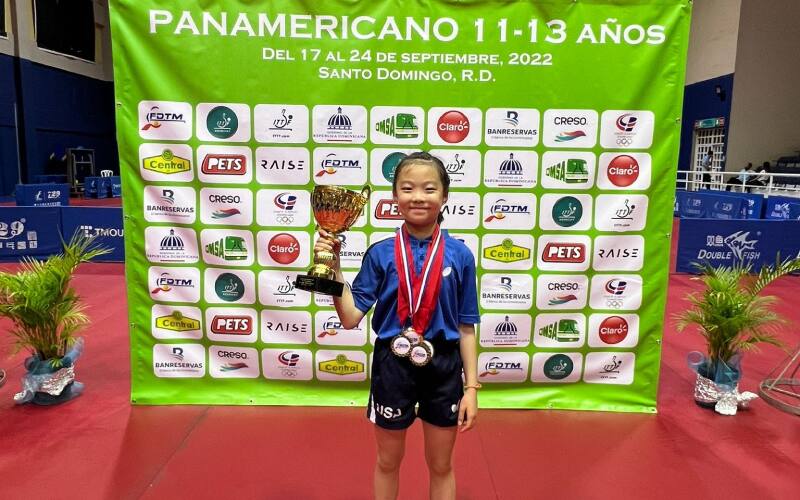 Irene Yeoh was the biggest winner of the whole event by winning 4 golds (Teams, Singles, Doubles, and Mix Doubles).
Pictures below show the Girls Team having fun during dinner and celebrating during the award ceremony.