2022 Pan Am Under 11 & Under 13 Championships - Boys' Singles and Doubles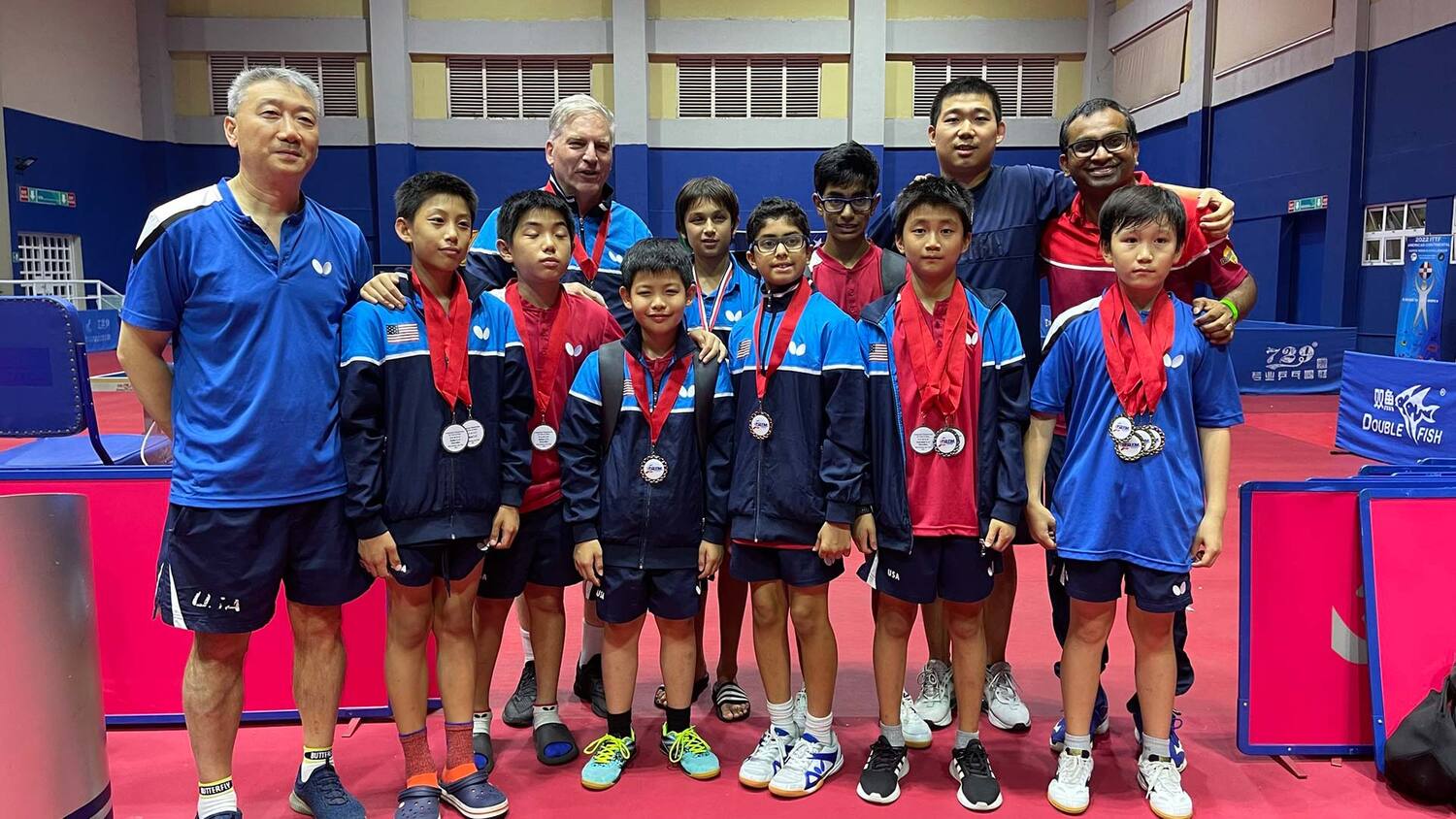 Players, L-R: Ryan Lin, Winston Wu, Caillou Chen, Kef Noorani, Arjun Kumar, Dhruv Chopra, Jason Liu, Kyler Chen. Coaches, L-R: Cheng Yinghua, Larry Hodges, Qi Wei, Thilina Piyadasa.
It was a great performance by the 16 members of Team USA as they won 20 medals in the 14 events, including 9 of the 14 gold medals, along with 7 Silver and 4 Bronze. On the boys' side, they won four gold, three silver, and two bronze. (Two golds and one silver were in mixed doubles, so "shared" with the girls.) Here are complete results. (See earlier articles on Team coverage.) A great thanks goes to USATT and Head Coach Gao; the ITTF; the Dominican Republic local organizing committee; uniform sponsor Butterfly; the coaches (Wu "Jennifer" Yue, Xinyue "Taylor" Wang, Cheng Yinghua, Thilina Piyadasa, me, and Qi Wei, who was a whirlwind both coaching and organizing); the parents, who were always helpful and cheered for Team USA; and especially the 16 kids who made up Team USA!
They faced more tribulations than just about any tournament I've been to in my 46 years in the sport. Extreme heat & humidity - no AC. Hurricane Fiona. Getting sent to the wrong hotel, and when we finally get to the right hotel, every set of roommates was wrong. Reserved practice tables not reserved. Noise - in the US we don't have ear-blasting horns played throughout points. One-hour bus trips to and from the hotel, and often forced to take the one-hour rides to the hotel and back just for lunch. Buses that were regularly late and in many cases didn't show at all - at least twice some of us had to take expensive taxis. A bus window fell in, hitting three people and scratching a (non-USA) girl. Everyone sometimes having to climb over the bus turnstiles which were locked with the driver unable to open. Twice bus mirrors fell off, one from each side. I watched as our bus swerved left one time, actually hitting a pedestrian who warded off the bus with his hands as he was pushed aside, seemingly and fortunately unhurt. Flies, mosquitoes, and gnats buzzing around and on our food in the outdoor food areas. Difficulty in getting food at the playing hall. Lack of practice due to late buses, where sometimes we'd have only ten minutes or so, 4-6 to a table, to prepare for matches. Wi-Fi that came and went. Power going out multiple times. This culminated in my final bus trip to the airport - which I'll get to at the end.
And yet the kids came through big time!
Despite the many problems, the tournament itself was run well, especially considering they had to find a way to schedule four days of matches into three days, due to Hurricane Fiona. The hard-working umpires and referees were mostly good, despite the crazy thing that happened in one match in Under 11 mixed doubles, as described below where we had to win a match three times. I think some of the people running the tournament simply got stuck in a problematic situation - a hotel that was far off with buses and drivers that let them down, and of course they couldn't do anything about the heat, humidity, bugs, and Hurricane Fiona. (But next time I hope they will have a food truck outside - it would solve a lot of problems.)
Under 11 Boys' Singles
Our four USA players were Kyler Chen, Jason Liu, Caillou Chen, and Arjun Kumar. I was the primary coach for this team, with Qi Wei the secondary coach, and Thilina Piyadasa and Cheng Yinghua stepping in when needed, since they sometimes played at the same time. All four players were undefeated in the preliminary groups of three or four, going a combined 9-0 in matches and 27-5 in games.
The only scare was Kyler's battle with the very loud Andy Maqueira of Cuba, who had very good serves, a good loop, a flat backhand that gave our players trouble, and a habit of tearing off his shirt when he won a match. (You'll be hearing more about Maqueira. He played in Under 13 in the Teams, upsetting a lot of players, including USA's Dhruv Chopra, who's rated 2177, in one of Dhruv's many "crazy" matches this tournament. In that one, Dhruv won the first two games and had a series of match points in the third, only to lose, -9,-4,16,6,5, in the first of his many five-gamers.) Kyler also struggled at first with Maqueira's spinny, deep serves to his backhand, usually pushing them - which didn't work out well. Down 2-1 in games, I convinced him he had to backhand loop them - and so it was strength to strength, Kyler's backhand loop (the best in the tournament in the Under 11's, and his forehand is just as good) against Maqueira's serves. Kyler pulled out a gutsy match, 7,-7,-8,6,8.
Arjun, the only one undefeated in games at 6-0, had the bad luck to draw Maqueira in the first round, the round of 32. Arjun was able to backhand loop the deep breaking serves and won the first game 11-5. I breathed a sigh of relief - too soon, as Maqueira is also a very good rallier, and he switched to mostly short serves, using the long ones for surprise. Arjun played well and had his chances, and the two played vicious rallies, but the Cuban won, -5,6,10,10. Meanwhile, Kyler and Jason both won 3-0, and Caillou had a bye. Jason's match against Columbia's Martin Opez was a close one, 11,10,9, with Jason winning the second from down 5-10 - seven in a row.
In the Round of 16, all three won easy 3-0's. In the quarterfinals, Kyler and Jason again won easy 3-0's. Caillou was up against Joaquin Velez of Ecuador, who blocks with long pips on the backhand (no sponge), with a decent forehand attack, and couldn't figure him out, going down 9,6,3. Caillou has a nice forehand, and when he gets confidence in his backhand loop (especially against backspin), he'll be deadly.
And so Kyler and Jason clinched medals! Only . . . they faced each other in the semifinals. As is USA Team policy, they played without a coach. The two are good friends and had practiced together a lot this week as they won gold in both Under 11 Boys' Teams and Doubles. They had already faced each once before this tournament, in the final of Under 11 Mixed Doubles, where Kyler/Irene Yeoh had barely prevailed over Jason/Sophia Chen, 9,-11,8,-4,10. Kyler was the US Under 11 Boys' Champion, where he'd won against Jason in the semifinals, and was rated higher, 2045 to 1965. But . . . in this match, Jason was loose while Kyler seemed tight. It was a battle of Jason's lefty forehand loops against Kyler's two-winged looping, but Jason seemed more comfortable in the rallies. Match to Jason, -9,13,6,-9,7.
In the other semifinals, Maqueira defeated Velez, 12,9,-9,5. So the final was Jason vs. the Cuban. I prepared Jason by mimicking the Cuban's serves - and it seemed to pay off at first, as Jason handled the serve well and jumped to a lead and led most of the way - only to lose a string of points at the end, and lose the first game, 11-8. Unlike his match against Kyler, he seemed a bit tight - but there was a reason for that. He's used to the topspin play of players like Kyler, but the flat backhand of the Cuban gave him fits, plus Maqueira was now varying his serves more. Jason had a game point in the second game but lost in deuce. He was also serving long too often, both intentionally and often by mistake when he tried to serve short, and Maqueira kept looping them and dominating the points. I got him to go for simple, short serves, which Maqueira would push, allowing Jason to loop - and when he did, he dominated. (Jason has one of the smoothest loops and is extremely good at looping away slightly weak balls.) Starting halfway through, whoever served dominated. In the third, Jason was down 9-10 match point, but battled back to win in deuce. In the fourth, he was down double match point, 8-10 - and again battled back to deuce. But it was not to be as Maqueira won gold, 8,12,-12,10, tearing off his shirt as he screamed and ran about. But silver for Jason and Bronze for Kyler wasn't bad, for now, especially since they had dominated in teams, doubles, and mixed doubles.
Hopes Boys' Doubles (Under 11)
In Hopes Doubles, Kyler/Jason completely dominated, only losing one game in the event - and that was in the first round, the round of 16, against Peru, Diego Andree Diaz Meza/Oscar Sosa Huancaruna. I gave them a good scolding for letting up after that first game as they won, 1,8,-6,6. Then it was 3-0 over Ecuador, 3-0 over Brazil, and they were in the final - against who? We'd hoped for an all-USA final, but the top Ecuador team, Boris Nestor Villavicencio/Joaquin Velez, didn't cooperate in the quarterfinals. Arjun/Caillou struggled with Velez's long pips and Villavicencio's attack but were up 2-1 in games and led 8-6 in the fourth - only to lose, -7,9,-8,8,4. But the final was all USA, with Kyler/Jason showing why they were the US National Under 11 Champions - and now the Pan Am Hopes (Under 11) gold medalists as well, 8,7,9 over the Ecuadorians.
Hopes Mixed Doubles
All four teams had byes in the first round. In the round of 32, Kyler Chen/Irene Yeoh and Arjun Kumar/Tiana Piyadasa both beat Brazilian teams 3-0, while Jason Liu/Sophia Chen won 3-0 over Honduras, while Caillou Chen/Abigail Yu won 9,4,-8,5 over a Peru team.
In the round of 16, Jason/Sophia won 3-0 over Honduras, and Caillou/Abigail won 3-0 over Ecuador. But Arjun/Tiana went down to Peru, -5,9,5,9. And now we had one of the craziest situations I've ever seen as Kyler/Irene essentially had to win their match three times! Here's what happened, as near as I can recall.
Against Canada (Yohan Ouellet/Sophia Bai), Kyler/Irene won the first two games easily at 4 and 2. In the third, they led 10-5, but lost three in a row, 10-8. I called a timeout and went over what Kyler should serve to Sophia. Sophia missed the serve, match over, and I jumped up cheering - only the umpire had held up her hand, Let! She thought they had served to the wrong player, and signaled for them to replay the point, with Kyler serving to Yohan. (Technically, if the umpire raised her hand during the point, it is a let, even if it was her mistake.) I thought I had messed up, getting the serving order wrong. So Kyler served to Yohan - who also missed the serve. (Kyler has very good serves.) Once again we'd won and I jumped up cheering - only once again the umpire had raised her hand, Let! She'd realized her mistake, and wanted them to replay the point again, this time with Kyler correctly serving to Sophia (again). At this point I argued, pointing out a point played is a point played, but the umpire spoke no English and I didn't know Spanish. The kids were confused, but before I had a chance to call for a referee, Kyler served to Yohan, they played a good point - and we won for the third time! Match to the US, 4,2,8. Or was that three matches? As I told Kyler and Irene, they had won three matches, the eighths, quarters, and semis, which should have put them in the final!
In the quarterfinals, it was Kyler Chen/Irene Yeoh 4,8,5 over Peru, and Jason Liu/Sophia Chen 7,5,6 over Ecuador (and Velez's long pips). But now it was Caillou/Abigail's turn to struggle. They fell behind 0-2 to Costa Rica only to battle into the fifth before losing in the medal round, 9,12,-7,-10,8. And so USA has two teams in the semifinals and two medals! Kyler/Irene continued their romp to the final, 5,4,3 over Columbia. But Jason/Sophia had a huge up and down battle with Costa Rica. They split the first two games, but USA went up 10-6 in the third - and lost six in a row. They won game four, 11-7. In the fifth, they fell behind 1-4, tied it up at 5-5, and won 11-6! And so they moved into the final, 9,-11,8,-4,10.
And so it was an all-USA final, Kyler/Irene vs. Jason/Sophia. The latter had a match point in the fifth, 10-9, but Kyler backhand looped a winner, and gold went to Kyler/Irene in this battle, 9,-11,8,-4,10.
Final medal count for Under 11 Boys: three golds, two silvers, and two bronze. Kyler won three golds (Teams, Doubles, Mixed Doubles) and a bronze in Singles. Jason won two golds in Teams and Doubles, and Silver in Singles and Mixed Doubles. Caillou and Arjun won Bronze in Teams.
Under 13 Boys' Singles
Our four USA players were Ryan Lin, Winston Wu, Kef Noorani, and Dhruv Chopra. Qi Wei was the primary coach, with me the secondary coach, and Thilina Piyadasa and Cheng Yinghua stepping in when needed. In the preliminary groups, the full-court two-winged looping Kef was the star, winning 3-0, 3-0, 3-0, followed closely by Ryan (also two-winged looper, playing closer to table), 3-0, 3-1, 3-0. Winston goes 3-0, 3-0 . . . 1-3, losing to lefty Ian Morales of Guatemala, -7,4,2,8, but advances in second.
Ryan had a crazy match against Andres Jesus Lopez Patinez of Venezuela, and blocker with a good backhand, about 2000 level. Ryan simply isn't play well, and he keeps playing into the strong backhand. He loses the first 11-8 and is down 10-11 in the second. I called a timeout either then or a couple of points before and give him both a pep talk and an ultimatum: STOP playing into his backhand! The rest of the way Ryan mostly attacks the middle and wide forehand. So what happens afterwards? He scores three in a row to win game two, 13-11. He wins game two . . . 11-0! Then he goes up 7-0 in the third. That's 21 points in a row! The streak only ends because of a net dribbler - after which Ryan scores three more in a row. He wins the match at -8,11,0,3, and from here on plays well - and this would continue on into the next event, Mixed Doubles, where he played perhaps the best he's ever played. (Singles would continue after the Mixed Doubles.)
And now we get to Dhruv. At the start of the tournament, I think I had dark, brown hair. Now it is white as snow. Thanks, Dhruv! How did this happen? We'll give the short version. In his first match, against Dariel Del Rosario of the Dominican Republic, he leads 9-3 and 10-6 in the first . . . and loses. (First hints of gray.) But he'd go on to win a close one, -10,10,-6,2,9. (More gray.) In his second match, against Sebastian Ivas of Venezuela, he loses the first two (the gray is spreading) and is down match point in the third (first flecks of white show up) - but then he almost romps, winning -7,-9,10,8,6. In this third match, against Cesar Revelo of Ecuador, he has another crazy five-gamer, this time losing, -9,910,-6,5. (More white.)
We'll continue with Dhruv in single elimination. In the round of 32, he plays Esteban Nicolas Camacho Munoz of Peru, and plays his fourth consecutive five-gamer, winning 7,-9,7,-10,8. (The white is spreading like a snowstorm, despite the heat.) in the round of 16, he plays Thiago Condori of Brazil, and all-out forehand looper. After losing the first 11-3, and I convince him he really needs to push short, and he wins the second 11-8. But he loses game three 11-3 - he's getting killed out there, and forget the white hair, I'm about ready to pull it out. And the killing continues as he falls behind 4-9 in the fourth - but with a series of rips and good receives, makes it to 9-all. Then he's down 9-10 and 10-11 match point - and wins, 13-11! But minutes later he's down 4-9 (again!) in the fifth (it's mostly white now) - and then 9-all! Then he's down 9-10 match point (third one) - and somehow, someway, a miracle happens. How do you lose two games 11-3, be down 4-9 in both the fourth and fifth games, fight off three match points, and still win? Match and into the quarterfinals for Dhruv, -3,8,-3,11,10, and it's all snow white now.
Ryan beats players from Brazil and Ecuador, 3-1 and 3-0; Winston (with his overpowering forehand and quick play) beats players from Columbia and Chile, 3-1 and 3-1; and Kef, struggling with humidity, barely beats blocker/hitter Lucas Xie of Canada (-9,8,-9,10,6) and then 3-0 over Venezuela. And so all four USA players are in the quarterfinals of Under 13 Boys' Singles, one match away from medals.
That's when disaster strikes. Ryan and Kef have unlucky draws against the top two seeds from Puerto Rico, with Ryan going down to Steven Moreno's counterlooping, 7,5,4, and Kef to Enrique's looping, fishing, lobbing, and consistency, -12,3,6,2; and Winston to Felipe Yoshihiro De Melo Okano of Brazil in a battle that soon turned sour, 8-5,-6,4,4. And Dhruv? His five-gamer streak ends against Ian Morales of Guatemala, 4,2,9 - and I have no doubt that if he'd won that third game, he'd have somehow won in five. And so all four USA players reach the quarterfinals but no medals this time. But both the coaches here and their regular coaches will continue to work with them and they will continue to improve. Meanwhile, it's an all-Puerto Rican final, with Steve Moreno winning over Enrique Rios, 6,6,-8,3. (Wait, isn't Puerto Rico a territory of the U.S.? Hmmm…)
Minicadet Boys' Doubles (Under 13)
Kef Noorani/Dhruv Chopra had a bye in the round of 32 and defeated a Venezuelan team in the round of 16, 10,5,-6,6. In the quarterfinals they faced a powerful team from Brazil, Felipe Yoshihiro De Melo Okano/Vinicius Rech. They had beaten USA A in the Team competition (Ryan and Winston), winning the doubles 3-0 (9,10,10). Next to the Puerto Ricans, they were probably the favorites here - except they, and Kef/Dhruv, were on the same side of the draw as them, with the winner playing them in the semifinals. What were our chances? The Brazil players were big, strong players, with powerful shots - so we brought them in over the table with lots of short serves and pushes to start the rallies. (The Brazilians even started serving deep to try to stop this, but that didn't work - Kef and Dhruv looped them.) And let's face it, Dhruv was on the team, so we know we're going five! And five it was - and USA led 9-8 in that fifth. But it was not to be as Brazil advanced, -8,6,-8,7,10. So close to a medal! Once they got used to each other, they played surprisingly well, often with Kef playing control, setting up shots and playing efficiently, and Dhruv ripping winners from both wings, sometimes going for too much, other times making a bunch in a row.
Meanwhile, Ryan/Winston beat a Dominican team at 3,5,5; barely held on against a surging Puerto Rico team, Sergio Perez Bohorquez/Geovanni Quinones, 10,2,-14,-10,8 (how many match points did it take to win that one?); knocked off Columbia (the previous week's Hopes Champion Emanuel Otalvaro/Juan Garzon), 5,-7,4,10; and Jonathan Jeancarlos Javier Vegas Vasquez/Liudwing Perozo (I love these names), 9,10,5. And so they are in the final against the Puerto Rican A team, Enrique Rios/Steven Moreno. But USA would have to settle for a silver as the Puerto Ricans win, 7,7,8.
Minicadet Mixed Doubles
Here's where we struck gold!
Kef Noorani/Genelia William had a bye in the round of 64 and had 3-0 wins in the next two rounds against teams from Columbia and Peru. In the quarterfinals they faced the top-seeded Enrique Rios/Valentina Davila of Puerto Rico, considered the favorites, and once again a USA team lost in the quarterfinals, 5,8,7.
Dhruv Chopra/Mandy Yu faced a Brazilian team in the round of 64, and the Dhruv magic struck again as they won in five, 8,-7,10,-1,8. Half my hair fell out as I watched them lose game four 11-1. But there was no magic next round as they lost to Liudwing Perozo/Nathacha Dennys Mata Apointe of Venezuela, 5,13,-9,6.
Winston Wu/Aria Shi struggled with a Dominican team in the round of 64 but prevailed, 5,-13,-7,6,3. Then they beat an Ecuador team, 8,-9,8,9. But the Venezuelan team of Jonathan Jeancarols Javier Vegas Vasquez/Dakota Ferrer was too much of them, 9,5,9.
So, where did we get gold? Ryan Lin/Amina Batkhuyag turn out to be a pretty good team, with Amina's short pips on both sides allowing her to both set up Ryan's loops (with short pushes and flips) and follow up with smashes. They would mostly romp to the final. After losing the first game against Canada, they won 3-1; then it was 3-0 over Columbia, Dominican Republic, and Brazil, and 3-1 over Venezuela, and they were in the final against the powerhouse Puerto Rican team, Enrique Rios/Valentina Davila. But gold it was as the two USA players play incredible, 10,-6,8,-9,8.
Final medal count for Under 13 Boys: gold in Under 13 Mixed Doubles for Ryan/Amina, and silver in Under 13 Boys' Doubles for Ryan/Winston. The biggest problem they faced were the formidable Puerto Ricans, with the Brazilians also very strong - so our players will need to train to beat these players. All four USA players made the quarterfinals of singles; Kef/Dhruv made the quarterfinals of doubles; and Kef/Genelia made the quarterfinals of mixed. They were so close you could almost taste the bronze and perhaps more.
And so things came to a close. It was a great ten days in Santo Domingo, despite the problems. And of course the transportation problems continued! I had a 3:47 AM (!) flight, along with Ryan and his dad, Hung. Our pickup was for midnight. At 12:05 Hung called the person in charge about this. We were promised it would be there by midnight. Hung pointed out it was already past midnight. We were promised the bus would be there by 12:15. At 12:20 Hung called again and this time we were promised the bus would be there by 12:30. The bus finally arrived at 12:38 AM and left at 12:41. It was a huge green bus, city-bus sized, for just the three of us. They had left windows open during a thunderstorm and every seat was wet. I dried off three with my towel. Two minutes after we left they turned a corner and Hung and Ryan's bags slid across the floor and out the back door, which the driver had forgotten to close! Hung yelled for the driver to stop, but we were hundreds of yards away already before he stopped. Hung got off to get them from where they'd fallen on the street. I stepped out to help just as the driver decided to back the bus up, and I almost stepped out of a suddenly rapidly moving bus. I barely grabbed a railing and pulled myself back in.
The kids had a great time, they learned a lot, they won a lot, and now they are going to want to win even more. If so, then in a few years this Super Sixteen just might, maybe, perhaps, take the world by storm, and then it's going to be gold galore!