2023 US National Team Trials Kick Off at 888 Table Tennis Center in California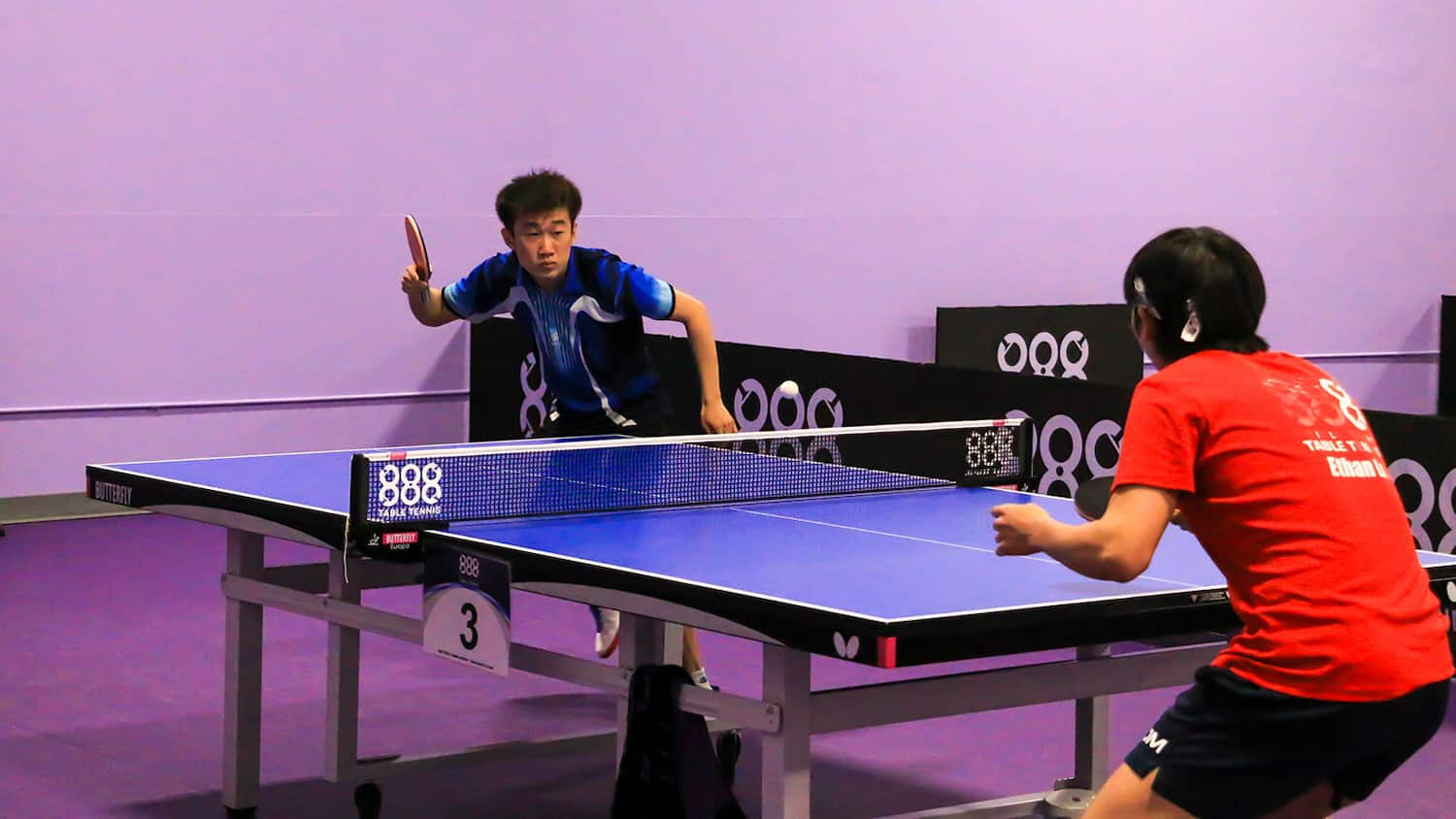 Eight Men Advance to Second Round after Morning Play – Four More Second Round Competitors for the Men Will Be Determined in Play-In Round Later Today – While the Women Hold Center Stage at the Moment
(Burlingame, CA – April 7, 2023) – The 2023 US National Team Trials opened today on a misty cool morning on the banks of the San Francisco Bay inside the elegantly designed 888 Table Tennis Center in Burlingame, California. The morning action sent out thirty-four men in eight robin groups with the winner of each group capturing a spot in the Second Round – and the eight second place group finishers earning a spot in "Play-In" matches later this afternoon for the opportunity to continue their journey towards earning a coveted spot on the 2023 US Men's National Team. Nineteen women have now taken center stage in four groups to begin their respective efforts to earn a spot to represent the United States of America in international table tennis competition over the next year.
The live stream of Table One from 888 TTC is at: https://www.youtube.com/watch?v=jqjxNQQ7780. All results from the 2023 US National Team Trials can be found at www.Omnipong.com.
Group One of the men featured US Olympian Nikhil Kumar, who cruised in early matches against Earl James Alto and Terry Young, before running into a determined and talented young member of the large contingent of players representing 888, Jensen Feng. The Kumar-Feng battle resembled a prize fight with two heavy hitters trading quality punches and counter-punches for the full seven-game distance before the 2020 US Olympic Trials champion – Kumar – was able to close out the young contender 11-9 in Game Seven.
Group Two saw another favorite take the top spot as Jishan Liang of North Carolina made his long trip west pay off losing only one game in the three matches it took for him to earn his spot in Round Two. It was young Ved Sheth, who plays down the road in Northern California at ICC in Milpitas, California, who took that one game from Liang and also took the second place position in Group Two to continue his day in the Play-In Round.
Group Three saw Kai Zhang, a southern Californian by way of New York City, survived a seven-game skill-fest with Aditya Godhwani to put together a perfect record and advance to the Second Round. But Godhwani isn't done for the day, as he held onto the group's second slot to earn his Play-In match later today.
Group Four featured another elite-level seven-game showdown between the two top seeds in the Group with Chance Friend – one of a number of quality athletes competing in the National Team Trials from Samson Dubina's club in Ohio – holding off Californian Dan Liu for the top slot. Group Five had another high-end entry from Samson Dubina's club, Nandan Naresh, an Illinois resident, put together an unblemished record to earn his slot in the Second Round, while the Texan Andrew Cao won every game he played against anyone not named Naresh to take one of the eight slots available in the Play-In Round. In Group Six it was another Naresh – this time Sid – who won all four First Round matches he played to advance to the second round, while the young and up-and-coming star, Daniel Tran, swept everyone else in the Group to make it to the Play-In Round.
Group Seven had a completely different vibe with the top three competitors, William Bai, Tahl Leibovitz and Aziz Zarehbin ending their group stage with dead-even 3-1 records. But based on the tie-break, it was the Californians Zarehbin and Bai who defended home turf and took first and second place, respectively.
The results for Group Eight had a familiar resonance with the A-seeded New Yorker Mishel Levinski falling just one game short of a perfect performance, while one of the top junior players in the country, Darryl Tsao, lost to Levinski but handily took his other two matches to get to the Play-In Round later today.
As noted, the ladies have center stage at the moment 888 with top three performers in each of the four round robin Groups earning a spot in the twelve member Second Round.
The Play-In Round in the Men's competition is scheduled to begin this evening at 5 pm Pacific time. The four matches to be played tonight are: Darryl Tsao v Jensen Feng; Daniel Tran v Aditya Godhwani; Andrew Cao v Dan Liu; and William Bai v Ved Sheth.
End.22 04-07a