USATT Announces 2023 US National Club Team Championships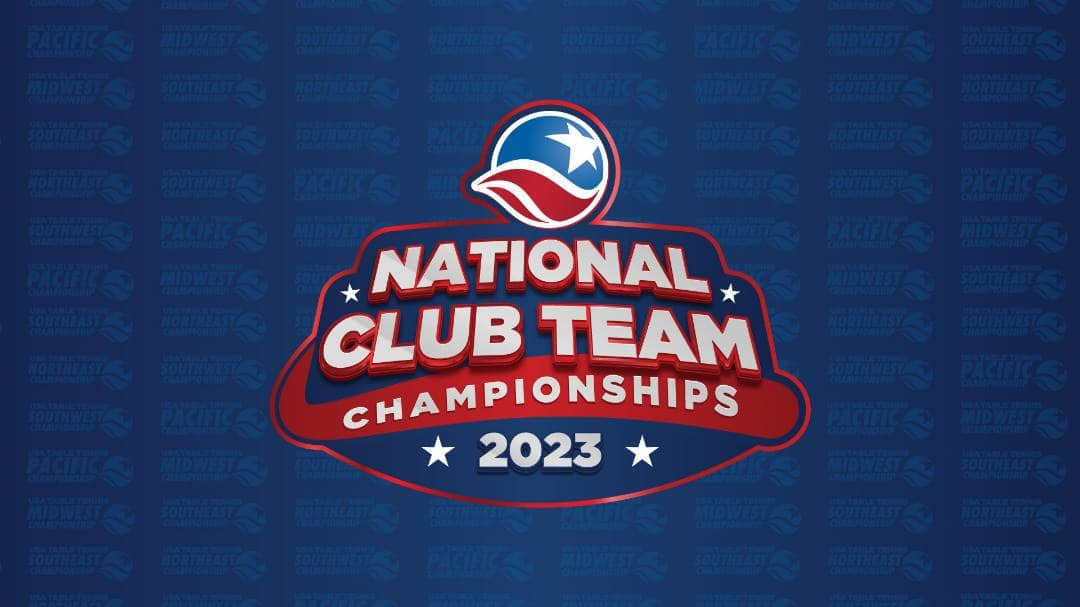 Teams Representing USATT Member Clubs Can Qualify at Regional Events for a Chance to Play for $12,000 in Prize Money at the 2023 US Nationals in Fort Worth
(Colorado Springs, CO – March 23, 2023) – USA Table Tennis ("USATT") today announced an exciting new event to be held during the 2023 US National Table Tennis Championships in Fort Worth, Texas. The 2023 National Club Team Championship will be held on July 2 and July 4 during Nationals and will offer $12,000 in prize money. To get to Nationals, a team representing a USATT Member Club must participate – and finish in one of the top three positions – in one of the five US Regional Championships being held throughout the United States in May. There will also be a "wild card" team – who played at the Regionals but did not finish in the top three in that Region - admitted to the event so that there will be a sixteen-team bracket in Fort Worth. All Clubs that register a team for the Regional Championships will also be allowed to enter a Junior Team as part of Junior National Club Team Championship.
The rules for the 2023 US National Club Team Championship are set out below. The Prospectus for the event can be found here. The Roster Form for the Event can be downloaded here.
The dates and locations for the Regional Events are as follows:
"We are extremely excited to offer this new event to USATT Affiliated Member Clubs and the exceptional players at these clubs," said USATT Chief Executive Officer Virginia Sung. "The goal is to crown one team as the Club Team National Champion – and we're hopeful that our clubs will enter teams representing their club with the intent of capturing that prestigious title. We already know that our member clubs take a great deal of pride in the quality of athletes playing in their facilities, and this is a chance for those players to represent their club and show that they are the best in the country. We believe that players get a great deal of enjoyment from playing for one another in a team format – and this tournament adds the excitement of also playing for your club – and all of your club's members. We expect the play amongst the teams in the sixteen-team bracket in Fort Worth to be one of the most highly anticipated and entertaining events at our National tournament this year."
National Club Team Championship Rules
1. System of Play
National Club Team Championship Qualifier (Regional Championship) and Nationals will use Olympic 3- player team format in a best of 5 match (ABC vs XYZ)
Match 1: B+C vs Y+Z; Match 2: A vs X; Match 3: C vs Z; Match 4: A vs Y; Match 5: B vs X;
2. Rules
a. Team Size
A Team is composed from a maximum of 5 players
Players can't be substituted after a team's original roster is submitted to the Tournament Director for the Regional Championship
b. Roster
Roster must be submitted 48 hours, before the Regional Championship to the tournament director for the region where the team will compete. Roster also must be submitted to USATT (vlad.farcas@usatt.org)
Roster that is submitted for Regional Championship will be used for National Team Championship (no alterations are allowed)
c. Eligibility
All USATT member clubs are eligible to compete in the USATT Club Team Championship.
There is no nationality requirement for players to participate in Club Team Championship
For Regionals all participants must be USATT Basic Member; For National Event all participants must be USATT Pro Member.
d. Qualification
Top 3 finishers at USATT Regional Championship (Northeast, Southeast, Southwest, Midwest, Pacific) will qualify directly to USATT National Club
Winner of each Regional Championship will receive FREE ENTRY to USATT National Club Team Championship
One Wild-Card spot – Highest rated team that competed in USATT Regional Championship and did not qualify directly for National Club Team Championship
All clubs that participate in USATT Regional Championship are eligible to enter a team in the Junior National Club Team Championship. (No Qualification Required)
e. Entry Fees & Prize Money
Players must represent a USATT Club to compete in the Regional and National Event
Clubs must approve their entry in the event
If Players pay entry fee for Regional or National Event, the prize money check will be split between Players for that respective event
If Club pays entry fee for Regional or National Event, the prize money check will be written to Club
National Club Entry will be paid after qualification
3. TITLE
Winning team of National Event (Fort Worth, TX) will be crowned the first USATT National Club Team Champion and will receive the right to display the Trophy in their club as a prestige sign of becoming the best Club Team in the country.
4. REGISTRATION
Clubs and Players can register by submitting the Roster and Entry Fee to the Regional Organizer. Players who submit their roster must have approval from the Club to represent them in the USATT National Club Team Championship.
5. REGIONALS & NATIONALS LOCATION AND DATES
NORTHEAST – Westchester Table Tennis Club – May 20-21,2023
MIDWEST – Spin & Smash – May 19-21,2023
SOUTHEAST – Broward Table Tennis Club – May 19-21,2023
SOUTHWEST – Houston International Table Tennis Academy – May 26-28,2023
PACIFIC – Orange County Table Tennis Academy – May 19-21,2023NATIONAL CLUB TEAM CHAMPIONSHIP – Fort Worth, Texas – July 2nd (1pm)
For more information, please contact Vlad Farcas at USATT Headquarters (vlad.farcas@usatt.org).
End.22 04-11a