Tickets On Sale for the Pan American Youth Championships in Charleston West Virginia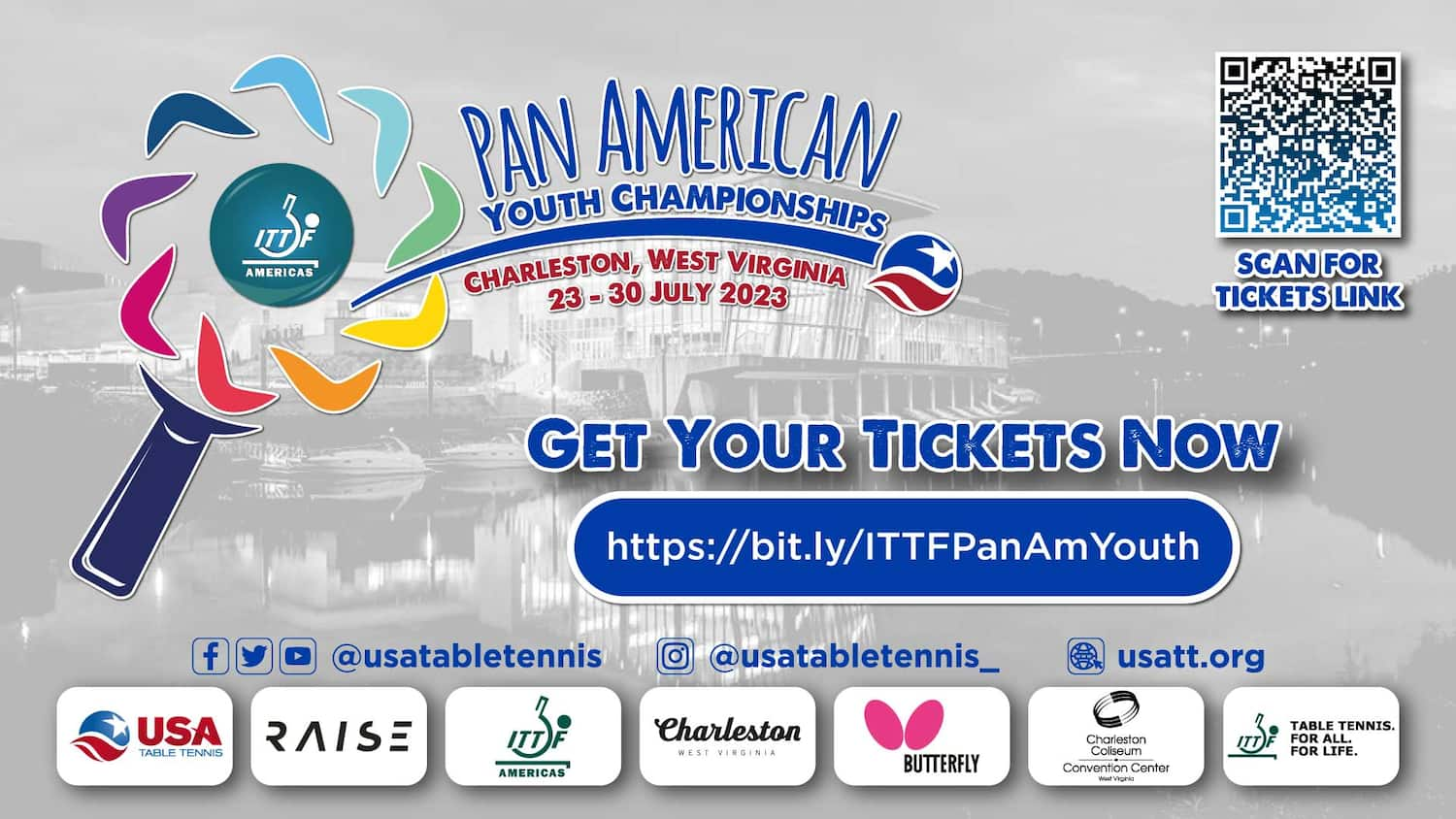 Charleston, West Virginia is set to become the pulsating heart of the international table tennis community as it proudly hosts the ITTF Pan American Youth Championships (U19 & U15) from July 23rd to 30th. The prestigious event, taking place at Charleston Coliseum and Convention Center, promises to be an unforgettable experience for both players and spectators alike.
Table tennis players, coaches, families, and fans from across the Americas will gather in Charleston to participate and watch gripping matches filled with passion, precision, and nail-biting moments. This highly anticipated tournament will showcase the extraordinary talents of the youth players who will be leading the table tennis community in the next few years.
We are delighted to announce the launch of ticket sales, granting fans the opportunity to secure their place at this thrilling international table tennis event. Starting from Saturday, June 24th, tickets can be purchased online here through ticketmaster.com or in person at the Coliseum Box Office
Ticket pricing is as follows:
Preliminary Matches: $20 all day tickets


Sunday 7/23 – Tuesday 7/25
Thursday 7/26 – Saturday 7/29

Finals: $30 all day tickets


Wednesday 7/26
Sunday 7/30

VIP All Week Pass: $250 (Includes seating on the floor of the court areas)
Don't miss your chance to witness the world's best table tennis players battling it out in Charleston, WV! Whether you choose to attend individual days or immerse yourself in the entire week-long spectacle with the VIP All Week Pass, an unforgettable experience awaits.
Charleston itself offers a myriad of attractions as a destination. Explore its rich history, captivating culture, and breathtaking natural beauty. Indulge in regional cuisine, stroll through charming streets lined with historic architecture, and immerse yourself in the vibrant arts scene. Outdoor enthusiasts will find endless opportunities for adventure, from hiking and fishing to scenic drives through the mountains of West Virginia.
Come early or stay after the tournament to experience the best of Charleston and create lasting memories in this unforgettable destination.
Media Contact:
Barbara Wei
Marketing Specialist