Sung and Wang Impress at ITTF Youth Championships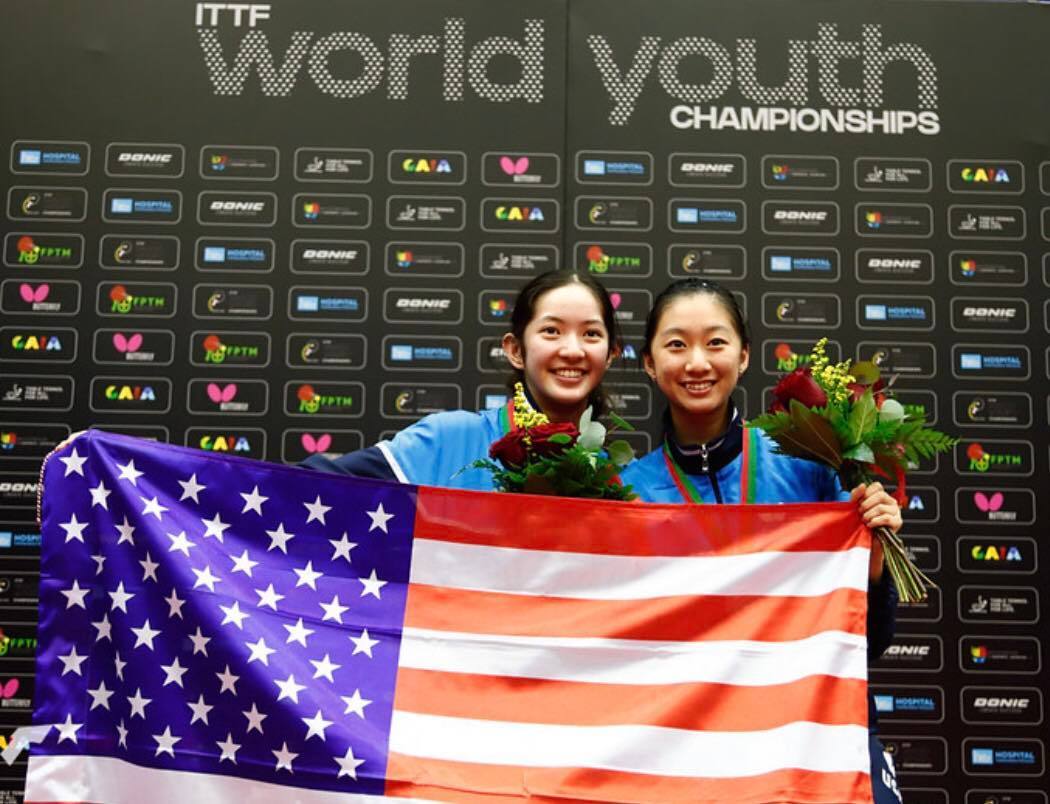 Rachel Sung and Amy Wang at the ITTF World Youth Championships in Vila Nova De Gaia, Portugal. December 7, 2021. Credit WTT Flickr

(Colorado Springs, CO - December 8, 2021) - The ITTF World Youth Championships took place this past week, hosted in Vila Nova De Gaia, Portugal.
Team USA has been gaining momentum, medaling in several of the most recent tournaments - and the streak doesn't stop here.
USA's U15 Boys' fought hard for a spot in the finals versus The Russian Federation. With narrow 3-2 victories over Hungary and France in the prior rounds, the U15 Boys lost 1-3 to a strong Russian side, earning a Silver medal.
Following suit, the U19 Girls Team got off to a quick start with a 3-0 win over Portugal in the Round of 16. With a 3-1 win over India in the quarter-finals and a narrow 3-2 win over Romania in the semi-finals, the U19 Girls were set for a Gold Medal match versus a strong Chinese team. Falling in 3 straight sets, the USA U19 Girls earned a well-deserved Silver Medal in Portugal.
Team USA with their medals in Vila Nova De Gaia, Portugal. December 7, 2021. Credit Jun Gao.

Arguably the most impressive performance of the tournament, the great duo of Rachel Sung and Amy Wang had a steep road ahead of them in the U19 Girls Doubles draw but refused to back down from the challenge. Winning in close games 3-1(10-12,11-9,11-9,11-6) over The Russian Federation in the Round of 16, their incredible run was far from over. Facing a strong German team in the quarter-final, Wang and Sung narrowly won their way into the semi-final 3-2 (11-6,8-11, 6-11,11-6, 11-5). Now into the semi-final, Chinese-Taipei was now the only thing preventing them from a historic Gold Medal Match against China. Losing the first game 5-11, Amy and Rachel shook off the first game and proceeded to win the next 3 games straight (11-9,11-6,11-6). The American duo now had a chance to take on Team China in the final for a Gold Medal.
After going down 0-2 in games (3-11, 3-11) Sung and Wang fought back in game 3 winning 11-6. However, Team China was too strong, winning game 4, securing the Gold Medal. Congratulations Amy Wang and Rachel Sung on a Silver Medal and incredible performance.
Information on the results of ITTF World Youth Games
Next up will be the USA Hopes Team competing in Jordan!
Nick is a Senior Sports Communications Major at Texas Wesleyan University. Nick plans to graduate in the Spring of 2022 where he intends to continue pursuing Sports Journalism.