US Open Recap: "It's good to be back"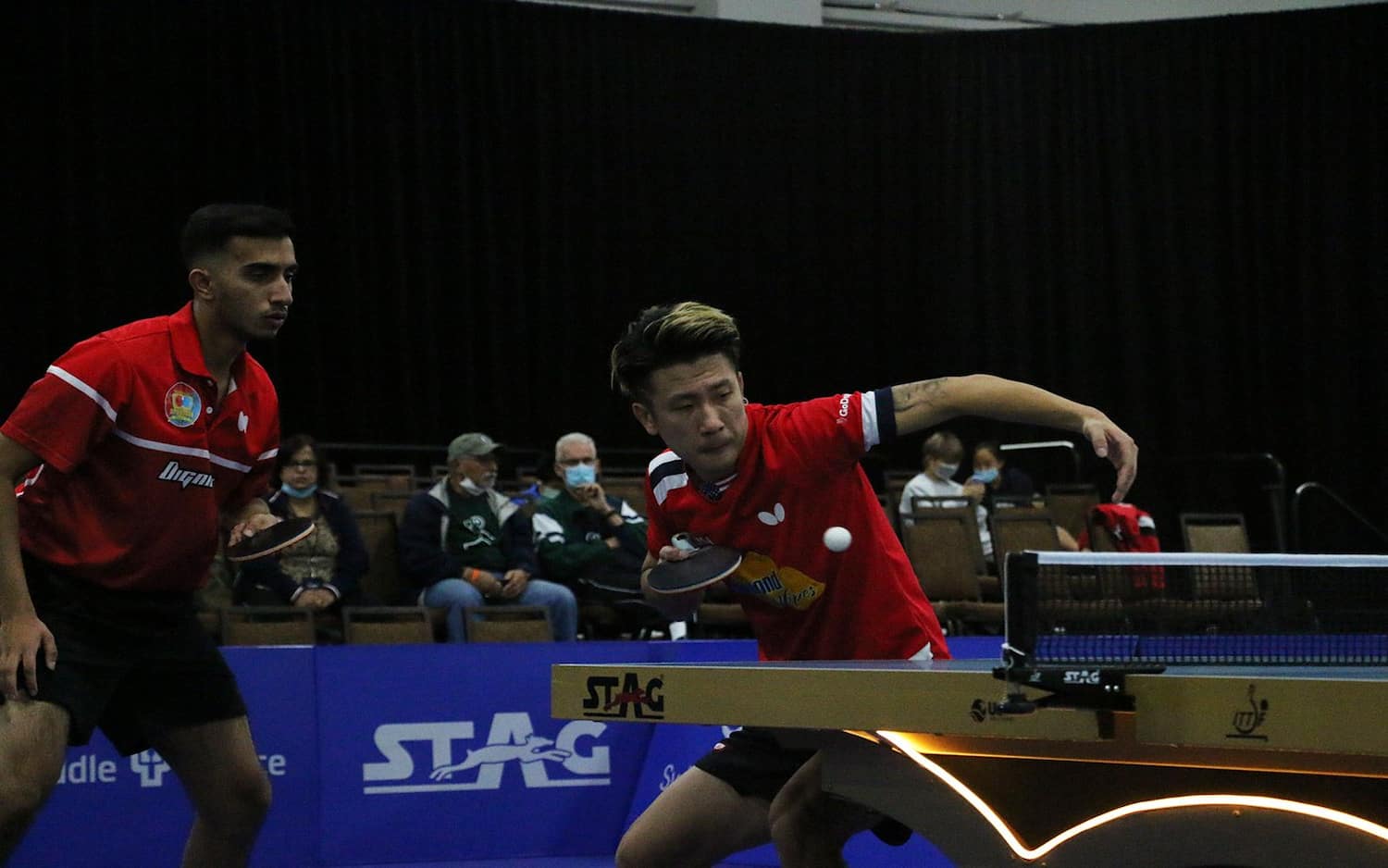 Nikhil Kumar and Xiang Jing Zhang at the US Open in Las Vegas, Nevada USA. December 18, 2021
(Colorado Springs, CO - December 19, 2021)- Nerves are long gone and Day Two brought many more matches, loops, smashes and medals. Through two days, over 1500 matches have already been played and completed.
With almost 800 players, everyone can agree that nothing beats a big venue full of familiar faces.
"It's good to be back," said Leighton Ng of WCTTA. Out of all the host cities for the biggest US tournament of the year, everybody loves Vegas. "I came for Nationals a few years ago, but this is my first time back," said Ng. "The venue is big, much larger than I expected it to be. The flooring, spacing, everything is really nice here." Leighton was not the only player impressed with the quality of the venue. "Wow, it is amazing," said Mario Alvarez. "I am thinking it is better than the National Championships last year. I like the color of the flooring and the tables. Nothing is perfect, but it is improving," said Alvarez.
The US Open is so unique with how many nations it attracts. Players travel from all over the country, but also come from many countries all around the world as well. "I am from Nicaragua, but moved to Las Vegas a couple years ago to start a table tennis club here," said Alvarez.
With 18 events, over 60 medals, Singles matches, Doubles matches, and livestream's for the finals, there was truly something for every spectator in Day Two.
Sunday brings a large mix of singles, rating, and doubles events, see the US Prospectus for more information
Results from Day Two:
80 & Over Men's Singles: 1st: Pete May 2nd: Paul Liu 3: Stuffy Singer 4th:Mark Yelavich Jr
65 & Over Women's Singles: 1st:Yan Ge 2nd:Patty Martinez-Wasser 3rd: Nida Morris
65 & Over Men's Singles: 1st: Yuxiang Li 2nd:Parviz Mojaverian 3rd:Jiufeng Zhao/Richard Mcafee
40 & Over Men's Singles: 1st: Mingwei Ju 2nd: Guo Hui Lu 3rd: Changwoo Lim/Yuxiang Li
U15 Boys Singles: 1st:Daniel Tran 2nd:Darryl Tsao 3rd:Aditya Sareen/Jensen Feng
U2600RR: 1st: Tianrui Zhang 2nd: Ishaan Hingorani 3rd: Jihai Wang/Tyrese Knight
U2000RR: 1st:Ramon Maxwell 2nd:Aldin Soneja 3rd:Ronald Weber/Yi Ma
U1700RR(Adult): 1st: Wenyan Guan 2nd:Thomas Ha 3rd:Palak Jain/Housam Atalah
U1700RR:(Junior): 1st:Hanyao Zhang 2nd:Aarav Gupta 3rd:Akshara Badri/Danelys Cruz Rosario
U1000RR (Adult): 1st:Dung Truong 2nd:Tushar Khinvasara 3rd:Tao Li/Firoz Basheer
U1000RR(Junior): 1st:Olivia Huang 2nd:Anirudh Bhat 3rd:Anagha Kasichainula/Sarika Kannan
Many events are still in progress, keep up with them on Omnipong: US Open Results
USATT is also streaming table one on USATT Facebook Page