2021 US Open Day Four: Zhang Goes Back to Back, Lei Kou Dominates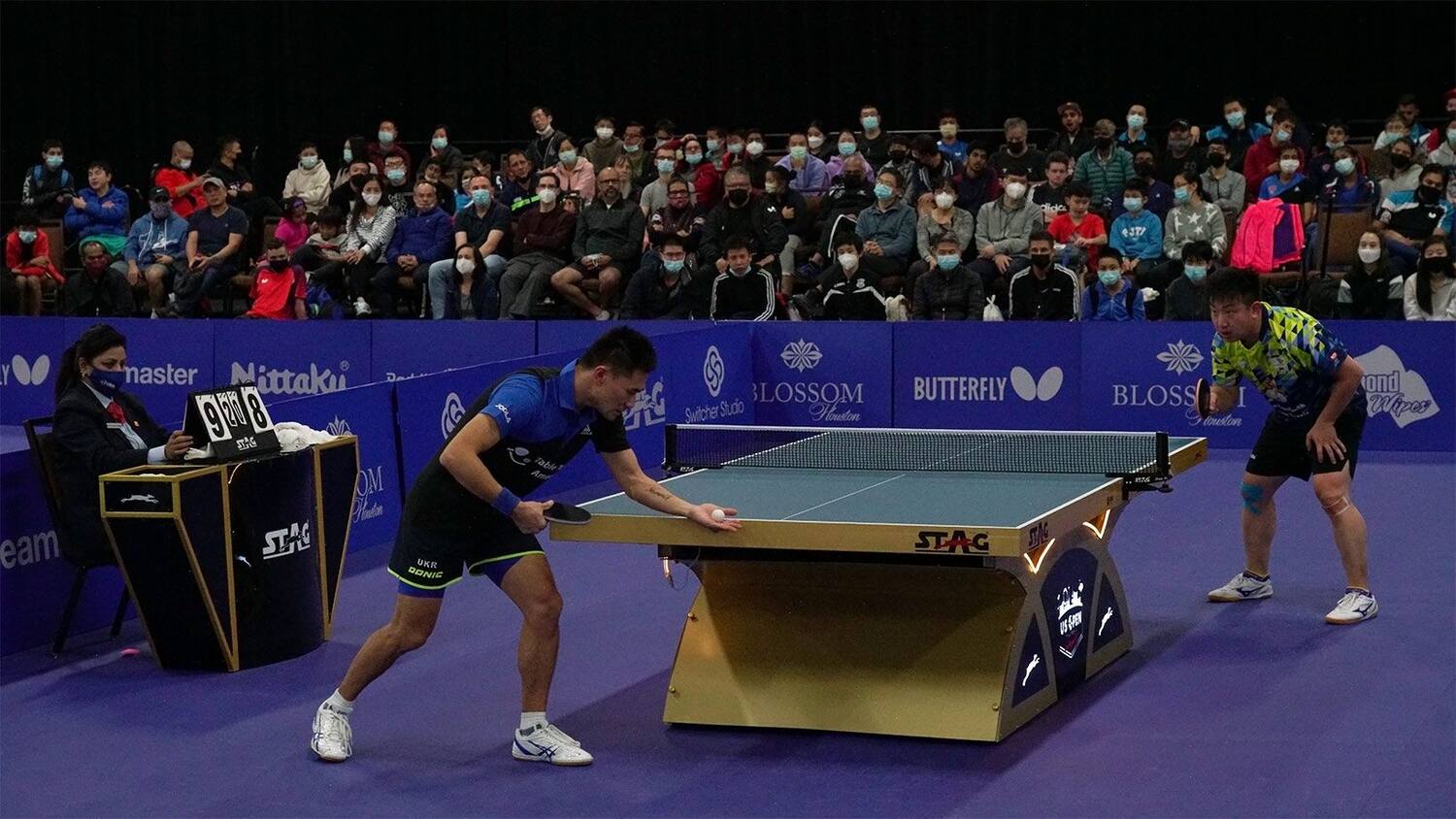 Lei Kou serves to Eugene Wang during the Men's Singles Final. Taken in Las Vegas, Nevada USA. December 20, 2021.
(Colorado Springs, CO - December 21, 2021) - Day four at the 2021 US Open Table Tennis Championships provided awards, more matches, and most importantly, the 2021 U.S. Open Singles Champions.
For Men's Singles, a new champion was crowned. Lei Kou, 2826 rated one seed, dominated throughout the tournament, proving his dominance in a 4-0 win over opponent Eugene Wang. Before his final match, Lei offered some thoughts heading into the finals. "Eugene is my friend. We played Joola Teams together two weeks ago, and we have known each other for many years, and have played together internationally for a long time. So for me, this is more of a friendly match, a friendship match," said Lei.
On the Women's side, history repeated itself; for the sixth time. In a nail-biting seven-game match, Lily Zhang showed her experience in the seventh game and pulled out the win, her sixth US Open Women's Singles title. Zhen Deng of Texas Wesleyan University impressed in the final, taking the first game off of Lily, before falling behind 1-3. Not to be deterred, she fought back, winning the next two, forcing a seventh game against Zhang. After the victory, USATT also awarded Lily the USATT Athlete of the Year Award. This award was presented by the 1971 Women's US Open Winner, Connie Mae Sweeris.
USATT also had other ends of the year awards. Earning the honors for Athlete of the Year was Paralympian Tokyo Gold Medalist Ian Seidenfeld. Ian had this to say about Tokyo and the meaning of these awards. "Tokyo was a great tournament. It was definitely awesome to represent my country, and then winning the Gold medal was an amazing feeling. Knowing I put a lot of work in over the pandemic to play at my best, and to peak in performance at the tournament, and I think I accomplished a lot of goals I set for myself," said Seidenfeld. After receiving the award, he also reflected on being USATT's Athlete of the Year. "It feels great to be recognized by your national governing body, and it just feels great to be recognized for your achievements," said Seidenfeld.
Other awards included the following:
Jun Gao: Most Valuable Coach
Marguerite Cheung: Volunteer of the Year
Tina Ren: Employee of the Year
On top of these major events, many other matches were being played as well. See those results on Tournament Results
Today brings more streams, see USATT Facebook Page for all things live.
For more info regarding events beginning today, see US Open Prospectus