USATT Announces 2021 All-American Honors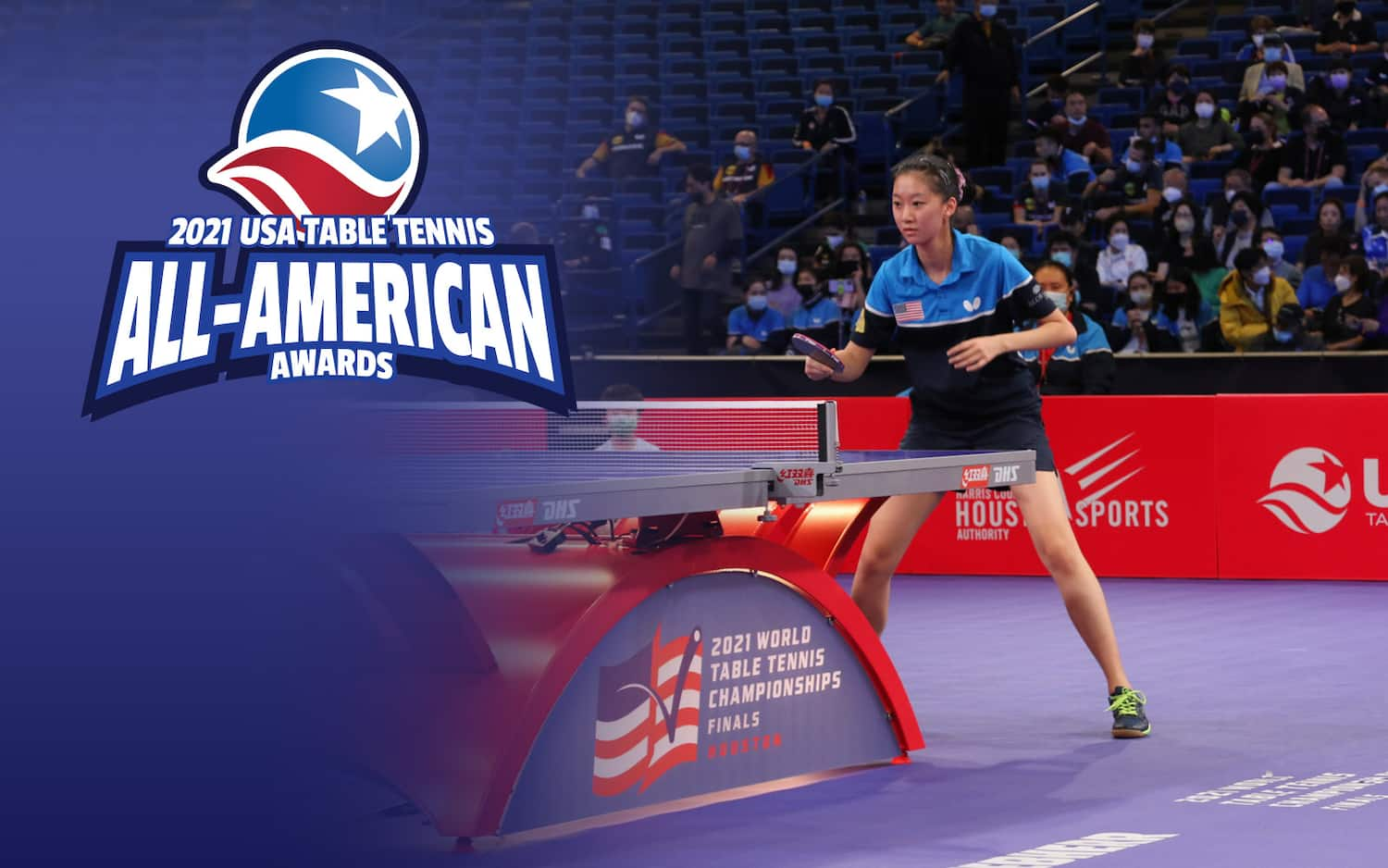 USATT Announces 2021 All-American Honors
Thirty-Four Young Table Tennis Athletes Recognized for Extraordinary Efforts and Performance in International Table Tennis Events
(Colorado Springs, CO – December 28, 2021) – USA Table Tennis ("USATT") today announced the organization's All-American Honors for 2021. USATT bestowed the 2021 All-American Honors upon table tennis athletes who are under the age of 19 and displayed exceptional efforts and achieved outstanding performances in international table tennis events during the 2021 calendar year.
The female 2021 USATT All-Americans are:
Faith Hu Sarah Jalli Tiffany Ke
Geetha Krishna Yishiuan Lin Amber Liu
Sally Moyland Tashiya Piyadasa Tiana Piyadasa
Aria Shi Joanna Sung Rachel Sung
Angie Tan Emily Tan Amy Wang
Abigail Yu Mandy Yu
The male 2021 USATT All-Americans are:
Kyler Chen Mu Du Darius Fahimi
Jensen Feng Krish Gandhi Xianyao He
Stanley Hsu Kai Jiang Ryan Lin
Maxim Mouchinski Nandan Naresh Sid Naresh
Kef Noorani Daniel Tran Brian Wu
Aziz Zarehbin Jayden Zhou
"USATT is so proud of each and every one of our All-Americans," said USATT Chief Executive Officer Virginia Sung. "Performance-wise, our young American athletes were simply spectacular on the international stage this year. But more importantly, we were honored by the efforts and character of our young players, and we're confident that this will translate into excellence both on and off the table tennis courts in the future."
The 2021 international table tennis results for each of the USATT All-American honorees are listed below.
Faith Hu – 1 Gold, 2 Bronze
ITTF Pan American U15 & U19 (Santo Domingo, Dominican Republic)
U15 Girls' Team

USA (Sarah Jalli, Emily Tan, Faith Hu, Sally Moyland) – 1st (MEDAL)

U15 Girls' Singles
ITTF World Youth Championships (Vila Nova de Gaia, Portugal) – December 2 – 8
U15 Girls' Team (Emily Tan, Faith Hu, Sally Moyland)
Sarah Jalli – 3 Gold, 1 Silver, 3 Bronze
ITTF Pan American U15 & U19 (Santo Domingo, Dominican Republic)
U15 Girls' Team

USA (Sarah Jalli, Emily Tan, Faith Hu, Sally Moyland) – 1st (MEDAL)

U15 Girls' Singles

Sarah Jalli – 1st (MEDAL)

U15 Girls' Doubles

Jalli / Moyland – 1st (MEDAL)

U15 Mixed Doubles

Naresh / Jalli – 2nd (MEDAL)
ITTF Pan American Championships (Lima, Peru) – Nov 13-19
Women's Doubles
Women's Team (Amy Wang, Sarah Jalli, Tiffany Ke)
Cali 2021 Pan American Junior Games (Cali, Colombia) – Nov 30 – Dec 5th
Under 21 Women's Doubles

Jalli / Lin – 3rd (MEDAL)
Tiffany Ke – 2 Bronze
ITTF Pan American Championships (Lima, Peru) – Nov 13-19
Women's Doubles
Women's Team (Amy Wang, Sarah Jalli, Tiffany Ke)
Geetha Krishna – 2 Gold, 1 Bronze
ITTF Pan American U11 & U13 (Cuenca, Ecuador) – October 18 -24
U11 Girls' Team

USA (Tashiya Piyadasa & Geetha Krishna) – 1st (MEDAL)

U11 Girls' Singles

Geetha Krishna – 3rd (MEDAL)

U11 Girls' Doubles

Tashiya Piyadasa & Geetha Krishna – 1st (MEDAL)
Yishiuan Lin – 2 Gold, 1 Silver, 1 Bronze
ITTF Pan American U11 & U13 (Cuenca, Ecuador) – October 18 -24
U13 Girls' Team

USA (Amber Liu & Yishiuan Lin) – 1st (MEDAL)

U13 Girls' Singles

Yishiuan Lin – 1st (MEDAL)

U13 Mixed Doubles
Cali 2021 Pan American Junior Games (Cali, Colombia) – Nov 30 – Dec 5th
Under 21 Women's Doubles

Jalli / Lin – 3rd (MEDAL)
Amber Liu – 1 Gold, 1 Silver
ITTF Pan American U11 & U13 (Cuenca, Ecuador) – October 18 -24
U13 Girls' Team

USA (Amber Liu & Yishiuan Lin) – 1st (MEDAL)

U13 Girls' Singles
Sally Moyland – 3 Gold, 2 Bronze
ITTF Pan American U15 & U19 (Santo Domingo, Dominican Republic)
U15 Girls' Team

USA (Sarah Jalli, Emily Tan, Faith Hu, Sally Moyland) – 1st (MEDAL)

U15 Girls' Singles

Sally Moyland – 3rd (MEDAL)

U15 Girls' Doubles

Jalli / Moyland – 1st (MEDAL)

U15 Mixed Doubles

Tran / Moyland – 1st (MEDAL)
ITTF World Youth Championships (Vila Nova de Gaia, Portugal) – December 2 – 8
U15 Girls' Team (Emily Tan, Faith Hu, Sally Moyland)
Tashiya Piyadasa – 4 Gold
ITTF Pan American U11 & U13 (Cuenca, Ecuador) – October 18 -24
U11 Girls' Team

USA (Tashiya Piyadasa & Geetha Krishna) – 1st (MEDAL)

U11 Girls' Singles

Tashiya Piyadasa – 1st (MEDAL)

U11 Girls' Doubles

Tashiya Piyadasa & Geetha Krishna – 1st (MEDAL)

U11 Mixed Doubles

Kef Noorani & Tashiya Piyadasa – 1st (MEDAL)
Tiana Piyadasa – 2 Silver, 2 Bronze
ITTF Pan American U11 & U13 (Cuenca, Ecuador) – October 18 -24
U11 Girls' Team

USA (Abigail Yu & Tiana Piyadasa) – 2nd (MEDAL)

U11 Girls' Singles

Tiana Piyadasa – 3rd (MEDAL)

U11 Girls' Doubles

Abigail Yu & Tiana Piyadasa – 2nd (MEDAL)

U11 Mixed Doubles

Kyler Chen & Tiana Piyadasa – 3rd (MEDAL)
Aria Shi – 1 Gold, 1 Silver, 1 Bronze
ITTF Pan American U11 & U13 (Cuenca, Ecuador) – October 18 -24
U13 Girls' Team

USA (Aria Shi & Mandy YU) – 2nd (MEDAL)

U13 Girls' Singles
U13 Girls' Doubles
Joanna Sung – 1 Gold, 2 Silver
ITTF Pan American U15 & U19 (Santo Domingo, Dominican Republic)
U19 Girls' Teams

USA (Amy Wang, Rachel Sung, Joanna Sung, Angie Tan) – 1st (MEDAL)

U19 Girls' Doubles

Sung / Sung – 2nd (MEDAL)
ITTF World Youth Championships (Vila Nova de Gaia, Portugal) – December 2 – 8
U19 Girls' Team (Amy Wang, Rachel Sung, Joanna Sung, Angie Tan)
Rachel Sung – 2 Gold, 3 Silver
ITTF Pan American U15 & U19 (Santo Domingo, Dominican Republic)
U19 Girls' Teams

USA (Amy Wang, Rachel Sung, Joanna Sung, Angie Tan) – 1st (MEDAL)

U19 Girls' Singles

Rachel Sung – 1st (MEDAL)

U19 Girls' Doubles

Sung / Sung – 2nd (MEDAL)
ITTF World Youth Championships (Vila Nova de Gaia, Portugal) – December 2 – 8
U19 Girls' Team (Amy Wang, Rachel Sung, Joanna Sung, Angie Tan)
U19 Girls' Doubles

Wang / Sung – 2nd (MEDAL)
Angie Tan – 1 Gold, 1 Silver
ITTF Pan American U15 & U19 (Santo Domingo, Dominican Republic)
U19 Girls' Teams

USA (Amy Wang, Rachel Sung, Joanna Sung, Angie Tan) – 1st (MEDAL)
ITTF World Youth Championships (Vila Nova de Gaia, Portugal) – December 2 – 8
U19 Girls' Team (Amy Wang, Rachel Sung, Joanna Sung, Angie Tan)
Emily Tan – 1 Gold, 1 Silver, 1 Bronze
ITTF Pan American U15 & U19 (Santo Domingo, Dominican Republic)
U15 Girls' Team

USA (Sarah Jalli, Emily Tan, Faith Hu, Sally Moyland) – 1st (MEDAL)

U15 Girls' Singles
ITTF World Youth Championships (Vila Nova de Gaia, Portugal) – December 2 – 8
U15 Girls' Team (Emily Tan, Faith Hu, Sally Moyland)
Amy Wang – 1 Gold, 3 Silver, 2 Bronze
ITTF Pan American U15 & U19 (Santo Domingo, Dominican Republic)
U19 Girls' Teams

USA (Amy Wang, Rachel Sung, Joanna Sung, Angie Tan) – 1st (MEDAL)

U19 Girls' Singles
U19 Mixed Doubles

Zhou / Wang – 3rd (MEDAL)
ITTF Pan American Championships (Lima, Peru) – Nov 13-19
Women's Team (Amy Wang, Sarah Jalli, Tiffany Ke)
ITTF World Youth Championships (Vila Nova de Gaia, Portugal) – December 2 – 8
U19 Girls' Team (Amy Wang, Rachel Sung, Joanna Sung, Angie Tan)
U19 Girls' Doubles

Wang / Sung – 2nd (MEDAL)
Abigail Yu – 3 Silver
ITTF Pan American U11 & U13 (Cuenca, Ecuador) – October 18 -24
U11 Girls' Team

USA (Abigail Yu & Tiana Piyadasa) – 2nd (MEDAL)

U11 Girls' Doubles

Abigail Yu & Tiana Piyadasa – 2nd (MEDAL)

U11 Mixed Doubles

Maxim Mouchinski & Abigail Yu – 2nd (MEDAL)
Mandy Yu – 2 Gold, 1 Silver, 1 Bronze
ITTF Pan American U11 & U13 (Cuenca, Ecuador) – October 18 -24
U13 Girls' Team

USA (Aria Shi & Mandy YU) – 2nd (MEDAL)

U13 Girls' Singles
U13 Girls' Doubles
ITTF Hopes U12 (Cuenca, Ecuador)
Kyler Chen – 1 Gold, 2 Bronze
ITTF Pan American U11 & U13 (Cuenca, Ecuador) – October 18 -24
U11 Boys' Singles
U11 Boys' Doubles

Kyler Chen & Kef Noorani – 1st (MEDAL)

U11 Mixed Doubles

Kyler Chen & Tiana Piyadasa – 3rd (MEDAL)
Mu Du – 1 Bronze
ITTF Pan American U11 & U13 (Cuenca, Ecuador) – October 18 -24
U13 Boys' Team

USA (Stanley Hsu & Mu Du) – 2nd (MEDAL)
Darius Fahimi – 1 Gold, 1 Silver, 1 Bronze
ITTF Pan American U15 & U19 (Santo Domingo, Dominican Republic)
U15 Boys' Team

USA (Darius Fahimi, Nandan Naresh, Daniel Tran, Jensen Feng) – 1st (MEDAL)

U15 Boys' Doubles

Feng / Fahimi – 3rd (MEDAL)
ITTF World Youth Championships (Vila Nova de Gaia, Portugal) – December 2 – 8
U15 Boys' Team (Darius Fahimi, Nandan Naresh, Daniel Tran, Jensen Feng)
Jensen Feng – 1 Gold, 1 Silver, 1 Bronze
ITTF Pan American U15 & U19 (Santo Domingo, Dominican Republic)
U15 Boys' Team

USA (Darius Fahimi, Nandan Naresh, Daniel Tran, Jensen Feng) – 1st (MEDAL)

U15 Boys' Doubles

Feng / Fahimi – 3rd (MEDAL)
ITTF World Youth Championships (Vila Nova de Gaia, Portugal) – December 2 – 8
U15 Boys' Team (Darius Fahimi, Nandan Naresh, Daniel Tran, Jensen Feng)
Krish Gandhi – 1 Gold, 1 Bronze
ITTF Pan American U11 & U13 (Cuenca, Ecuador) – October 18 -24
U13 Boys' Team

USA (Krish Gandhi & Xianyao He) – 3rd (MEDAL)

U13 Boys' Doubles

Gandhi / He – 1st (MEDAL)
Xianyao He – 1 Gold, 1 Bronze
ITTF Pan American U11 & U13 (Cuenca, Ecuador) – October 18 -24
U13 Boys' Team

USA (Krish Gandhi & Xianyao He) – 3rd (MEDAL)

U13 Boys' Doubles

Gandhi / He – 1st (MEDAL)
Stanley Hsu - 2 Silver, 1 Bronze
ITTF Pan American U11 & U13 (Cuenca, Ecuador) – October 18 -24
U13 Boys' Team

USA (Stanley Hsu & Mu Du ) – 2nd (MEDAL)
USA (Krish Gandhi & Xianyao He) – 3rd (MEDAL)

U13 Mixed Doubles
Kai Jiang – 1 Bronze
ITTF Pan American U15 & U19 (Santo Domingo, Dominican Republic)
U19 Boys' Team

USA (Jayden Zhou, Sid Naresh, Aziz Zarehbin, Kai Jiang) – 3rd (MEDAL)
Ryan Lin – 1 Silver
ITTF Hopes U12 (Cuenca, Ecuador) – October 18 -24
Maxim Mouchinski – 2 Silver, 3 Bronze
ITTF Pan American U11 & U13 (Cuenca, Ecuador) – October 18 -24
U11 Boys' Team

USA (Brian Wu & Maxim Mouchinski) – 2nd (MEDAL)

U11 Boys' Singles

Kyler Chen – 3rd (MEDAL)
Maxim Mouchinski – 3rd (MEDAL)

U11 Boys' Doubles

Brian Wu & Maxim Mouchinski – 3rd (MEDAL)

U11 Mixed Doubles

Maxim Mouchinski & Abigail Yu – 2nd (MEDAL)
Nandan Naresh – 2 Gold, 2 Silver, 1 Bronze
ITTF Pan American U15 & U19 (Santo Domingo, Dominican Republic)
U15 Boys' Team

USA (Darius Fahimi, Nandan Naresh, Daniel Tran, Jensen Feng) – 1st (MEDAL)

U15 Boys' Singles

Nandan Naresh – 3rd (MEDAL)

U15 Boys' Doubles

Tran / Naresh – 1st (MEDAL)

U15 Mixed Doubles

Naresh / Jalli – 2nd (MEDAL)
ITTF World Youth Championships (Vila Nova de Gaia, Portugal) – December 2 – 8
U15 Boys' Team (Darius Fahimi, Nandan Naresh, Daniel Tran, Jensen Feng)
Sid Naresh – 2 Bronze
ITTF Pan American U15 & U19 (Santo Domingo, Dominican Republic)
U19 Boys' Team

USA (Jayden Zhou, Sid Naresh, Aziz Zarehbin, Kai Jiang) – 3rd (MEDAL)
Cali 2021 Pan American Junior Games (Cali, Colombia) – Nov 30 – Dec 5th
Under 21 Men's Team (Jayden Zhou & Sid Naresh)
Kef Noorani – 2 Gold, 1 Silver
ITTF Pan American U11 & U13 (Cuenca, Ecuador) – October 18 -24
U11 Boys' Doubles

Kyler Chen & Kef Noorani – 1st (MEDAL)

U11 Mixed Doubles

Kef Noorani & Tashiya Piyadasa – 1st (MEDAL)
WTT Ecuador Junior Open (Cuenca)
Daniel Tran – 3 Gold, 1 Silver
ITTF Pan American U15 & U19 (Santo Domingo, Dominican Republic)
U15 Boys' Team

USA (Darius Fahimi, Nandan Naresh, Daniel Tran, Jensen Feng) – 1st (MEDAL)

U15 Boys' Doubles

Tran / Naresh – 1st (MEDAL)

U15 Mixed Doubles

Tran / Moyland – 1st (MEDAL)
ITTF World Youth Championships (Vila Nova de Gaia, Portugal) – December 2 – 8
U15 Boys' Team (Darius Fahimi, Nandan Naresh, Daniel Tran, Jensen Feng)
Brian Wu – 1 Silver, 1 Bronze
ITTF Pan American U11 & U13 (Cuenca, Ecuador) – October 18 -24
U11 Boys' Team

USA (Brian Wu & Maxim Mouchinski) – 2nd (MEDAL)

U11 Boys' Doubles

Brian Wu & Maxim Mouchinski – 3rd (MEDAL)
Aziz Zarehbin – 1 Bronze
ITTF Pan American U15 & U19 (Santo Domingo, Dominican Republic)
U19 Boys' Team

USA (Jayden Zhou, Sid Naresh, Aziz Zarehbin, Kai Jiang) – 3rd (MEDAL)
Kai Jiang – 1 Bronze
ITTF Pan American U15 & U19 (Santo Domingo, Dominican Republic)
U19 Boys' Team

USA (Jayden Zhou, Sid Naresh, Aziz Zarehbin, Kai Jiang) – 3rd (MEDAL)
Jayden Zhou – 3 Bronze
ITTF Pan American U15 & U19 (Santo Domingo, Dominican Republic)
U19 Boys' Team

USA (Jayden Zhou, Sid Naresh, Aziz Zarehbin, Kai Jiang) – 3rd (MEDAL)

U19 Mixed Doubles

Zhou / Wang – 3rd (MEDAL)
Cali 2021 Pan American Junior Games (Cali, Colombia) – Nov 30 – Dec 5th
Under 21 Men's Team (Jayden Zhou & Sid Naresh)
End.21 12-28a