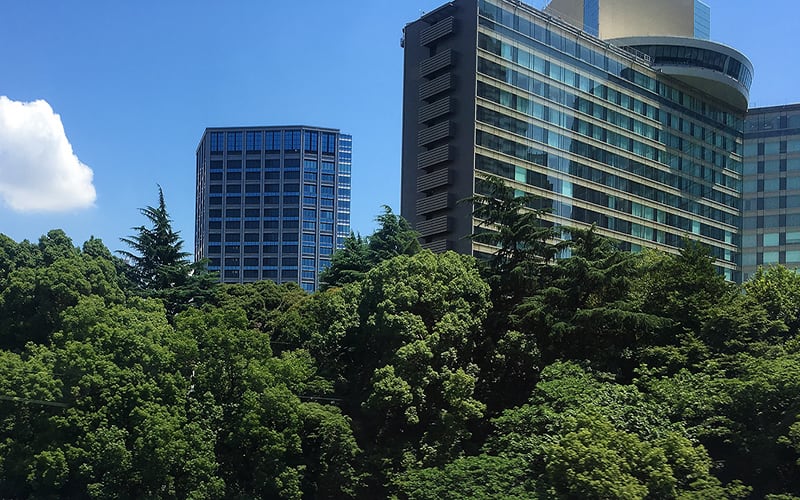 THE TALL TREES OF TOKYO
America's Olympic Table Tennis Team is Poised and Prepared for the Showdown with the World's Best at the 2020 Tokyo Games
(Tokyo, Japan – 22 July 2021) – There's probably no one-liner quite as overused or worn as thread-bare thin in the run up to the 2020 Tokyo Olympics as the one that points out that virtually all of the athletes competing in these Games – regardless of sport or discipline – had better add the high hurdles and/or gymnastics to their skill set if they want to actually get to the starting line in their respective event. If you can't leap over a few barriers at full stride or pull off the odd back somersault with a couple of twists thrown in for good measure, the odds of successfully maneuvering through the challenges posed by immigration authorities and COVID protocols at these Tokyo Games are considerably narrowed.
But, by all appearances, as we stand on the eve of the 2020 Tokyo Games Opening Ceremonies, the members of the US Olympic Table Tennis Team, with the guidance and assistance of High-Performance Director Sean O'Neill and coaches Stefan Feth and Gao Jun, have been able to navigate the early stages of preparation for one of the great tests of table tennis greatness relatively unscathed. In fact, watching the preparatory practices at the Tokyo Metropolitan Gymnasium for Kanak Jha and Lily Zhang and their respective teammates on the US Men's and Women's squads, one gets that the distinct impression that they're all champing at the bit for more than a little bit of elite level competition.
According to Gao Jun, who's a pretty decent source on this subject considering her fairly deep (and successful) experience with the Olympics, the US players have not been distracted in the least by the challenges posed by flying thousands of miles to a land that is under the strict and unblinking eye of government officials who are genuinely concerned about the possibility of the pandemic taking a turn for the worst while the world is watching.
In fact, the lone lament of the always effervescent Gao has been her concern that the competitors at these Olympic Games are going to be denied one of the most important (if mostly unseen) elements of participating in the Games at all: meeting and engaging with the rest of the world's top athletes in the appropriately named Olympic Village. COVID protocols have literally and figuratively installed any number of barriers that make much of that invaluable interaction impossible – if not directly impermissible.
Even knowing that, however, just by watching the athletes and others interact here in Tokyo – even though everyone is testing regularly, wearing masks and trying our best to keep our social distance – it's clear that COVID has certainly wreaked a lot of terrible havoc in this world, but it hasn't killed our human desire (well, really, need) for contact and communication. To me, the players in particular look like they're interacting pretty much like they always do – with genuine respect and acknowledgement of one another – and a couple of properly landed light-hearted jabs – until the competition starts, that is, when the jabs usually take on a little more sting.
One thing's for certain, regardless of protocols, no one's having any difficulty working up a lather in the hot and humid environment that, at this time of summer, pervades the central Pacific coast of the beautiful Honshu Island that makes up the main portion of Japan. So much so that tournament officials were called to address the issue of the number of towels a player is going to be permitted to use during a match in the tournament. (I know if they're staying at my hotel – which they're not – the answer to that question is one – and a rather small one at that, but that's a story we may have to save for another time.)
If the US team appears fit and energized, it should come as no surprise, then, that the rest of the table tennis world appears similarly poised. Watching the big rangy veteran Germans, Timo Boll and Dimitrij Ovtcharov, spar at the GMT this week, one got the distinct impression that the big boys and girls have come to Tokyo fully primed for prime time – COVID be-damned. Not surprisingly, at least to any of us who saw the Chinese National Team at UCLA in August of 2019, the two top seeds in the Men's and Women's Singles events are decked out in red and gold – and my guess is that none of them made the trip across the East China Sea for the sushi.
That being said, however, perhaps the greatest thing about sitting on the precipice of any sporting event is the belief that anything's possible at this point. If you're in the bracket, it could be you who is bowing down and having that medal draped over your head. Hate to paraphrase that masterpiece of American Filmmaking, Dumb and Dumber, (well, actually, I don't hate to do that at all), but I AM tellin' ya, ya DO actually have a chance. And, as an athlete, if you don't have that feeling at this moment, then, as an old hockey coach of mine used to say, you might as well pack your crap and go home.
After all, what's life without a few surprises. For instance, who knew that, amongst the post-modern architectural marvels of cantilevered concrete and glass that line the city streets in the prefecture of Tokyo, there is a stunningly brilliant green and lush old growth forest defining the myriad of above (and below) ground waterways that border ancient palaces and criss-cross this massive coastal enclave. It's the tall trees of Tokyo that are the capitol's most beautiful feature. And, who knows what tall tree is going to be left standing when all of this is said done.
Chief Operating Officer
USA Table Tennis