Liu Juan Keeps US Olympic Table Tennis Individual Medal Hopes Alive with Third Round Win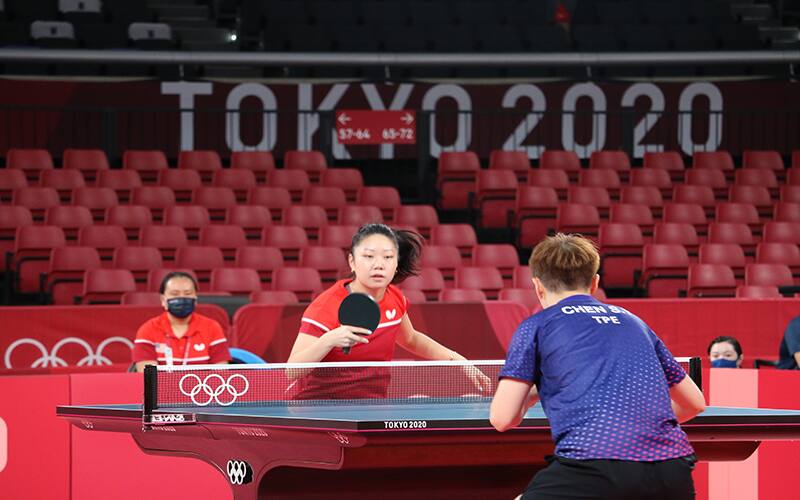 Liu Juan Keeps US Olympic Table Tennis Individual Medal Hopes Alive with Third Round Win
New Yorker Beats Bernadette Szocs of Romania to Become Only the Third Individual in US History to Reach the Round of Sixteen in Olympic Table Tennis – Lily Zhang Falls in Her Third Round Match to Chen Szu Yu
(Tokyo, Japan – July 27, 2021) – Liu Juan became only the third player in US Olympic Table Tennis history to get as far as the Round of Sixteen in the individual singles competition by defeating Romania's Bernadette Szocs at the Tokyo Metropolitan Gym this morning. Lily Zhang's quest for an individual medal in the Tokyo 2020 Games was brought to an end under the strong play of her Third Round opponent, Chen Szu Yu of Chinese Taipei. Liu, who hails from New York, will continue her drive for an individual table tennis Olympic medal tonight with her Round of Sixteen matchup against Yu Mengyu of Singapore at 7:30 pm (JT) (6:30 am US Eastern Time, Tuesday, July 27).
In her Third Round match, Liu started strong, winning Game One in convincing fashion (11-4). Games Two and Three took a decidedly different turn, as Szocs couldn't miss and racked up back-to-back 6-11 wins. But in Game Four, Liu jumped out early and never trailed, evening the best-of-seven match at two-games-apiece with an 11-9 win. At that point, it seemed that Liu settled in and, as has been the case in all four matches she's played in the 2020 Tokyo Games, used an uncanny combination of power and finesse, as well as a strong serve and return game, to take Games Five and Six (11-8; 11-3).
With the win, Liu is the only player who started the tournament in the Preliminary Round and advanced to the Round of Sixteen. Liu is also only the third individual in US Olympic history to go as far as the Round of Sixteen in table tennis. In the Beijing Games of 2008 Chen Wang (who is an alternate on the US squad for Tokyo 2020), went all the way to the Quarterfinals before being eliminated and ending up tied-fifth in the Women's Singles table tennis event. In those same Olympics (2008), Gao Jun, who is the current US Olympic coach – and who won a Silver Medal for Team China in Women's Doubles in 1992 in Barcelona – got to the Round of Sixteen for the United States before being knocked out and ending up tied-ninth.
Zhang, playing in her third Olympic Games, appeared sharp in her match against Chen, but Chen was on her game as well and did not make very many mistakes during the four-game affair (8-11; 7-11; 6-11; 10-12). Zhang held a lead by as much as three points in Game One and led Game Two at 7-6, as well, but late in each of those two games, Chen hit the gas pedal and pulled away. In the fourth and what proved to be final game of the match, Zhang also led at 4-3 – and as with Games One and Two had it tied at seven – but as with those other games, it was Chen who had the touch to finish the game, ending Zhang's quest to become the first American born table tennis player to reach the Round of Sixteen in the Olympics.
Zhang's Tokyo 2020 journey is not done – and she may get a chance to see Chen again – when Zhang and her US teammates, Liu Juan and Huijing Wang, take on Chinese Taipei in the first round of the Teams Event on Monday, August 2 (starting time still yet to be determined).
End.21 07-27a
Chief Operating Officer
USA Table Tennis