JUAN LIU WINS THE MAY WESTCHESTER OPEN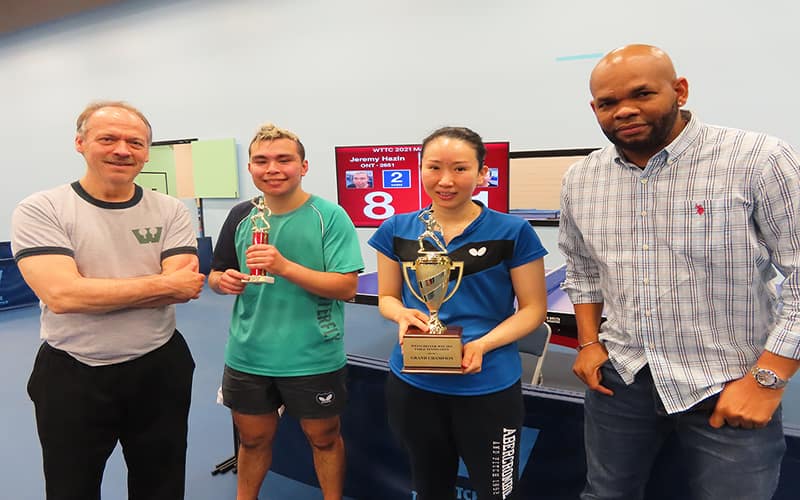 Left to right: Will Shortz, Jeremy Hazin, Juan Liu, Robert Roberts
The May Westchester Open this past weekend had an all-Olympics final. Juan Liu, of the U.S. women's table tennis team (rated 2597) — scheduled to compete at the Tokyo Olympics in August — defeated two-time Canadian champion Jeremy Hazin (2651), who's also competing at the Olympics … for Canada. This was Juan's fourth win at Westchester.
In the final, Jeremy jumped out to a two-game lead, but Juan's patience, quickness, and careful ball placement helped her come back.
Jeremy had the opposite experience in his semifinal. He lost his first two games to Jian Li (2550), of the Topspin Table Tennis Club in New Jersey. Jian is a heavy chopper who also loops and smashes when given the opportunity. Very fun to watch. Initially it seemed Jian was going to win easily. But Jeremy threw himself — literally and figuratively — back into the match, winning 11-8 in the fifth.
In the other semi, Juan overcame Mishel Levinski (2614) in a fierce four games.
Besides Juan, it was a good weekend for female players. Twelve-year-old Amoolya Menon, of the Westchester TTC, won the U2000; and 11-year-old Carmen Yu, of Fort Washington, Pa., won the U1900. These are two very talented young players to keep an eye on.
Altogether 134 players took part in the tournament. Films of the finals and both semis of the open event have been posted on YouTube. Check them out.
The June Westchester Open — returning to 18 events and $6,000 in prizes, now that the pandemic is easing — will be held June 26-27.
Westchester Table Tennis Center