ITTF Hopes Around The Clock
by Josh Dyke, USATT Media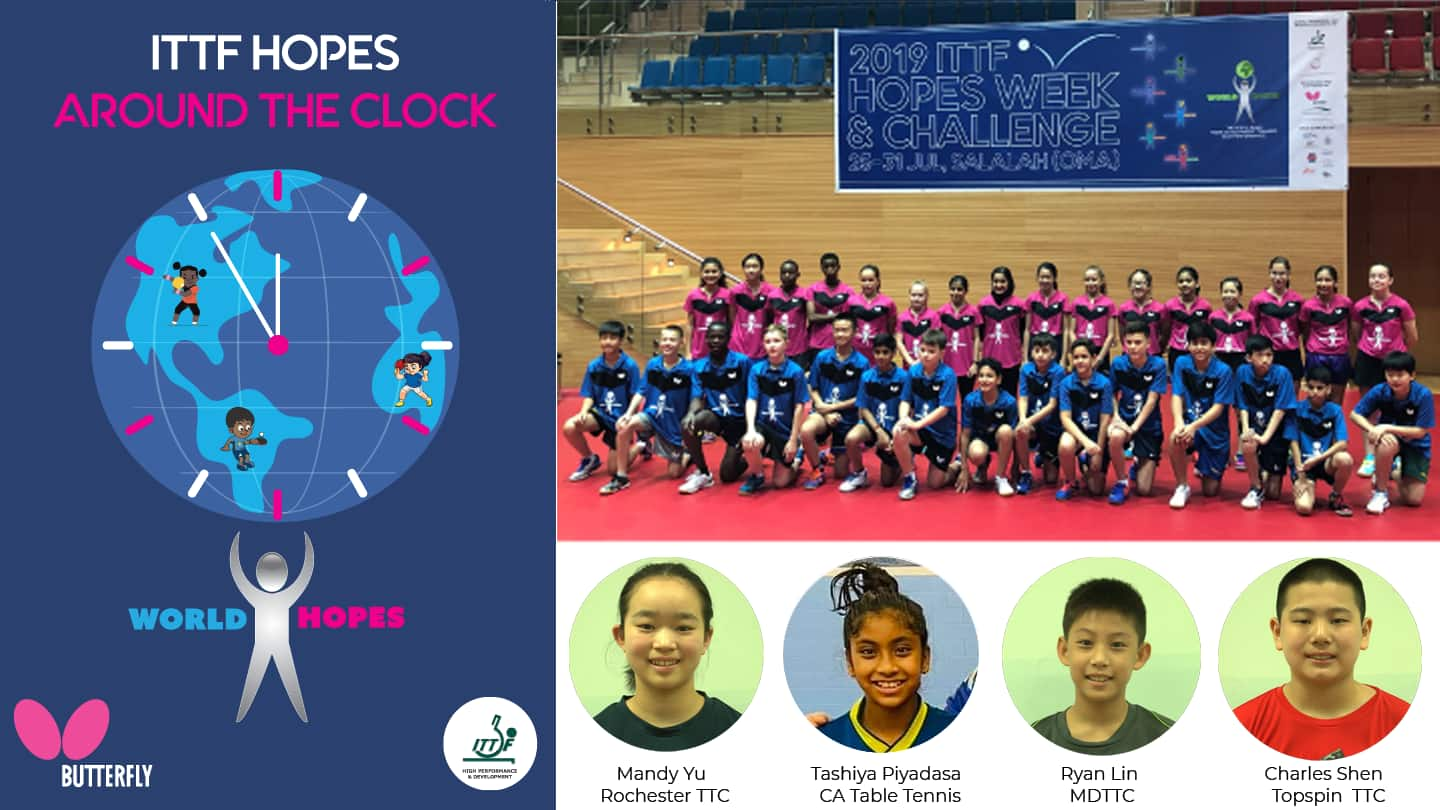 Congratulations to USA's top U12 players nominated based on their outstanding performance at the 2021 National U13 Team Trials at the Westchester Table Tennis Center. Mandy Yu (Rochester TTC), Tashiya Piyadasa (CA Table Tennis), Ryan Lin (MDTTC), and Charles Shen (Topspin TTC) were selected to represent the United States for the 2021 ITTF Hopes Around the Clock with their personal coaches.
The objective of the online Hopes Around the Clock initiative is to bring the spirit of table tennis and the Hopes program to all corners of the world, serving and supporting the Hopes community through intensive online training sessions and the exclusive opportunity to reach out and collaborate with some of the great names of our sport that we will be hosting.
Hopes Around the Clock, set up as a specific online pathway in 2021 supporting the traditional ITTF Hopes roadmap, has the ambition to represent an important stepping-stone for young talented players when embarking on their international journey in the pursuit of international glory.
As such, it will offer a selection of young promising participants that have shown excellence and motivation throughout the program the opportunity to train and compete in person at the 2021 ITTF World Hopes Week & Challenge, planned to be held in China in mid-December 2021.
Whilst offering promising talents the chance to showcase their acquired skills, the program aims to foster and encourage Member Associations to participate actively and to promote and work with young talented players for future success and growth.
In this, the ITTF High Performance Unit will offer expert guidance, incentives and opportunities whilst focusing on coach education throughout the program by offering expert lectures and learning opportunities, giving coaches of every level the opportunity to gain new skills and share knowledge with colleagues across the globe.
2021 Pathway
Our remote training sessions will be conducted on all Continents on a rotational basis at a frequency of two weeks. The participants will be consistently monitored and evaluated throughout the online phase, which will represent the base for the final selection of the group of up to 20 girls and 20 boys (1 player per gender per Member Association), who will be invited to the 2021 ITTF World Hopes Week & Challenge.
Online Phase
Each two-hour session will consist of an online interaction between ITTF High Performance experts and players and coaches.
The sessions will feature a theoretical and a practical part and will be designed by the ITTF Expert, who will indicate the methods of work.
The online training sessions will start in the week of 28 June and the schedule will be communicated by 23 June 2021, while the Member Associations will be invited to register for the Program and this way activate their National Hopes flags prior to that.