Massachusetts SQT – Westford Table Tennis Club, Qiumars Hedayatian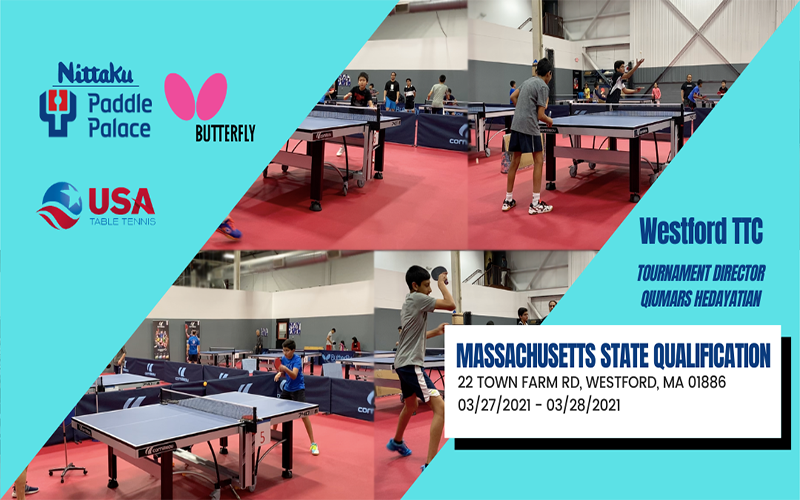 The Massachusetts 2021 US Nationals Table Tennis Champions State Qualification Tournament (SQT) destination is confirmed. Westford Table Tennis Club (WTTC) will host the Massachusetts state event from Saturday, March 27, to Sunday, March 28.

Westford Table Tennis Club owner Qiumars Hedayatian has founded many table tennis clubs in Massachusetts, and WTTC is his crown jewel. The club is positioned inside The Mill Works complex at 22 Town Farm Rd, Westford, Massachusetts.

The club typically features ten courts with Cornilleau 740 tables. The barrier-enclosed courts spread across red ITTF flooring. However, the entire facility possesses an additional 100,000 square feet that may be dedicated to table tennis. The club can produce a massive number of tables for large-scale tournaments (100 tables).

"With WTTC, I hope to give back to the community and provide an avenue for table tennis enthusiasts to train and develop their skills. The focus is on the youth and I'm trying to build the next generation of National level players," said Hedayatian.

Hedayatian's passion for the sport of table tennis gave him the motivation to found WTTC in 2019. As an accomplished player, Hedayatian represented the Iran Junior National Team. He competed at the 1983 Junior Asian Championship and went on to play in the German professional leagues for over 20 years.

With years of table tennis experience at a high level, a passion for table tennis defines the environment of the club. Their goal is to train players with a competitive emphasis and inspiring the players to have fun with the game. They welcome all players to train with their dedicated and experienced staff at the club.

According to Hedayatian, "the members and the staff are very excited about SQT being hosted at Westford Table Tennis Club. This is a great opportunity for the junior players to meet and see top players of Massachusetts play."

Qiumars Continued, "In general, having state/regional qualifications is the right direction for the sport. This makes competing at the Nationals in Vegas more special and something to aspire for."

Westford Table Tennis Club is a massive playing facility with a mix of beginner and competitive members that fit their supportive atmosphere. The club goes above and beyond to cater to the New England area. The 2021 Massachusetts State Qualification Tournament is in great hands at Westford Table Tennis Club.