2021 Butterfly Sandhills Open Tournament Summary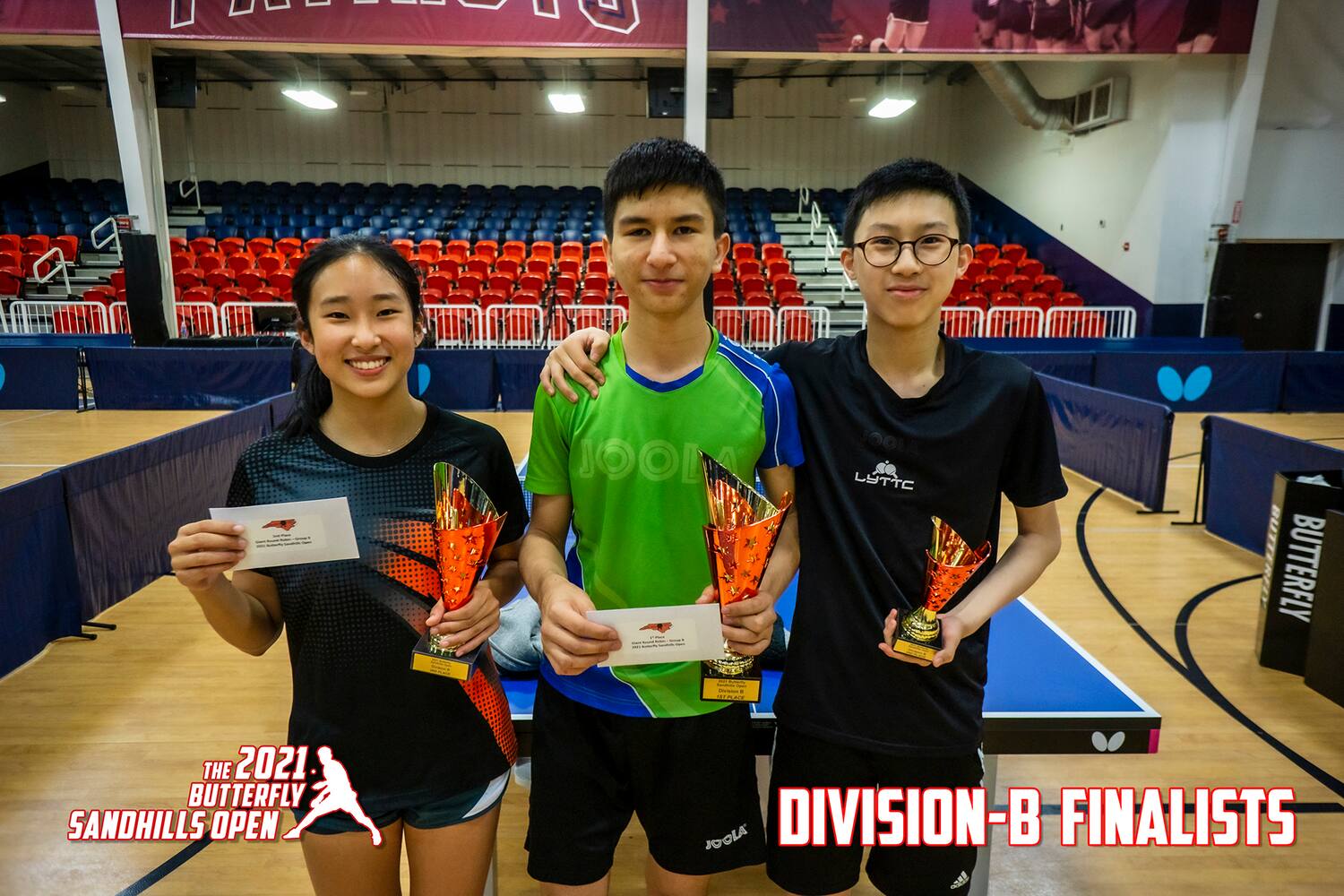 1st place – Husen Saidov, 2nd place – Isabella Xu, 3rd place – Connor Lee
2021 Butterfly Sandhills Open Tournament Summary
Another Sandhills Open tournament has come and gone. This was a very challenging tournament to direct. It was initially planned to occur in January, but due to Covid rates spiking in NC, the difficult decision was made to postpone it to May 7-9. The tournament was sold out early and sported a very impressive waiting list prior to the event. Unfortunately, due to various reasons, there were several dropouts the week before the tournament. Fortunately, the waitlist allowed us to have a full field for our Giant Round Robin event on Saturday.
The tournament started with a Friday night unsanctioned fun event for the players to get used to the venue and get ready for the sanctioned events. Emmanuel Tuglo won the event, with Linda Shu placing second, and Rachel Wang placing third.
The much anticipated Giant Round Robin event turned out to be a marathon with a minimum of 11 matches being played. The morning prelim round was groups of five with the winner of the group going to Division A, second place to Division B, third place to Division C, fourth place to Division D, and fifth place to Division E. After a short lunch break, the main round began. The players were divided in to two groups for each of the divisions. Top two players from each group moved on to a single elimination playoff for Divisions B-E and the top four moved on to a single elimination playoff for Group A. After a very long day with many matches played the final results were:
Division A
1st place – Sharon Alguetti, 2nd place – Mishel Levinski, 3rd place – Jishan Liang
Division B
1st place – Husen Saidov, 2nd place – Isabella Xu, 3rd place – Connor Lee
Division C
1st place – Matthew Worrell, 2nd place -Daniel Dreano, 3rd place – David Pannell
Division D
1st place – Yoseline Rivas, 2nd place – Howard Phillips, 3rd place – Sara Gulabani
Division E
1st place – Jack Matistic, 2nd place – Brandon Mino, 3rd place – Kenneth Nissel
Sunday morning's 1600+ event brought an unfortunate amount of large defaults; however several players persevered and showed their true competitive spirit. The event ended with the following results:
1600+
1st place – Hasan Saidov, 2nd place – Gal Alguetti (default), 3rd Sarah Jalli
Sunday afternoon's U1600 event was a full event with many competitive matches. The event ended with the following results:
1st place – Roy Everman, 2nd place – Paul Nielsen, 3rd – Terrie Yu
We appreciated all of the competitors for choosing to compete in the 2021 Butterfly Sandhills Open. We are already working on changes to future tournaments to reduce the number of defaults so it is fair to all competitors and players get the matches they trained and paid for. Next up will be our very first four star tournament – the Butterfly Cup. This tournament has proven to be very popular is selling out quickly. We are very blessed to have received such a tremendous amount of players willing to compete in our tournaments.
I want to thank all of our sponsors. Butterfly (Bowmar Sports), Fayetteville Area Convention & Visitor's Bureau, PWC, Freedom Courts Sportsplex, Secure Background Screeners, Carolina Specialties, Inc and Cape Fear Table Tennis Club members. We couldn't have held this tournament without their support.
Finally, I wanted to thank Bill Englebreth, our referee, for traveling to our tournament to referee this event. I also want to thank Tony Murnahanfor his media and logistical support. Tony makes everything we do look top notch and professional.
We are looking forward to hosting the Butterfly Cup in September and hope to see you there!
Thank you!
Cape Fear Table Tennis Club