Call for Nominations: The Center for SafeSport Athlete Director
by Athletes' Advisory Committee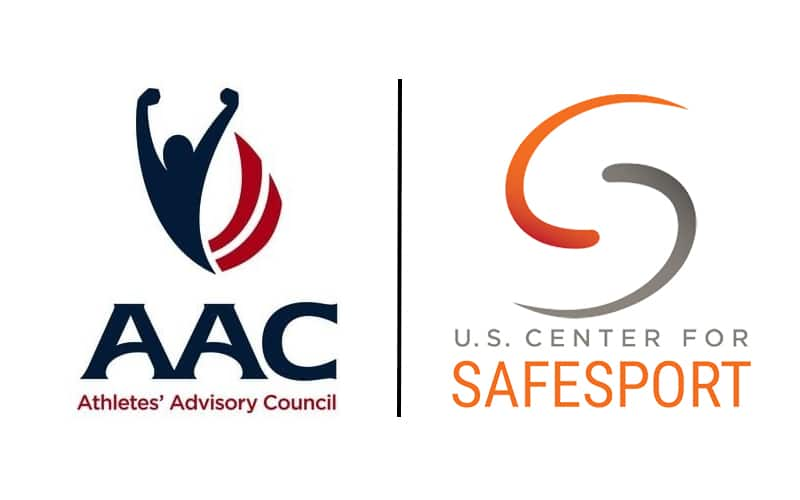 November 12, 2021
Dear Athletes,
The Athletes' Advisory Council is seeking applications for an Athlete Director to serve on the U.S. Center for SafeSport Board. Earlier this year, the Center's Board of Directors approved a change to their bylaws ensuring that one-third of their Board is represented by Athlete Directors, defined as "an individual who was, but is no longer, actively engaged in elite amateur athletic competition and who has represented the United States in international amateur athletic competition within the preceding twenty years." Currently, the Center has three Athlete Directors serving on their Board and are requesting nominations from the AAC to fill a fourth role that will serve a term from March 2022 through December 2024. The Center is seeking recommendations from the AAC to be presented to the Center's Nominating and Governance Committee for review and interviews.
Please review the attached U.S. Center for SafeSport Board Member Position Description and if interested send your resume and statement of interest to Meryl.Fishler@teamusa-aac.org. The nomination period closes at 11:59 p.m. MT on December 1, 2021.
Athlete Director Eligibility:
Represented the US in international amateur athletic competition within the preceding 20 years


&

Is no longer actively engaged in elite amateur athletic competition
Process & Timeline:
Nominees will submit their resumes and cover letters to the AAC by December 1st, 2021 for the AAC's Nominations and Election's Committee to review.

The AAC's Nominations and Election's Committee will tentatively conduct interviews the weeks of December 6th and 13th.

Qualified candidates will then be presented to the AAC body for a vote to recommend and then the AAC will submit recommendations to the Center by January 14, 2022.

The Center's Nominating and Governance Committee will review and conduct interviews in January and February 2022, and their Board will vote on any final recommendations at their March 2022 Board Meeting.
Please send questions to Meryl Fishler, USOPC AAC Coordinator, at meryl.fishler@usopc.org.
Sincerely,
Mark Ladwig, USOPC AAC Chair
U.S. CENTER FOR SAFESPORT POSITION DESCRIPTION
JOB TITLE
Board Member
ACCOUNTABLE TO
Chair(wo)man of the Board
SUMMARY
The U.S. Center for SafeSport is an independent 501c(3) non-profit organization focused on ending all forms of abuse in sport. We endeavor to make athlete well-being the centerpiece of the nation's sports culture through abuse prevention, education, and accountability.
The board will support the work of the U.S. Center for Safe Sport and provide mission-based leadership and strategic governance. While day-to-day operations are led by the Center's chief executive officer (CEO), the Board-CEO relationship is a partnership, and the appropriate involvement of the Board is both critical and expected. Specific board member responsibilities include leadership, governance, and oversight.
DUTIES & RESPONSIBILITIES
Provide governance to a national non-profit organization with international implications

Provide guidance and recommendations to the Center's core business functions

Help identify partners to support long-term growth and sustainability

Support the development of relationships with athletes, media, corporations, sports networks, and others within the Olympic & Paralympic Movement

Serve as a trusted advisor to the CEO as she develops and implements the Center's strategic plan

Review outcomes and metrics created by the Center for evaluating its impact, and regularly measuring its performance and effectiveness using those metrics

Approve the Center's annual budget, audit reports, and material business decisions; being informed of, and meeting all, legal and fiduciary responsibilities

Contribute to an annual performance evaluation of the CEO

Partner with the CEO and other board members to ensure that board resolutions are carried out

Serve on at least one (1) committee or task force

Represent the Center to stakeholders, acting as an ambassador for the organization

Ensuring the Center's commitment to a diverse Board and staff that reflects the communities the Organization serves
COMMITMENT
Serve a 3-year term (renewable up to 2 times)

Annually attend at least 3 of 4 quarterly board meetings

Serve on at least one committee

Contribute financially
BENEFITS
Be at the forefront of culture change within the Olympic & Paralympic Movement

Expenses associated with board functions, such as travel and accommodations, will be covered by the Center

Board members will be listed on the Center's website and annual report
QUALIFICATIONS
High degree of professional ethics and integrity.

Sensitivity to and an understanding of the many experiences and expression of trauma caused by sexual violence and harassment

Sports background preferred

Working knowledge of social and behavioral sciences and/or public health practices, principles, and/or theories to develop and/or implement comprehensive prevention programs preferred

Prior board experience preferred
COMPETENCIES, KNOWLEDGE, SKILLS, & ABILITIES
Ability to communicate effectively with a variety of contacts, including senior executives, and business associates.

Personal qualities of integrity, credibility, initiative, and a commitment to the Center's mission.

Collaborative and flexible style.

Thoughtful and deliberative decision making.