So Much More in Common Than Not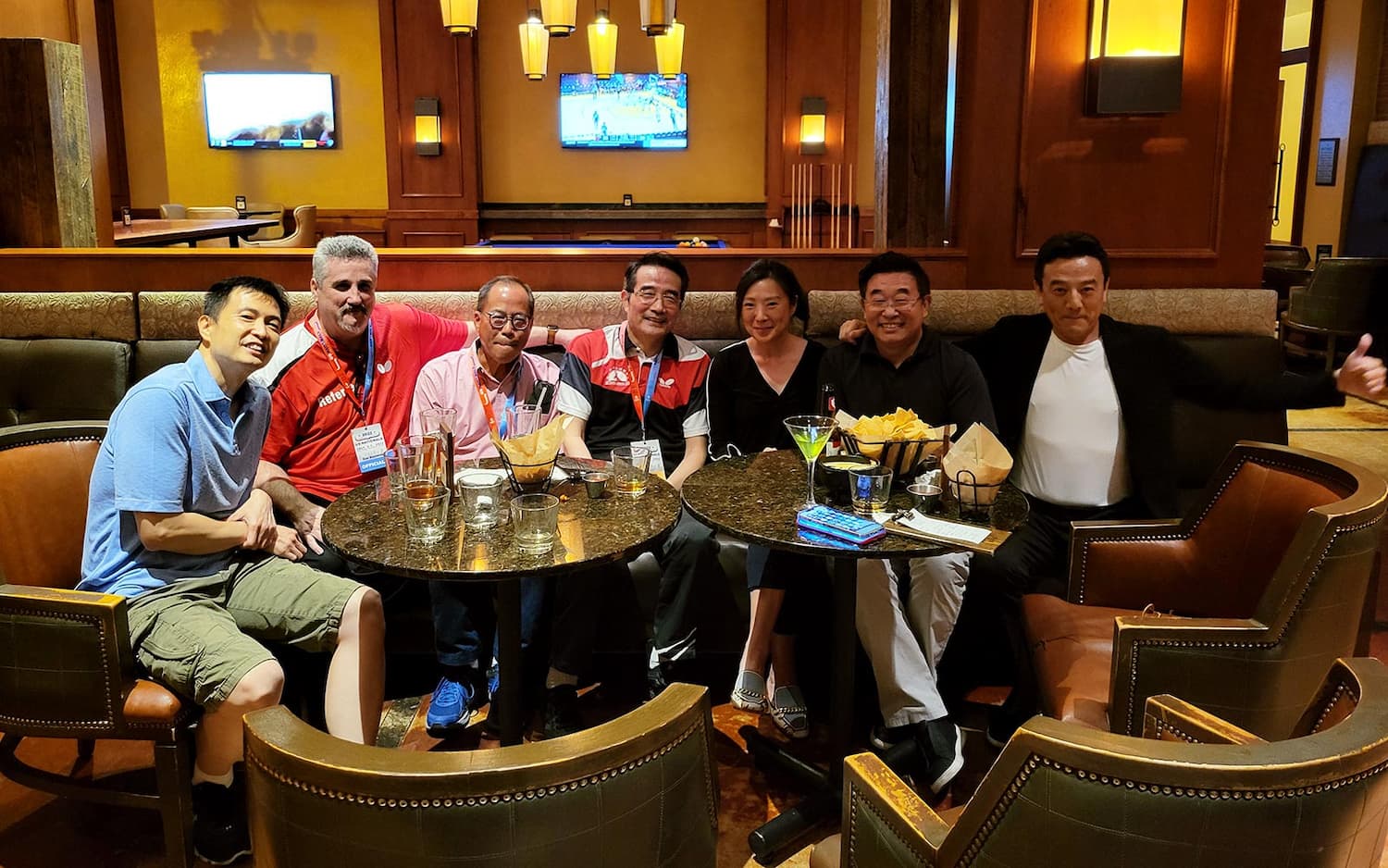 Interview with USATT Board Member, Distinguished Referee & Umpire and Table Tennis Player Dan Reynolds on Ping Pong Diplomacy
At the recent USA Table Tennis Nationals, you could find Dan Reynolds at the competition control desk, managing the marquee event as the Deputy Referee, or walking the tournament floor talking with other enthusiasts with a smile. Veteran, accountant, and lawyer by trade from San Antonio, TX, Dan has been involved with table tennis in the US for more than 40 years, first as a player, then umpire/referee and finally board member.
Dan Reynolds spoke to USATT about his journey, vision and hope for table tennis in the US, highlighting the importance of Ping Pong Diplomacy at this moment in time. The interview has been edited for clarity and length.
Q&A
Dan Reynolds
USATT: Tell us about your table tennis history? How did you get involved in the sport and what roles have you had?
REYNOLDS: I started playing table tennis when I was 8, and at 14 years old, Carter Richardson, who had played in every US Open since 1932, saw me and told me I had some talent. He took me to a local club in Houston and adopted me as a player. I continued to play through high school, college and when I joined the military in the 1980s. I went to Germany and played in a German league while stationed there.
I continued to play competitively until I was injured in 2003. I was shot in the back from a piece of shrapnel, and I didn't think I'd ever play table tennis again. But in 2010, a friend of mine found the San Antonio Table Tennis Club, and I started going there. They needed an umpire/referee for their tournaments, so I took the exam and started refereeing the tournaments. I continued umpiring in 2012 with the National Collegiate Table Tennis Association and eventually became their Division Director. I was umpiring all the major table tennis events, up to 1,300 matches a year. In 2020, I won a board position for USATT and have traveled in hundreds of clubs to visit and umpire since then.
I see a lot of enthusiasm about table tennis in the US right now, and that really aligns well with the current focus on Ping Pong Diplomacy.
USATT: What would you tell someone about table tennis in America?
REYNOLDS: The best thing is the camaraderie. I love going to clubs and tournaments and seeing all these people. I love watching high-level table tennis and officiating, but the real joy are the friendships that you develop that are lifelong. That's what keeps me in table tennis and makes it special.
After major events, I can always go to a local restaurant with players, umpires, referees and volunteers and we can sit around and talk about table tennis. You can really see the love for the sport in everyone around the table.
USATT: Tell us about your experience at the Ping Pong Diplomacy Houston Kickoff Event in June.
REYNOLDS: My favorite part was seeing all these people who were really excited about table tennis, from outside the usual community. I saw these women in gowns and men in suits take off their shoes and play table tennis during the gala. These people couldn't walk away from an event like that without wanting to participate in the sport.
I want to build a great relationship with China through the sport. We have so much more in common as humans than not.
USATT: What kind of impact can table tennis have on the US, diplomacy, and the world?
REYNOLDS: Right now, America is a divided place, sometimes even in the table-tennis community. But, when people are angry, and they go to their tables and play their matches, they can operate like there are no other worries going on. You don't have to think about the division. Table tennis can help us concentrate on the things we love and have in common. In the table tennis world, I don't care about the other person's politics. I'm simply happy to be there with others who also love the same sport.
If we can all get together and work towards a common goal, we can make the world a better place. I think this is what Ping Pong Diplomacy does for us.
USATT: What has table tennis meant for you personally?
REYNOLDS: For me, table tennis is the best thing in the world. It's my second family. It's not just about competition, it's a way of life.