2022 US Open Table Tennis Championships: Day 1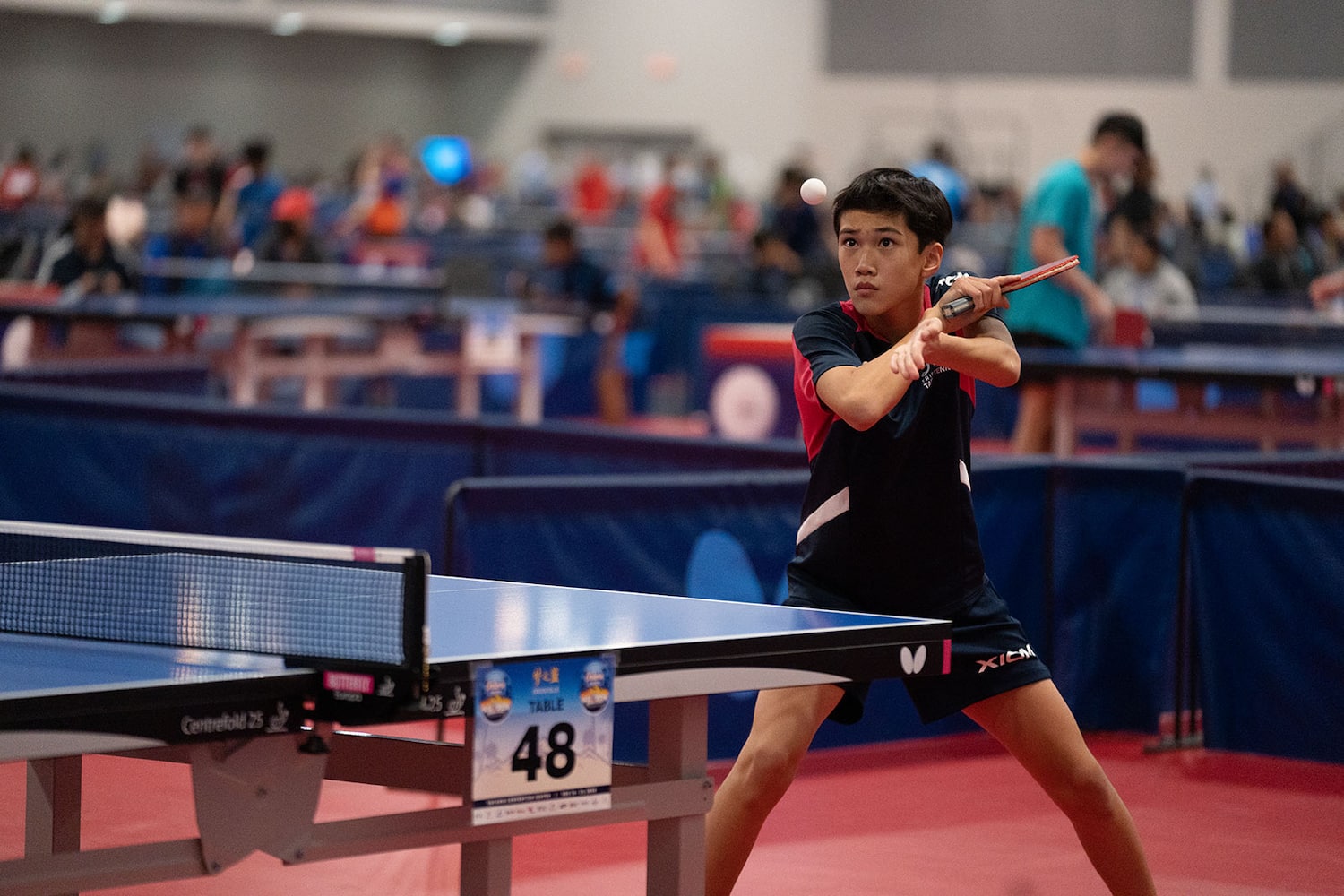 The 2022 U.S. Open Table Tennis Championships have kicked off in the greater Ontario area in Southern California. A total of 970 players will participate in the U.S. Open this year.
Once the doors to the Ontario Convention Center opened, eager faces rested on the faces of participants. As the morning pressed onwards, athletes began pouring into the hall. Most of which had began their warm-up routines for upcoming matches.
Every few moments, more action started to stir in the venue, and the initial bounces gradually became a roar growing louder and louder as the tournament took its start.
There are 118 events on the schedule spanning six days at the Ontario Convention Center. From Friday, December 16, 2022, to Wednesday, December 21, 2022, U.S. Open Champions are to be determined in Open, Age Group, and Rating events — ranging from singles, doubles, para, and Parkinson's event categories.
The spirit of the event was visible from the moment the doors opened. Watching a coach calm a young player down so they can return to form. Seeing a friend in your corner as you strategize a hard-fought victory of made and missed swings, and above all, recognition of your peers as you show that your hard work pays off on the table.
Warm stories and fresh dialogue with the USA Table Tennis Association Foundation were held and open for all to join. The first round of U.S. Open meetings and panels was a great way to wind down the first day and open up a new conversation with friends and new acquaintances while sharing stories and ideas over snacks and refreshments.
Clubs making an appearance at the 2022 U.S. Open Championships are California Table Tennis, ICC Table Tennis Center, Table Tennis America, and Triple Eight 888 Table Tennis Center Table, and. They will have booths set in through the corridor of the East and West entrances to the convention center.
Sponsors for the 5-star event are Blossom Hotel Houston, Butterfly, Cathay Bank, China Southern Airlines, Coolpai.Inc, Dream Blue, East West Bank, ISRP, Nittaku, Paddle Palace, and Tooger Logistics.
You can watch the livestream for the 2022 U.S. Open Championships at: https://www.youtube.com/usatabletennis.
After Day 1, we have our first medalists of the 2022 U.S. Open Championships.
Day 1 Results:
A2000
1st - Victor Moraga
2nd - Larry Hu
3rd - Yi Ma
3rd - Joshua Hong
U1700 Adult
1st - Aditya Reddy Borra
2nd - Carlos Posso
3rd - Jerry Harris
3rd - Filex Shtorper
U2000 Junior
1st - Jason Louie
2nd - Stuti Kashyap
3rd - Justin Liu
3rd - Sivaraam Velayutham
U1700 Junior
1st - Om Narvekar
2nd - Advik Pradhan
3rd - Ayush Badari
3rd - Olivia Huang
Para Class 6-10
1st - Tahl Leibovitz
2nd - Ilya Rozenblat
3rd - Hamid Ezzat-Ahmadi
3rd - Alex Christie
U2000 Hardbat Singles
1st - Ali Ammar
2nd - Marek Záskodny
3rd - Yuanhao Li
Hardbat Junior Boys Singles
1st - Aljay Villena
2nd - Alex Wu
3rd - Akul Shivkumar
4th - Nikhil Chawla
Hardbat Junior Girl Singles
1st - Sara Gulabani
2nd - Isha Bajpai
3rd - Malika Sandybayeva
60&Over Hardbat Women's Single
1st - Wendy Fang
2nd - Jean Newby
Parkinson Open
1st - Ilya Rozenblat
2nd - Hamid Ezzat-Ahmadi
3rd - Margie Alley
3rd - Nenad Bach
Parkinson Class 1
1st - Ilya Rozenblat
2nd - Hamid Ezzat-Ahmadi