USATT Announces 2021 Coaching Excellence Awards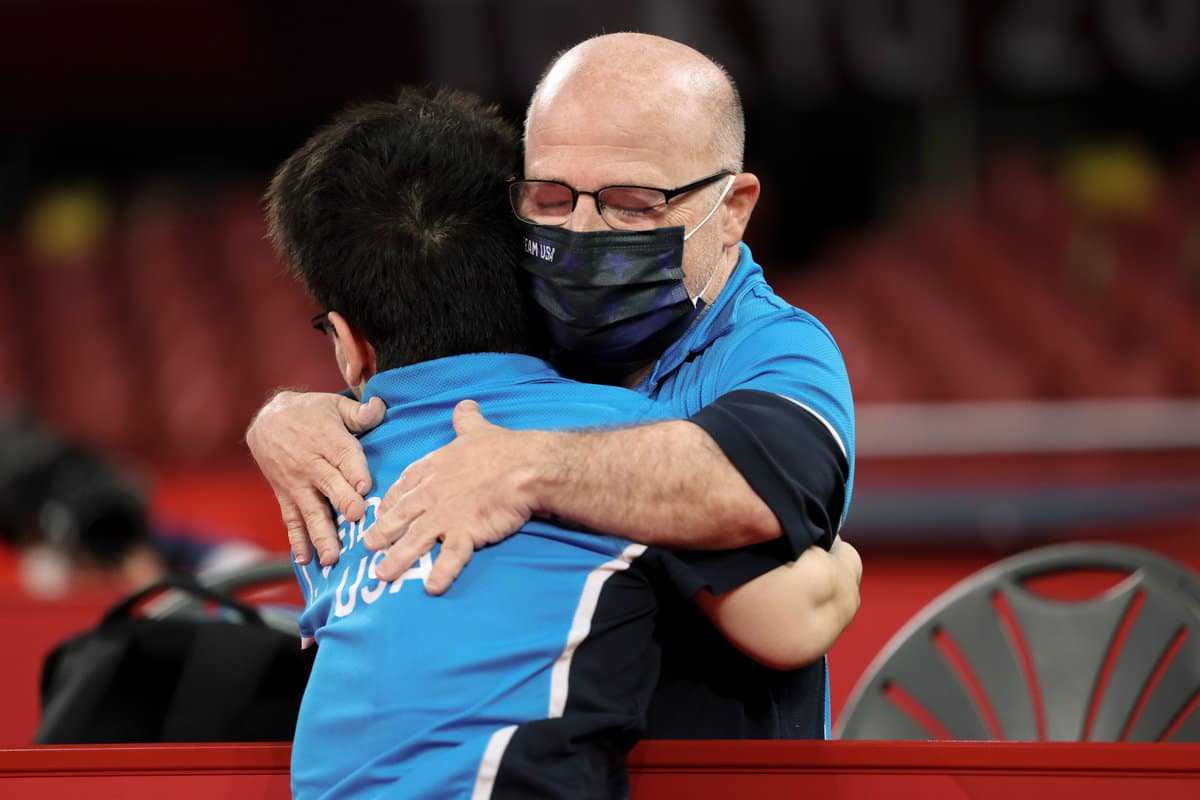 USATT Announces 2021 Coaching Excellence Awards
Coach Jun Gao Named 2021 National Coach of the Year –
Mitch Seidenfeld Named Para Coach of the Year After Historical Run of Success in Paralympics
(Colorado Springs, CO – January 11, 2022) – USA Table Tennis ("USATT") today announced the organization's annual Coaching Excellence Awards for 2021, as determined by joint-committee group comprised of Pieke Franssen (Chair of the USATT Coaching Committee), Jimmy Butler (Chair of the USATT High Performance Committee), and Tara Profitt (Chair of the Athletes' Advisory Council).
As a part of the Awards presentation, the recently named US National Team head coaches, Jun Gao and Mitch Seidenfeld, took home the National Coach of the Year and Para Coach of the Year Awards, respectively. Also recognized for their outstanding coaching contributions were Qi Wei and Samson Dubina, who were named the co-recipients of the Developmental Coach of the Year, and Christian Lillieroos, who received the Para Developmental Coach of the Year Award. In other coaching awards bestowed for performance in 2021, Thilina Piyadasa was named the Volunteer Coach of the Year, and the Doc Counsilman Science Award, which is presented a coach who utilizes scientific techniques and equipment as an integral part of their coaching methods, was collectively bestowed upon Team Pingpod of New York.
"USATT wants to congratulate all of our Coaching Excellence Award winners for 2021," said USATT Chief Executive Officer Virginia Sung. "We are extremely fortunate here in the United States to have such a talented and knowledgeable group of coaches who are committed to advancing our sport and our athletes. There is no question that being a dedicated coach is a rewarding profession in and of itself, but it's often easy to overlook or underestimate the importance of great coaches to leading great athletes and helping develop great people. We're extremely grateful for all or our table tennis coaches and thankful for this opportunity to recognize some of them as they strive for excellence."
2021 National Coach of the Year – Jun Gao
Coaching the US Women's team at the Olympics in June, followed by the Pan Am Junior Championships, Pan Am Championships, World Championships, and Youth World Championships showed Gao's unwavering commitment to her players. From September on, her teams and players won medals in all events; the U19 and U15 Girls team qualified for World Youth Championships and then brought home two silver medals and a bronze from Portugal. In between, the US Women's Team qualified for the 2022 World Team Championship and then lead a Ping-Pong Diplomacy Mixed Doubles Team to USA's first medal at the World Championships since 1959. Coach Gao is not only a master technical and tactical coach, but also a shared team leader duties in Tokyo, Lima and Houston while leading the team solo in Santo Domingo and Portugal. For her outstanding guidance and help, Gao was named as the first USATT National Head Coach.
2021 Para Coach of the Year - Mitch Seidenfeld
As the holder of 1 Gold, 1 Silver and 2 Bronze Paralympic Medals and a World Singles Title it is no surprise that this Hall of Famer understands how to compete and win on the biggest stages. Playing is one thing, but coaching is another! Mitchell Seidenfeld led Team USA in Tokyo and came back as a member of the USOPC's Order of Ikkos for coaching son Ian to a Gold Medal (Class 6) at the Paralympics. Mitch also coached Tahl Leibovitz (Class 9) to the quarterfinals (losing the 11-9 in the 5th) just two points from to making it to the medal round. Team USA added another medal with Jenson Van Emburgh (Class 3) with the support of Vlad Farcas. For his outstanding leadership and support, Seidenfeld was named 2022 US National Para Head Coach.
2021 Developmental Coach of the Year – Qi Wei and Samson Dubina
The U15 Boys Silver Medal at the World Championships in Portugal had a two-pronged attack with Coaches Qi Wei and Samson Dubina; USATT would like to honor both for this exceptional achievement. In Santo Domingo at the 2021 Pan Am Junior Championships, Coach Dubina led Team USA to a Gold Medal to qualify for the World Youth Championships. Additionally, the team won Gold and Bronze in Boys' U15 Doubles, Gold and Silver in U15 Mixed Doubles while Nandan Naresh took Bronze in U15 Boys' Singles.
This momentum was handed off to Coach Qi Wei in Portugal where the team beat Hungary (3-2) and France (3-2) before succumbing to Russia (1-3) in the finals for the Silver. A total team effort that both coaches should be applauded for! Both Samson and Qi have also developed local talents like Sarah Jalli and Mandy Yu that shined in this year's Junior Pan Am Games and ITTF World Hopes Challenge. Both coaches have earned spots on the 2021 National Coach Staff.
2021 Para Developmental Coach of the Year - Christian Lillieroos
Developing players of all types is Christian Lillieroos' middle name. As an ITTF Level 1,2,3 Course Conductor he has traveled the world sharing his passion and knowledge of the sport. As the former chairman of the IPTTC, Christian has led and continue to support the para movement in the US. Recently inducted into the US Table Tennis Hall of Fame, Lillieroos has organized USOPC sponsored Para classes at the local level and worked with players like Matt Weber that have gone on to play internationally for team USA in 2021. Christian was also part of a successful grant application to help develop the first USATT Para Coaching Course slated for 2022.
2021 Volunteer Coach of the Year - Thilina Piyadasa
As a former top player and 8x National Champion from Sri Lanka, Thilina knows what it takes to succeed in table tennis. In October, Thilina provided self-funding support for the ITTF Continental Hopes for the US girls' team of Mandy Yu and his daughter Tashiya Piyadasa. Mandy took home the Gold going 8-1, whereas Tashiya went 7-3 for third place. Only the champion would get the automatic invite to the ITTF World Hope Challenge in Jordon, but ITTF selected wildcards were available following the Pan Am Junior Championships. Tashiya removed any doubt by winning 4 gold medals in Cuenca, Ecuador taking Team, Singles, Doubles and Mixed to join teammates Mandy Yu and Ryan Lin in Amman. Thilina along with Qi Wei and Larry Hodges accompanied our 2028 Olympic Hopefuls who all finish in the top 8 for inclusion in ITTF 2022 Hopes World Team.
2021 Doc Counsilman Science Award – Team Pingpod
Covid 19 knocked many players, coaches, and clubs off balance with state imposed stay at home mandates and strict guidelines to minimize any transmission of the virus. Lead by National Level Coach, Ernesto Ebuen, Jr., Team PingPod created an autonomous way utilizing a mobile app to allow players and coaches of all levels to play during the pandemic in a safe environment. Remotely scheduling a court 24/7 along with built-in contact tracing provided an extra layer of protection. PingPod also designed two types of innovative Replays – Quick Replays and Custom Replays. These allow players to save, store and share a video clip of their favorite rallies or record up to 60 minutes for coaching sessions or match analysis at the click of a button. Quick Replays are ready within minutes while Custom Replays can be ordered up to the past 7 days for coaching purposes.
End.22 01-11b