U.S. National Table Tennis Championships Rolling in Downtown Fort Worth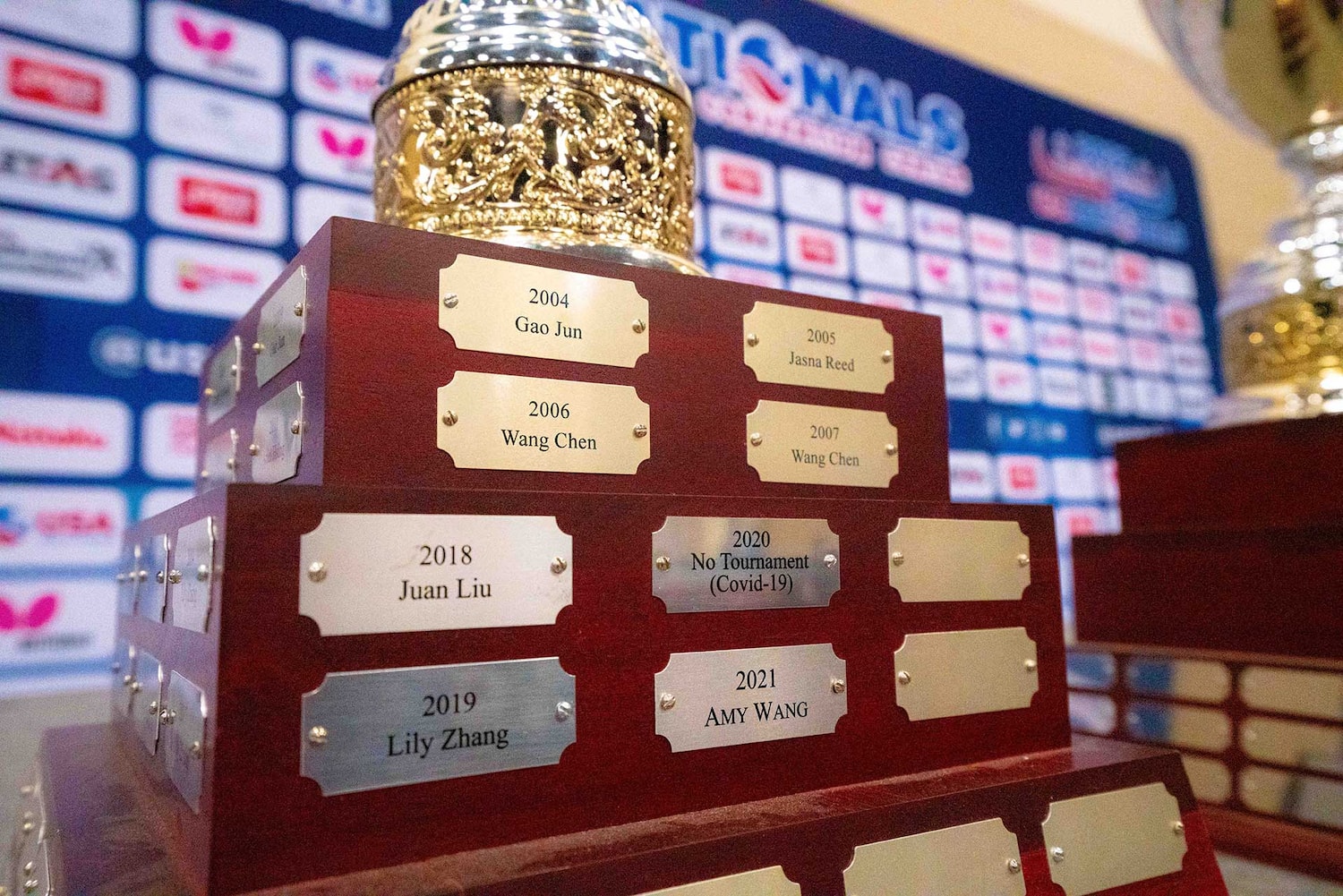 Seventeen gold medals earned thus far at the U.S. Nationals
FORT WORTH, TEXAS – The Downtown Fort Worth convention center is filled with the rumbling of bouncing ping pong balls as the U.S. National Table Tennis Championships have started.
Over 750 players are competing to become 2022 National Champions in 112 events at the event, including the very first Parkinson Events ever held at the U.S. Nationals.
On day one, National Champions in event categories from under 13 singles to 65 & over doubles were determined in the main arena.
Notable gold medalists with a undeniable opportunity to take the 2022 U.S. Nationals Men's and Women's Singles gold were day one U-21 National Champions Sharon Alguetti and Amy Wang. Both athletes are fresh off winning the National Team Trials at Texas Wesleyan University this past week.
Alguetti fended off Sid Naresh for the U-21 gold, Naresh had just taken Alguetti to seven games at the Men's National Team Trials. Naresh put up a valiant effort taking the first game at the Nationals, but momentum shifted after game one in Alguettis' favor for a 3-1 victory to secure his first gold medal of the tournament.
Shifting the focus to the Men's Singles and Men's Doubles, Alguetti is already locked in to prepare for the major events starting on to Day 2, "At the end of the day, it's every match, every event is for its own. I have to forget this win after tonight and start Men's Singles and Men's Doubles tomorrow which are the bigger events for me."
---
Here's a look at your new 2022 National Champions and top performers:
Hsing Family U-21 Men's Singles
Gold: Sharon Alguetti
Silver: Sid Naresh
Bronze: William Bai
Bronze: Gal Alguetti
Hsing Family U-21 Women Singles
Gold: Amy W. Wang
Silver: Sarah Jalli
Bronze: Sally Moyland
Bronze: Rachel Sung
DHS U-13 Boys' Singles
Gold: Ryan Lin
Silver: Winston Wu
Bronze: Charles Shen
Bronze: Kef Noorani
DHS U-13 Girls' Singles
Gold: Amina Batkhuyag
Silver: Carmen Yu
Bronze: Aria Shi
Bronze: Mandy Yu
Men's 40+ Singles
Gold: Yu Shao
Silver: Paul David
Bronze: Tuan Dai Le Md
Bronze: Derek May
Women's 40+ Singles
Gold: Xinyu Mao
Silver: Ning Cheng
Bronze: Nirali Maniar Gandhi
Bronze: Ruth Huang
Men's 65+ Singles
Gold: Daniel R. Seemiller
Silver: Yuxiang Li
Bronze: Raymond Mack
Bronze: Bin Hai Chu
Women's 65+ Singles
Gold: Wendy Fang
Silver: Patty Martinez-Wasserman
Bronze: Yan Ge
Bronze: Tahereh Roufeh
U-2200 RR
Gold: Emily Tan
Silver: Cole Ryberg
Bronze: William Wu
Bronze: Loi Pham
U-1500 Adult RR
Gold: Jung Ho Park
Silver: Avinash Mallavarapu
Bronze: Wayne Griffin
Bronze: Lex Lacson
U-1500 Junior RR
Gold: Nathan Yu
Silver: Anagha Kasichainula
Bronze: Vincent Guan
Bronze: Mohammed Musthafa
DHS U-19 Girls' Doubles
Gold: Yishiuan Lin / Kylie Lam
Silver: Faith Hu / Emily Tan
Bronze: Sarah Jalli / Tiffany Ke
Bronze: Lucy Chen / Rachel Wang
DHS U-11 Girls' Doubles
Gold: Irene Yeoh / Abigail Yu
Silver: Sophia Chen / Anagha Kasichainula
Bronze: Laura Zhang / Tanvi Desai
Bronze: Angela He / Isabella Luo
40 & Over Men's Doubles
Gold: Guo Hui Lu / Tuan Dai Le Md
Silver: Yu Shao / Paul David
Bronze: Derek May / James Therriault
Bronze: George Guo / Kenneth Pinili
40 & Over Women's Doubles
Gold: Ying Lu / Lily Yip
Silver: Seema Cavale / Divya Nagaraj
Bronze: Ning Cheng / Ruth Huang
Bronze: Juliana Milanov / Valerie Rolph
65 & Over Men's Doubles
Gold: Daniel R. Seemiller / Rick Seiler
Silver: Yuxiang Li / Bin Hai Chu
Bronze: Alireza Hejazi / Ronald Lusk
Bronze: Dell Sweeris / David Sakai
65 & Over Women's Doubles
Gold: Connie Mae Sweeris / Donna Sakai
Silver: Angie Miyashiro / Miki