National Jr. Teams Reshaped at the 2022 U.S. Nationals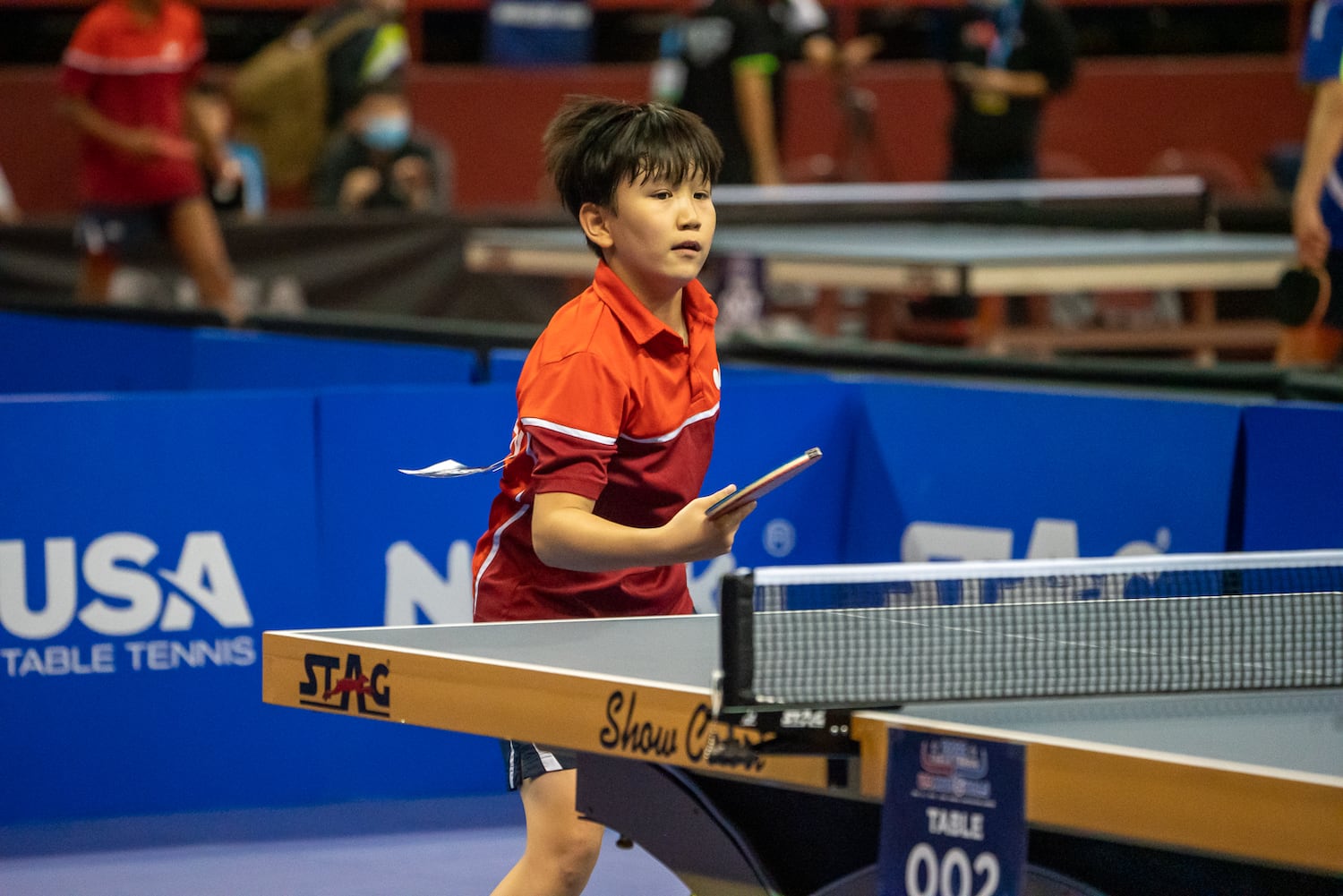 The 2022 U.S. Nationals continues as 38 new gold medalists were crowned. The Fort Worth Convention Center Arena housed the majority of the championship final events. The first through eighth positions on the National Jr. Team landscape is starting to be reshaped over the tournament's opening days.
Rachel Sung took first place in the DHS U-19 Girls' Singles event which means she will take the number position on the U-19 Girls' National Jr. Team.
Amina Batkhuyag is now the number one player for the Girls' U-13 National Team after defeating Carmen Yu in the U-13 final to earn the gold medal. Batkhuyag came in second place at the Team Trials at Texas Wesleyan University the week before.
Ryan Lin has moved up to the number one slot for the U-11 Boys' team as the National Champion. Lin previously took fourth place at the 2022 Team Trials. Sophia Chen has claimed the U-11 Girls' National Jr. Team number one spot by winning the DHS U-11 Girls' Singles.
The final matches for the next 2022 National Championships are live streaming from the fort worth convention center arena.
The livestream for the tournament is viewable on USATT's YouTube and Facebook pages. Individual match results will be updated periodically throughout the tournament and may be seen on Omnipong.
---
National Champions and Top Performers for Day 2
DHS U-19 Girls' Singles
Gold: Rachel Sung
Silver: Rachel Wang
Bronze: Sally Moyland
Bronze: Isabella Xu
DHS U-11 Boys' Singles
Gold: Kyler Chen
Silver: Liren Zhang
Bronze: Jason Liu
Bronze: Brian Wu
DHS U-11 Girls' Singles
Gold: Sophia Chen
Silver: Irene Yeoh
Bronze: Tanvi Desai
Bronze: Anagha Kasichainula
Men's 50+ Singles
Gold: Derek May
Silver: Tuan Dai Le Md
Bronze: Randy Hou
Bronze: Yuxiang Li
Women's 50+ Singles
Gold: Lily Yip
Silver: Yan Ge
Bronze: Wendy Fang
Bronze: Ning Cheng
Men's 70+ Singles
Gold: Randy Hou
Silver: Raymond Mack
Bonze: Bin Hai Chu
Bronze: David Sakai
Women's 70+ Singles
Gold: Serena Kong
Silver: Tahereh Roufeh
Bonze: Connie Mae Sweeris
Bonze: Donna Sakai
Men's 75+ Singles
Gold: Ali Oveissi
Silver: Dell Sweeris
Bonze: Quyet Nguyen
Bonze: David Sakai
Women's 75+ Singles
Gold: Connie Mae Sweeris
Silver: Donna Sakai
Bonze: Gail Kendall
Bonze: Miki Snell
DHS U11 Boys' Doubles
Gold: Kyler Chen / Jason Liu
Singles: Joe Zhang / Mohammed Musthafa
Bronze: Liren Zhang / Carlough Francis
Bronze: Xianliang He / Jaden Jia
U-1900 Adult RR
Gold: Emily Tan
Silver: Cole Ryberg
Bronze: William Wu
Bronze: Loi Pham
U-1800 Adult RR
Gold: Jung Ho Park
Silver: Avinash Mallavarapu
Bronze: Wayne Griffin
Bronze: Lex Lacson
U-1700 Adult RR
Gold: Nathan Yu
Silver: Anagha Kasichainula
Bronze: Vincent Guan
Bronze: Mohammed Musthafa
U-1500 Adult RR
Gold: Nathan Yu
Silver: Anagha Kasichainula
Bronze: Vincent Guan
Bronze: Mohammed Musthafa
U-1300 Adult RR
Gold: Nathan Yu
Silver: Anagha Kasichainula
Bronze: Vincent Guan
Bronze: Mohammed Musthafa
U-1100 Adult RR
Gold: Nathan Yu
Silver: Anagha Kasichainula
Bronze: Vincent Guan
Bronze: Mohammed Musthafa
U-1000 Adult RR
Gold: Nathan Yu
Silver: Anagha Kasichainula
Bronze: Vincent Guan
Bronze: Mohammed Musthafa
U-1900 Junior RR
Gold: Emily Tan
Silver: Cole Ryberg
Bronze: William Wu
Bronze: Loi Pham
U-1800 Junior RR
Gold: Jung Ho Park
Silver: Avinash Mallavarapu
Bronze: Wayne Griffin
Bronze: Lex Lacson
U-1700 Junior RR
Gold: Nathan Yu
Silver: Anagha Kasichainula
Bronze: Vincent Guan
Bronze: Mohammed Musthafa
U-1500 Junior RR
Gold: Nathan Yu
Silver: Anagha Kasichainula
Bronze: Vincent Guan
Bronze: Mohammed Musthafa
U-1300 Junior RR
Gold: Nathan Yu
Silver: Anagha Kasichainula
Bronze: Vincent Guan
Bronze: Mohammed Musthafa
U-1100 Junior RR
Gold: Nathan Yu
Silver: Anagha Kasichainula
Bronze: Vincent Guan
Bronze: Mohammed Musthafa
U-1000 Junior RR
Gold: Nathan Yu
Silver: Anagha Kasichainula
Bronze: Vincent Guan
Bronze: Mohammed Musthafa
U1900 Adult RR
Gold: Aansh Jha
Silver: Yao Tony Zhu
Bronze: Kam Mak
Bronze: Michael Gopin
U1800 Adult RR
Gold: Jt Weng
Silver: Bruce Reiff
Bronze: Theodore Thayib
Bronze: Pedro Garces
U1500 Adult RR
Gold: Jung Ho Park
Silver: Avinash Mallavarapu
Bronze: Wayne Griffin
Bronze: Lex Lacson
U1300 Adult RR
Gold: William Heinz
Silver: Lex Lacson
Bronze: Vijay Suriya
Bronze: Teddy Bricker
U1100 Adult RR
Gold: William Heinz
Silver: Tushar Khinvasara
Bronze: Sanjay Prasanna
Bronze: Szatmary Botond
U1900 Junior RR
Gold: Ben Zhang
Silver: Nolan Yu
Bronze: Jenny Wang
Bronze: Nicholas Nash
U1500 Junior RR
Gold: Nathan Yu
Silver: Anagha Kasichainula
Bronze: Vincent Guan
Bronze: Mohammed Musthafa
U1300 Junior RR
Gold: Andrew Huang
Silver: Vincent Guan
Bronze: Mate Szatmary
Bronze: Om Narvekar
U1100 Junior RR
Gold: Emma Dong
Silver: Sophia Shen
Bronze: Mate Szatmary
Bronze: Fei-Lian Zhang
Hardbat Men's Singles RR
Gold: George Guo
Silver: Bin Hai Chu
Bronze: Dan Seemiller Jr
Bronze: Daniel R. Seemiller
Hardbat Women's Singles RR
Gold: Lily Yip
Silver: Estee Ackerman
Bronze: Wendy Fang
Bronze: Sara Gulabani
U1700 Hardbat Singles RR
Gold: Brian Jortner
Silver: Steve Cooney
Bronze: Rob Koehler
40 & Over Hardbat Men's RR
Gold: George Guo
Silver: Bin Hai Chu
Bronze: Kenneth Pinili
40 & Over Hardbat Women's RR
Gold: Lily Yip
Silver: Wendy Fang
Bronze: Ning Cheng
Bronze: Raquel Zubiate