2022 US Open Table Tennis Championships Set for Southern California
USATT Perfectly Times the Travel to the Los Angeles Area
For the 91st US Open in What Should be the Glorious Climes of December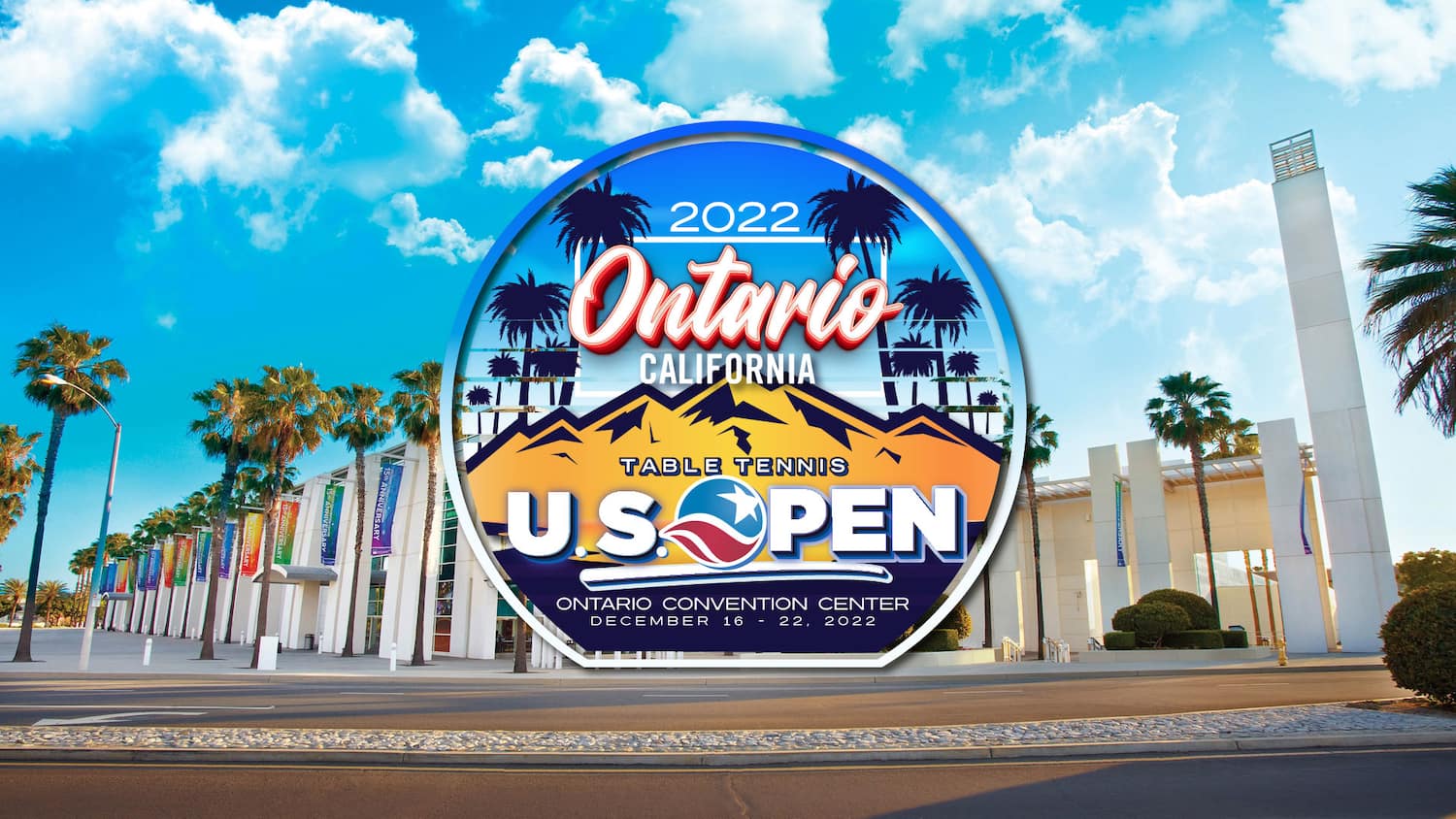 (Colorado Springs, CO – July 26, 2022) – USA Table Tennis ("USATT") and the Greater Ontario Convention and Visitors Bureau today jointly announced that the 2022 US Open Table Tennis Championships will be held in the Ontario Convention Center in Ontario, California. This will mark the first time in the 91 years of playing the US Open that USATT has hosted a major event in this Southern California inland region, which is expected to bask in resplendent weather during the tournament dates, December 16 – 21, 2022.
"We are so excited to be headed to Southern California for the Open," said USATT Chief Executive Officer Virginia Sung. "It goes without saying that we have an unbelievably vibrant table tennis community within the entire state of California, but we believe that players throughout the country and world will want to visit this beautiful area in what should be the best time of the year – December. This event also serves as a precursor for the impending 2028 Olympics in Los Angeles – where America is seeking to make a big splash on the international table tennis scene."
"We are thrilled to be joining with USATT to host the 2022 US Open Table Tennis Championships here in our community," said GOCVB Director of Sales Arlette Garibay. "We've already heard from the table tennis players in our area how excited they are to have this historic and elite level event in our home city."
Located 35 miles east of downtown Los Angeles, the City of Ontario is located on the western edge of San Bernadino County within what is known as the Greater Los Angeles Area. It boasts an International Airport (Ontario International Airport) just ten minutes from the Ontario Convention Center and an Amtrak Station for those who elect to travel by train.
The Greater Ontario area offers an abundance of things to see and do including world class shopping in the massive Ontario Mills Mall and the largest concentration of movie screens west of the Mississippi River, art and history museums, and a wine region dating back to the 1800s. The family-friendly area features regional parks, ice rinks, go-kart racing, and is located within a short drive from Big Bear Mountain resorts, fresh-water fishing lakes, hiking, skiing and within an hour the Pacific Ocean beaches, world-class golfing, theme parks and Hollywood. Centrally located in the heart of Southern California it is easy to extend your visit to Las Vegas, Palm Springs, San Diego, and the Joshua Tree National Park from the Greater Ontario region.
With respect to the playing hall for the US Open, the Ontario Convention Center, which is within walking distance of several top-quality hotels, offers a completely open hall area with no pillars and Show Court bleacher seating for as many as 1500 patrons.
ONTARIO CONVENTION CENTER
Ontario Convention Center is ideally located in Southern California. Built and owned by the City of Ontario; it is privately managed by SMG Worldwide. The ultimate experience begins upon arrival to the Ontario Convention Center with the majestic and modern facade of the building. The ultra-contemporary design was thoughtfully planned to provide a welcoming setting with a fresh, open and progressive vibe. The multi-level space offers a refreshing layout encompassing over 225,000 square feet of space and a 70,000 square foot column free exhibition hall, accented throughout by floor to ceiling windows to draw in the gorgeous surrounding mountain vistas. An expansive offering of outdoor space is also available for meeting and event purposes. Ontario Convention Center is ideal for conventions, trade shows, exhibits, sporting competitions, meetings and gala events. The Center provides a full range of services, world-class cuisine and flexible options provided by a professional, award-winning staff. Ontario Convention Center is proud to be recognized for cleaning and disinfecting to a higher standard to keep our space clean and safe for occupancy with a GBAC Star Accreditation. There are over 6,000 full service and economy hotel rooms in the Greater Ontario area, including 2,500 rooms within walking distance to The Ontario Convention Center. For more information visit: www.ontariocc.org.com
End.22 07-26b