Living Legends Tell Their Ping Pong Diplomacy Stories
---
Connie and Dell Sweeris, Members of the 1971 & 1972 Ping Pong Diplomacy US Teams, Share Memories, Reflections & Teachings
In 1971, Connie Sweeris swept the competition at the US Open, winning the Women's Singles, Women's Doubles and Mixed Doubles events, giving her the coveted Triple Crown. She then journeyed as part of the US Team to Nagoya, Japan for the 1971 World Championships, excited to see the return of the Chinese team to competition following their absences in 1967 and 1969. After a chance encounter between US teammate Glenn Cowan and Chinese champion Zhuang Zedong at the event, the Chinese team invited the US team to China for a series of friendship matches, later known as Ping Pong Diplomacy, opening the doors for diplomatic ties between the two countries.
Dell Sweeris, Connie's husband, was unable to make the trip in 1971 for the World Championships, having qualified alongside his wife. However, he was involved in the reciprocal visit of the Chinese team to the US in 1972.
Connie and Dell Sweeris reflect on the memories of the 1971 Ping Pong Diplomacy experience and its teachings for our current generation.
Memories of 1971 & 1972
Food and banquets played a central role in Connie's fond memories of her Ping Pong Diplomacy trip to China, highlighting friendships developed around Chinese hospitality.
"We were at a banquet celebrating friendship. We always had a toast. They filled up my little glass with a local alcohol. I personally don't drink, so we toasted, and I took a sip of it. It must have been 100 proof (~50% ABV), because it burned the whole way down. After we toasted, our Chinese hosts could see the look on my face, and they said 'gan bei!' (meaning "bottoms up")! When I said 'no, no, no, I don't drink' they poured my glass into an ash tray and lit a match and flames came up." – Connie Sweeris
"We had these 8-10 course banquets all around the different cities we went to. It seemed like we were eating all the time. We ate food that I never ate before. Here in America, what we have is nothing like in China!" – Connie Sweeris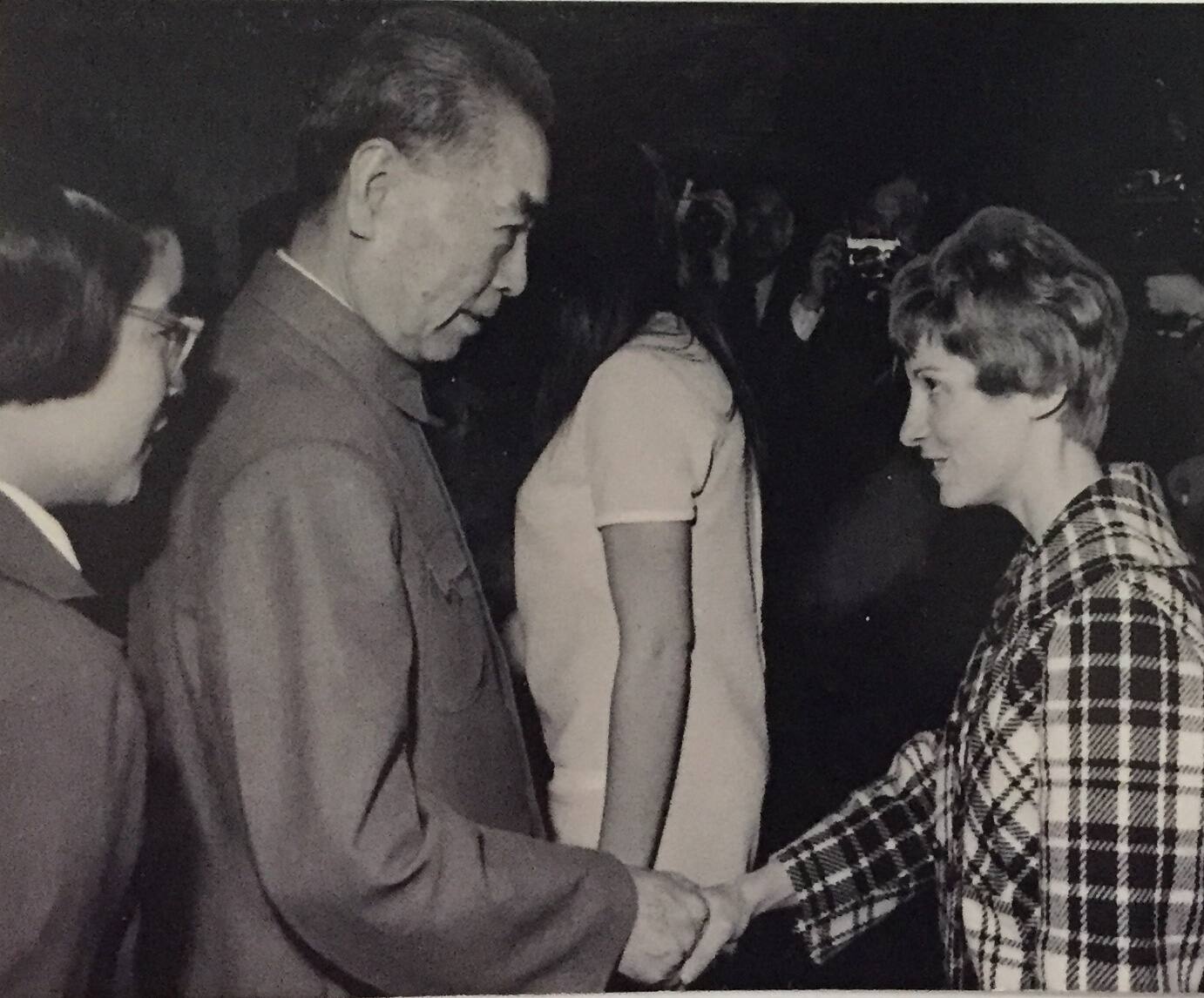 Connie Sweeris shakes hands with Chinese Premier Zhou Enlai in 1971
Thrilling meetings with high level officials and early access to China's major cultural attractions completed the trip for Connie.
"We met Zhou Enlai, the Premier of China, in the Great Hall of the People in Beijing, that was a great thrill and we got our pictures taken with him. We were able to ask him questions, and Glenn Cowan asked him about the hippie movement in the US. He responded that he 'really believes that youth have to seek out truth for themselves, and I believe these youth are trying to seek out where they fit in life and the truth of things.' That really stood out to me." – Connie Sweeris
"When Connie visited the Great Wall, the Forbidden City and rode on the Glass Bottom Boat, [the delegation] were the only people in these places in 1971. It wasn't a tourist attraction yet. When I went in 1997, it was a totally different experience, with hundreds of people. Visiting those spaces will be a memory that we will always have." – Dell Sweeris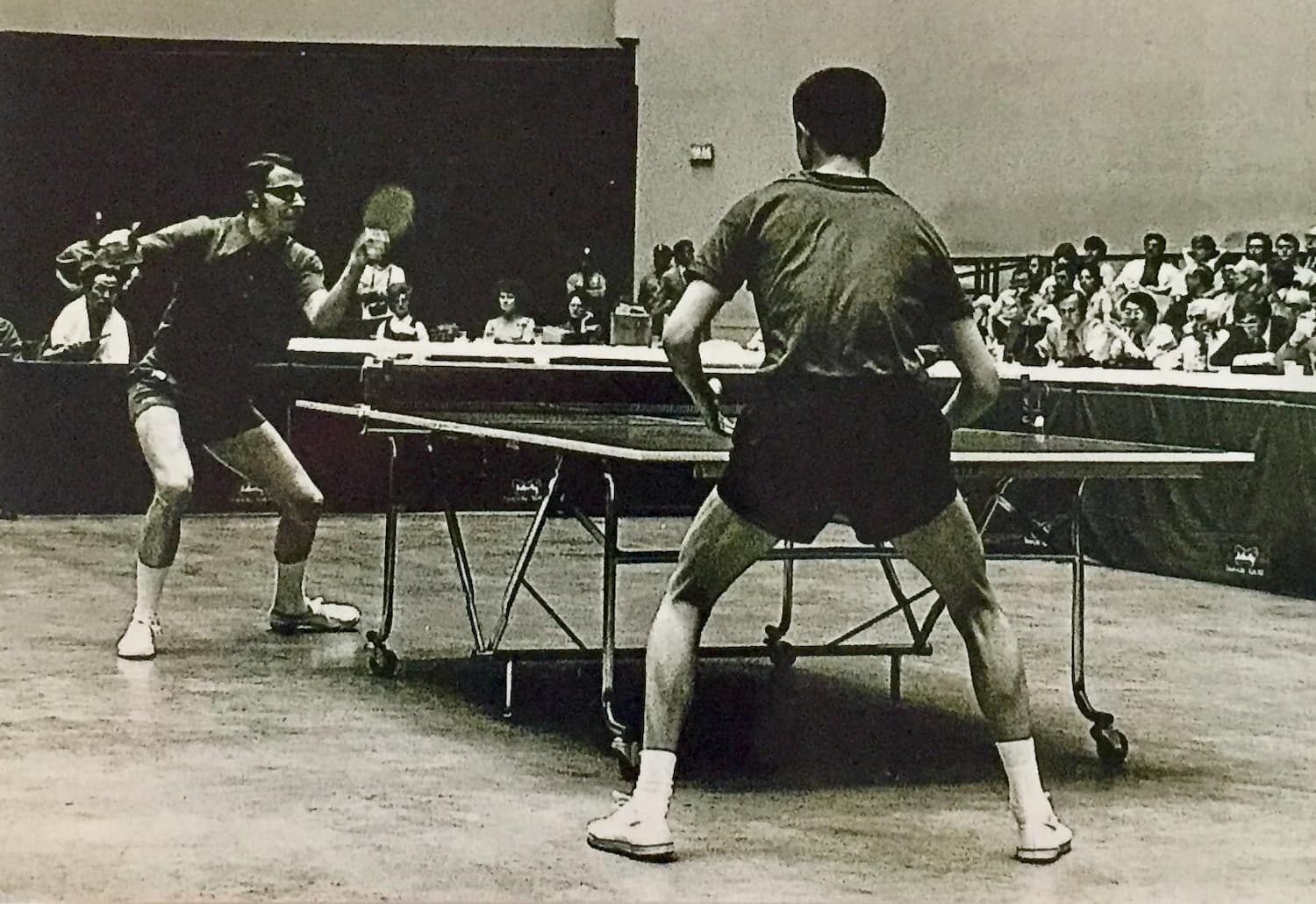 Dell Sweeris plays Chinese opponent
During the 1972 reciprocal Chinese team tour in the US, Dell fondly remembers the friendship matches he played with Liang Geliang and the opportunity to expose table tennis to a large US audience.
"In Michigan, when I played Liang Geliang, there were 10,000 people there, a completely full house and the University of Michigan band was on the floor, ABC Sports was there…when we played ABC didn't have cameras that were wide enough to cover the long-range rallies we had. In the end, I actually won the match! Really, we were exposing the US to table tennis since it wasn't very popular at all. It was really neat to have that kind of exposure, to show people what high level table tennis could be like!" – Dell Sweeris
Reflections & Teachings of Ping Pong Diplomacy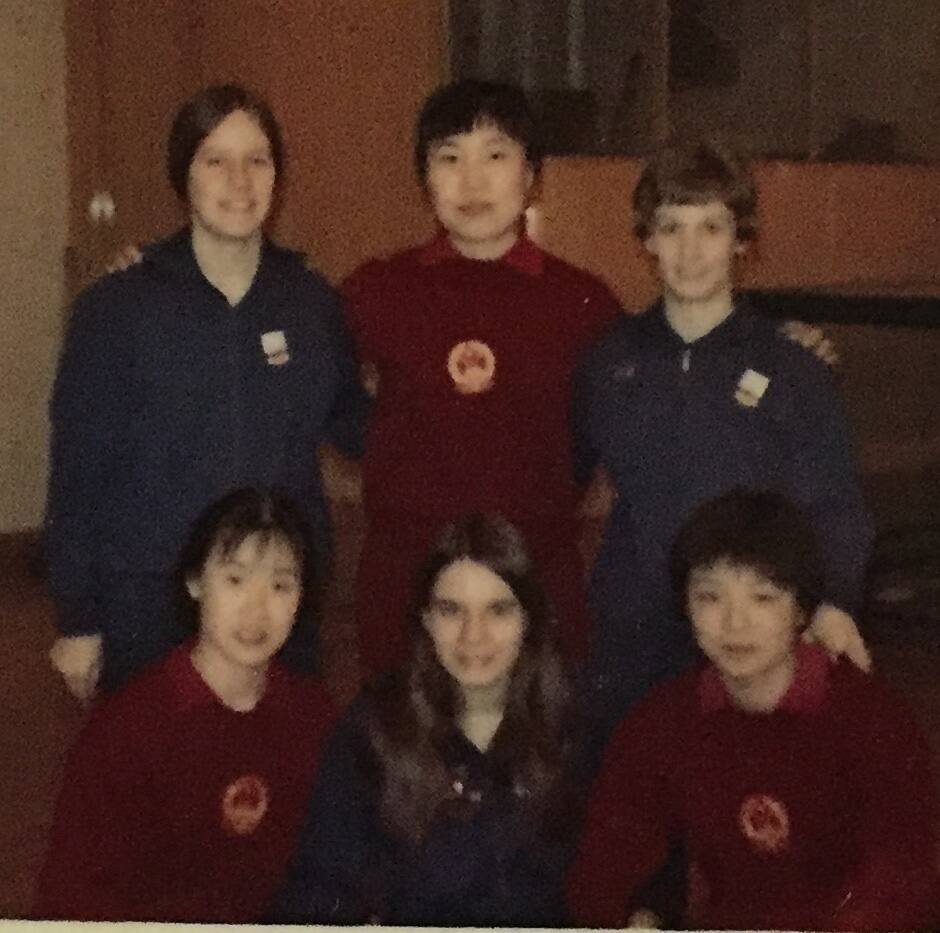 Connie (far right) with US and Chinese teammates during Ping Pong Diplomacy
To Connie, the legacy of the 1971 experience is that "sports can be a tool for diplomacy and understanding between countries and people." For 50 years, Connie and Dell have remained "peng you" or friends with the Chinese delegation that they shared the experience with.
Connie and Dell first saw the Chinese table tennis team play in 1965 at the World Championships, as the reigning champions and giants of the sport. At the time, they were only able to shake hands and get an autograph. During the Ping Pong Diplomacy exchanges of 1971 and 1972, they had an opportunity to spend time with them and get to know them better. Their relationships deepened from conversations about table tennis, travel, and culture to personal life, such as family and friends. The Chinese team even learned how to sing "Home on the Range," an American classic, and repeated their performance in 2011 at the 40th anniversary gathering.
Over the course of a few short months together, the Chinese and American teams became lifelong friends, sparked by a shared love of table tennis and open hearts for diplomacy. Today, Connie and Dell hope the younger generation can keep the relationship going between the two countries through sport and friendly interaction, even in today's challenging climate.