Message to the Membership Regarding the 2022 US National Championship
by Major Event Task Force (METF)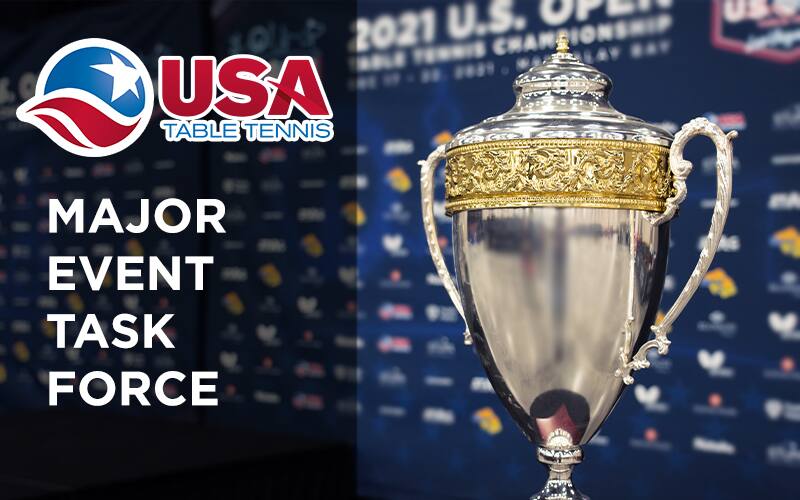 Following the conclusion of the 2021 US Open, the USATT Board of Directors in conjunction with input from our National Office, formed a special task force to help direct the design and operation of the 2022 US National Championships and US Open scheduled for the end of 2022. Leadership of USATT is aware of the problems encountered during the last Open – and is committed to improving the design and operation of such major tournaments. In order to make that happen, a special task force was assembled composed of experienced USATT members who are committed to making our top tournaments positive, fun, and well run events for our membership. The task force consists of highly experienced Tournament Directors, Officials, and organizers including athletes and representatives from the USATT Board itself. All working together to meet a unified goal of improvement and member satisfaction.
The Task Force has identified several areas of attention including the design of the tournament itself; the operation (mostly scheduling) of the tournament, implementation of the schedule, issues related to Covid 19 enforcement; and many other important factors that the membership has weighed-in on. We all appreciate the feedback in that it helps identify the areas needed for improvement.
The following information summarizes what is being done now to ensure the best possible member experience moving forward. For the members who experienced some of the problems at the 2021 US Open, please accept once again, the sincere apology of USATT and more importantly, please be clear on our commitment moving forward, to making things right again, so that your experience at the 2022 Nationals (July 2 - 7) in Fort Worth, Texas; and, 2022 US Open will once again be a great one. We intend to implement these improvements going forward to all major tournaments.
NUMBER OF EVENTS OFFERED
In processing our work towards this end, several interesting things have been observed. Looking at the US Nationals major changes were implemented in 2017 and beyond – little by little – that significantly changed the complexion of the US National Championship. As an example, the 2015 US Nationals had 94 events offered for the membership to select from. This was reduced in 2021 due to health concerns for our membership due to Covid-19. We are pleased that the CDC outlook for July 2022 is much safer so we are expanding the pool of events offered accordingly.
This will enable past competitors and past champions from events that were temporarily removed, to once again compete and gain an opportunity to defend their title. More importantly, it offers members more choices for events to compete in over the week that people have set aside from work, using valuable vacation time and money, to attend the US National Championship. After all, none of us go to the Nationals to sit around – most everyone goes to compete!
SCHEDULING
Another huge problem that we are addressing is the one related to scheduling. We are taking a close look at this and are designing the first round events to run without conflicts to the maximum extent possible. We also are organizing the event so that you will know what table to go to, at what time and date, for your fist round matches in your events in advance. This will remove the need for 500-700 people to huddle around the registration desk at the same time. We are pleased to point out that events will not be scheduled to run into the early morning hours of the following day. The events are being designed to finish before 9pm everyday, and earlier if possible. Goal is to finish 95% of events by this timeframe.
TABLES
Table numbers will be clearly identified, with large, easily visible markings placed on both sides of the tables. The arrangement of tables will be done logically, and court size will be appropriate and authorized sizes, with most courts being 18' x 35' and championship courts being 20' x 40'. As many courts as possible will be held on proper matting however, lower rating event matches may need to be placed on concrete flooring due to the size and number of tables used. As for number of tables, we are looking to have between 100 and 120 tables available for competition use and practice. All of these things and much more are being addressed by the Task Force, for implementation by the Organizing Committee working closely with our National Office.
It must also be mentioned that our National Office is working extremely hard to ensure that the National's and US Open become once again, tournaments that we all can enjoy and be proud of. We are asking all of you to please consider the amount of effort and work that is being put into this effort to make both of our two National level tournaments, the best that they can be, and ones which will make us want to attend. USATT exists because of YOU the member. We need your support again to make our National level events a resounding success. Anyone can plan a great tournament, but the tournament won't exist without the membership. Please support the National's this summer in Fort Worth, Texas and all future major tournaments.
CONCLUSION
Thank you for all your inputs that was provided to us through surveys, social media, and other communication channels. We reviewed and considered all those inputs into our discussion and decision making. We are committed to consistently improve these major tournaments and to make them a must 'go-to' tournaments and to make them more fun. We cannot achieve that without your support. Please keep sending us your suggestions/comments to the National Office or reach out to us at any time.
Task Force Members
Mike Babuin - Chairman, USATT Tournament Advisory Committee
William Draper - Chairman, USATT Technology Committee
Amy Feng - Athlete Rep
Thomas Hu - USATT Board of Directors (At-Large Director)
Jennifer Johnson - Athlete Rep
Vinod Kambrath - Chairman USATT Club Committee
Jasna Rather - Athlete Rep
Dan Reynolds - USATT Board of Directors (At-Large Representative)
Will Shortz - USATT Board of Directors (Club Representative)
Virginia Sung - CEO USATT National Office
Dell Sweeris - President, USATT Foundation
Mark Thompson - COO USATT National Office
Roman Tinyszin - Chairman of the Umpires & Referees Committee