Singapore Smash Delivers Drama on Day 2 of Action!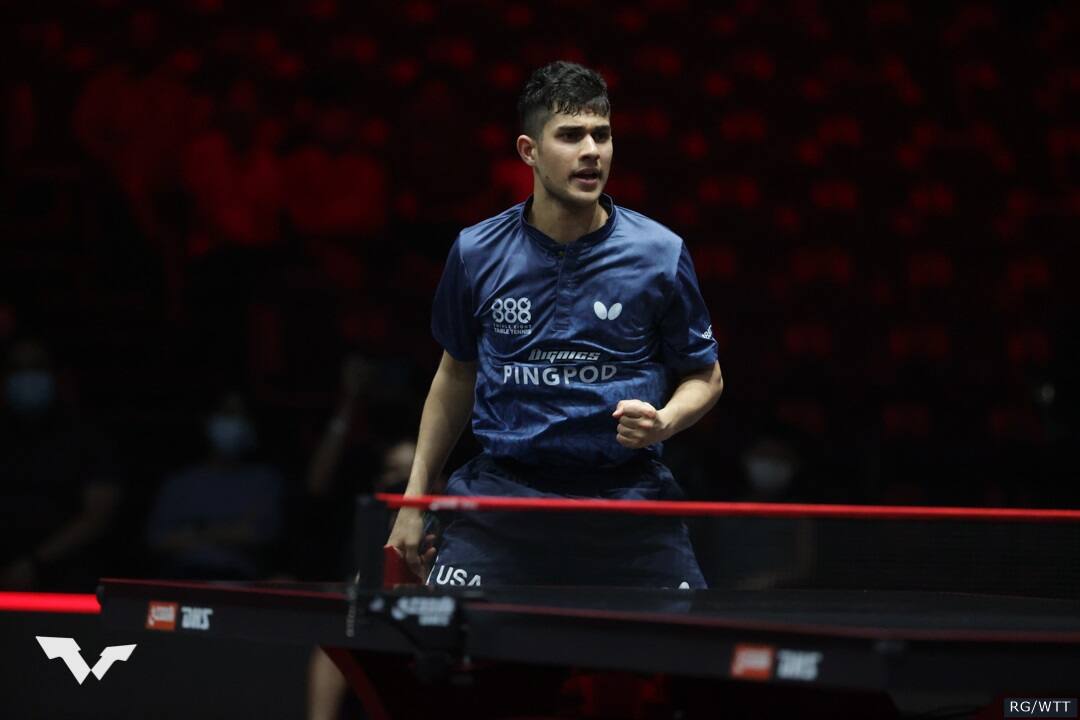 Kanak Jha, Singles - Round of 64. Singapore Smash 2022 , 7 Mar - 20 Mar 2022, Singapore Sports Hub, Singapore (Photo/RG/WTT)
The second day of Singapore Smash featured some exciting table tennis battles and milestones at the OCBC Arena, with Kanak Jha of the USA notching the biggest win of the day by upsetting men's world No. 4 Tomokazu Harimoto 3-1 (7-11, 11-9, 11-9, 11-3). World No. 8 Lin Gaoyuan also tasted defeat as Lim Jonghoon recorded a convincing 3-0 (11-6, 11-9, 11-6) victory in the men's singles R64.
Lim, 25, said: "Lin Gaoyuan is a good player, so I prepared a lot. The opponent made many mistakes, so I took the chances and benefitted from those mistakes, to win the match. I felt great during the final game, and because I played against a good player, I felt good every time I won a point."
Jha, 21, and the 18-year-old Harimoto last faced each other eight years ago. World No. 30 Jha said: "I knew it was going to be a very hard match but I always believed in myself. I know I'm capable of playing at a very high level when I'm in good shape and I felt good today. I think he was also very nervous — it's the first match and he was a little tight. I think I was good in the crucial moments, especially in the second and third games and this made the difference. He's one of the world's best players and he's been for a long time. It's definitely a big win for me. I'm just happy to still be in the tournament and go to the next round. I'm very happy today, but tomorrow I'll try to rest, recover and get ready for the next match."
Several athletes were made to work for their victories – Timo Boll, making his WTT debut, fended off Gustavo Tsuboi 3-2 (11-6, 10-12, 11-3, 5-11, 11-5). Cheng I-Ching of Chinese Taipei and Bruna Takahashi of Brazil also survived their respective singles thrillers – Cheng scraped past Japan's Miyu Kato 3-2 (11-5, 9-11, 11-4, 9-11, 17-15) while Takahashi (world No. 32) edged out Korea's Yang Haeun (world No. 85) 3-2 (16-14, 8-11, 5-11, 11-9, 11-9).
Boll, 41, said: "I'm glad that I could win the first game, to get used to the circumstances — the table and balls. Gustavo is a difficult opponent for the first round if you don't get a good rhythm against him because he has very good fast, quick serves. You never feel comfortable playing against him so I'm just happy to beat him."
Xiang Peng's Singapore Smash journey came to an end. Coming through qualifying, the world youth champion crashed out with a 3-0 (11-3 11-8, 12-10) defeat to Jonathan Groth of Denmark.
World No. 38 Groth said: "This win over Xiang Peng means a lot to me. I didn't have the result I wanted (at my last WTT event) and it feels great to be able to win my first match here in Singapore. I had a tough draw. Xiang Peng played very well in Oman last week. He's a top player and to be able to beat him 3-0 just means a lot to me. I've shown that if I can play to my full potential, I can beat the top players. When I won the first game, I said, "Ok, I have a chance now." I knew he would put up a tough fight from the second game but I also knew I could match him. When I was up 2-0, I said to myself not to think too much about winning yet. I just had to stay focused. I was leading 6-3 in the third game and he fought back to 6-6. There were many thoughts racing through my mind then, but I managed to stay calm and focused. It's always a mental challenge and I'm glad I did that well today against Xiang Peng."
Local star, Zeng Jian beat Melanie Diaz of Puerto Rico 3-0 (11-9, 11-3, 11-8) in the women's singles R64, while Olympic Champion Chen Meng of China defeated Japan's Hitomi Sato 3-0 (11-8, 11-7, 11-9). Japanese superstar Mima Ito and world No. 1 Fan Zhendong were also victorious. Ito secured a 3-1 (11-3, 11-5, 9-11, 11-5) win over Han Ying of Germany, while Fan beat Tiago Apolonia of Portugal 3-1 (11-8, 11-8, 5-11, 11-9).
Said Zeng: "I was actually feeling very nervous as this is the first time I've participated in such a prestigious event. I felt suitably prepared for the match and any challenges that I might face, so I could read and anticipate my opponent's shots."
The 25-year-old next faces Olympic champion Chen, and she added: "Chen Meng is the Olympic champion and there are definitely some differences in our skill level. But I treasure opportunities like these, to pit my skills against an opponent of this calibre, and I want to just perform to my usual standard."
Mixed doubles Olympic champion Ito, 21, said: "(Han Ying) returned very well, but I just did not panic. I just took deep breaths and told myself to calm down, and that helped me win the match. For me, regardless of what the situation is, I just want to play my own table tennis, play the Ito Mima style of table tennis and also not panic and enjoy myself when I'm playing. I just want everyone to know that I'm very strong, especially when I'm playing table tennis. I don't like to lose and that's where I get all my confidence from. And I just want to tell my fans that Ito Mima is a very strong person."
Day 3 of Singapore Smash will see a clash between world No. 1 Sun Yingsha and world youth champion Kuai Man, one of the sport's rising stars who recently won her first senior title. Singaporeans in action include Goi Rui Xuan, who faces world No. 6 Hina Hayata in the women's singles.
The match schedule for Infinity Arena on 13 March is as follows:
From 2pm
WS – GOI Rui Xuan (SGP) vs (6) HAYATA Hina (JPN)
MS – PITCHFORD Liam (ENG) vs WANG Chuqin (CHN)
WS – (1) SUN Yingsha (CHN) vs KUAI Man (CHN)
MS – ARUNA Quadri (NGR) vs (2) MA Long (CHN)
From 7pm
WS – (4) WANG Manyu (CHN) vs POTA Georgina (HUN)
MS – LIN Shidong (CHN) vs JORGIC Darko (SLO)
WS – SHAN Xiaona (GER) vs LIU Shiwen (CHN)
MS – (6) LIN Yun-Ju (TPE) vs GACINA Andrej (CRO)
Full results, draws and match schedules are available here.
Main draw matches are ongoing till 20 March, with tickets priced from $18. Ticket packages including day passes for the main draw are available from $35. More information can be found at www.sistic.com.sg.
WTT Grand Smashes form the foundation of the WTT Series and the Singapore Smash is the first of the four new pillars of professional table tennis. The event boasts US$2,000,000 in prize money, the biggest prize purse at an officially-sanctioned table tennis event.