2023 US National Team Trials Complete Round Two at 888 TTC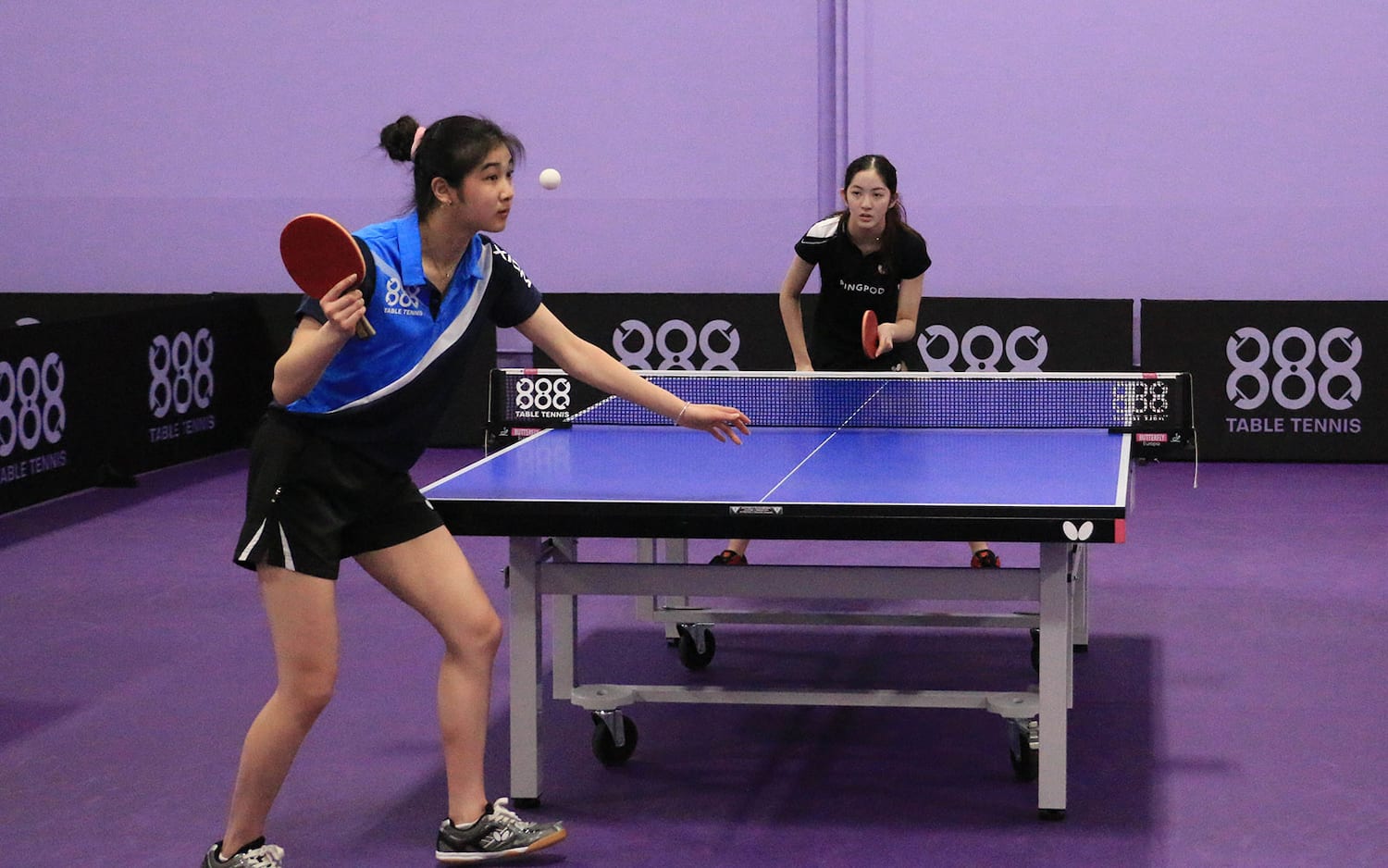 Men's and Women's Groups Are Whittled Down To Eight Competitors Each For the Four Available Spots to be Determined in Sunday's Final Round
(Burlingame, CA – April 8, 2023) – The Northern California sun rose this Saturday morning on twelve competitors still battling in each of the Men's and Women's categories for a spot on 2023 US National Teams, and by the time that same sun set over the San Francisco Bay, there were just eight Men and eight Women remaining in the hunt to represent the United States of America in international table tennis competition this year. On Sunday, the National Team will be cut to the final four for Men and Women in the elite level conditions and fashionable (and functional) purple hue of the 888 Table Tennis Club in Burlingame, California.
One of the final eight slots in the Men's category unexpectedly opened up when the top player in the six-member Group One, US Olympian Nikhil Kumar, withdrew from the event due to injury after just four matches on Saturday. Kumar started the day on a positive note with a 4-1 win over Darryl Tsao but lost a hard-fought seven-game bout to Nandan Naresh – and ultimately (and unfortunately) withdrew from the competition after a 4-0 loss to Dan Liu. Kumar's withdrawal meant that four of the remaining five members of Group One would now advance to Sunday's Third Round. Since the results of Round Two carry over to Sunday's third and final round, it's relevant to note that Nandan Naresh won his fifth and final match of the day over Liu to preserve his perfect (5-0) record for the day, while Liu punched his ticket to the final round with a single second round blemish (4-1). Daniel Tran of Texas, who was the beneficiary of a win by Kumar's default, claimed a spot in tomorrow's final Group of Eight with his other win in the group coming in a four-game sweep of Aziz Zarehbin. The big wins for Darryl Tsao came against Tran and Zarehbin, but that was all he needed to advance to the Final Round, as well.
In Group Two, the top three competitors – Jishan Liang, Kai Zhang and Sid Naresh – all ended Day Two with identical 4-1 records – as they traded losses amongst one another with Liang falling to Naresh in a seven-game nail-biter, while Zhang was knocked off by Liang, and Naresh was defeated by Zhang. The fourth spot out of Group Two on this Saturday afternoon went to New York's Mishel Levinski, who despite a slightly volatile moment or two on Day Two, was able to get a couple of wins – including a late-day seven-game slugfest with Ved Sheth to claim the final slot in the final eight.
On the Women's side, the top seed in Group One, Amy Wang, took care of business – perfectly – as the 2021 National Champion won twenty of the twenty-five games she played on this Saturday. Sally Moyland also advanced out of Group One, as she was dominant against everyone but Wang, winning sixteen of the seventeen games she played against her other opponents. Emily Tan handily defeated the players ranked below her in Group One to advance to Sunday's Final Round; and Joanna Sung did the same to claim the fourth and final slot out of this group.
In Group Two for the Women, it was Rachel Sung who put together the perfect day, while Sarah Jalli was on her game, going 16 – 1 in her four wins on the day. Tiffany Ke and Angie Tan won their matches against opponents ranked below them in Group Two to claim the final two slots and fill out the final eight Women headed into Sunday's showdown.
The final day of US National Team Trials action will kick off tomorrow morning with a single group of eight men playing in round robins starting at 9:00 am Pacific. The Women will also be in a single group of eight for their round robin starting at 9:45 am Pacific.
The live stream of Table One from 888 TTC is at: https://www.youtube.com/watch?v=jqjxNQQ7780. All results from the 2023 US National Team Trials can be found at www.Omnipong.com.
End.22 04-08a