USATT State Championships
News
Shahin Aklaghapasand and Deng Zhen are 2023 USATT Texas State Champions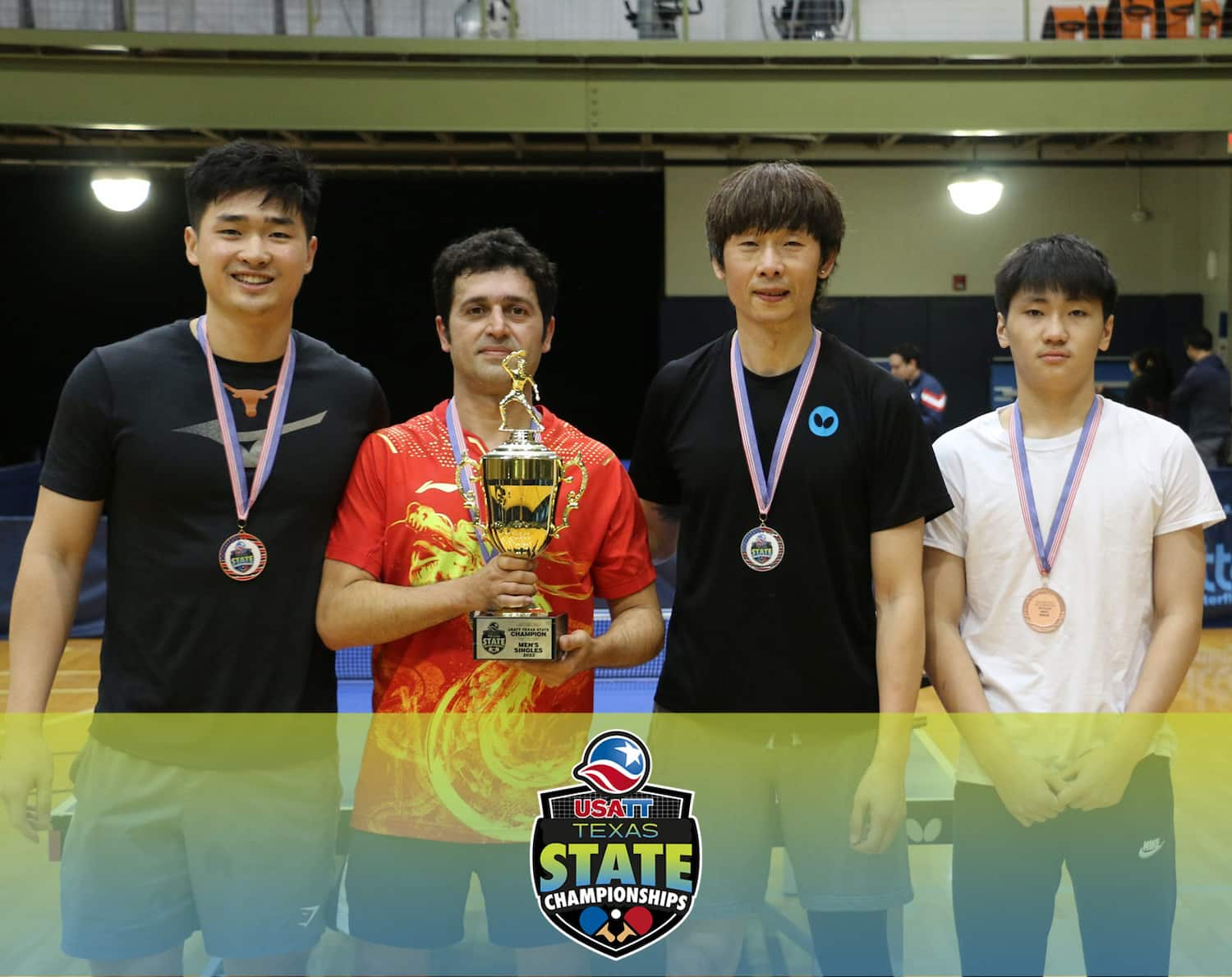 Over the past weekend, the Texas table tennis scene took over the Alamo City, where 134 competitors played in the 2023 USATT Texas State Championship. With 16 events being played, athletes from all-over Lone-Star State traveled to compete for various state titles. Huge demand required the San Antonio Table Tennis Club to secure a larger venue to be able to offer all players the opportunity to showcase their skills and add a state title to their resume.
The Men's Singles Event saw 52 players lined up at the start of the event including 11 players rated over 2200, the top four rated players being seeded out to the Single Elimination stage while the other 48 players were divided into twelve groups of four. Very close heated matches took place in the Round of Sixteen where Andrew Cao, seeded number three and member of the US Junior National Team found himself two sets down again Joshua Mak, who plays for the college team at the University of North Texas. Andrew showed tremendous mental strength overcoming adversity and winning the following three sets to book a quarter-final match against Santiago Montes, the 2023 Colombian National Champion now residing in the Dallas Fort Worth Area and studying at the Texas Wesleyan University.
All Quarterfinals matches were high-level encounters. On the top side of the draw Shahin Aklaghapasand won in three-straight over Lucas Eto, and Andrew Cao played at an exceptionally high level winning three games to 1 over Santiago Montes who earlier in the day won the U2400 event. On the bottom side: Jonathan Li, rated 2343 and representing Texas Table Tennis (UT Austin), came out guns blazing and had a huge 3 games straight upset win over Texas Wesleyan's Eduardo Tomoike rated 2518. In the last quarterfinal, former international player now based in Houston, Li Kewei took care of business winning in straight games over Viren Patel, rated 2235 and representing the Texas A&M - Corpus Christi Table Tennis Club.
The semifinals were phenomenal You almost had to see it yourself to believe t. All players rated below 2550, brought their A-game to the State Championship, and on this day it looked like their level were at least 2600+. As with the 2023 USATT New York State Championship one week before, both semifinals ended in five sets. In the top part, Andrew Cao took an early lead against former Iranian Olympian, Shahin Aklaghapasand, and had multiple chances to go up two games having multiple game points in the second set which was won by Shahin, 20-18. Andrew looked one step ahead the entire match, winning the third, 11-7. Aklaghapasand now found himself down 2-1 and really stepped up his level edging the h fourth set, 11-8. Cao mentioned after the event that "Shahin plays much better when he is down." In the 5th set Andrew got up 10-8, but it was Aklaghapasand who won the fifth set, 13-11, and advanced to Texas State Championship Final Stage.
In the bottom part of the draw, Jonathan Li continued his unbelievable run, going up 2-0 against a more experienced Li Kewei, who was once rated as high as 2755. At the start of the third set, it seemed like Kewei's level was rising with every point that was being played, as his chops became heavier and lower. In the end, Li Kewei completed a comeback by winning games three, four and five.
In their respective careers, Austin's Aklaghapasand and Houston's Li met two times before this final encounter in the Texas State Championships. Both of those matches took place in 2021 and both were won by the Chinese chopper. As the game began, Shahin knew that he needed to get off to a good start – and he did, going up two games to zero by the relatively comfortable scores of 11-6 and 11-7. But those games appeared to take considerable energy, and as with the semifinal, Kewei came back winning the third and fourth games (11-9; 11-2). The final game was impressive, Aklaghapasand led 10-7 but Li came back and had match point himself before Shahin won the decisive game five, 14-12, to clinch the 2023 Men's Singles Texas State Champion Title.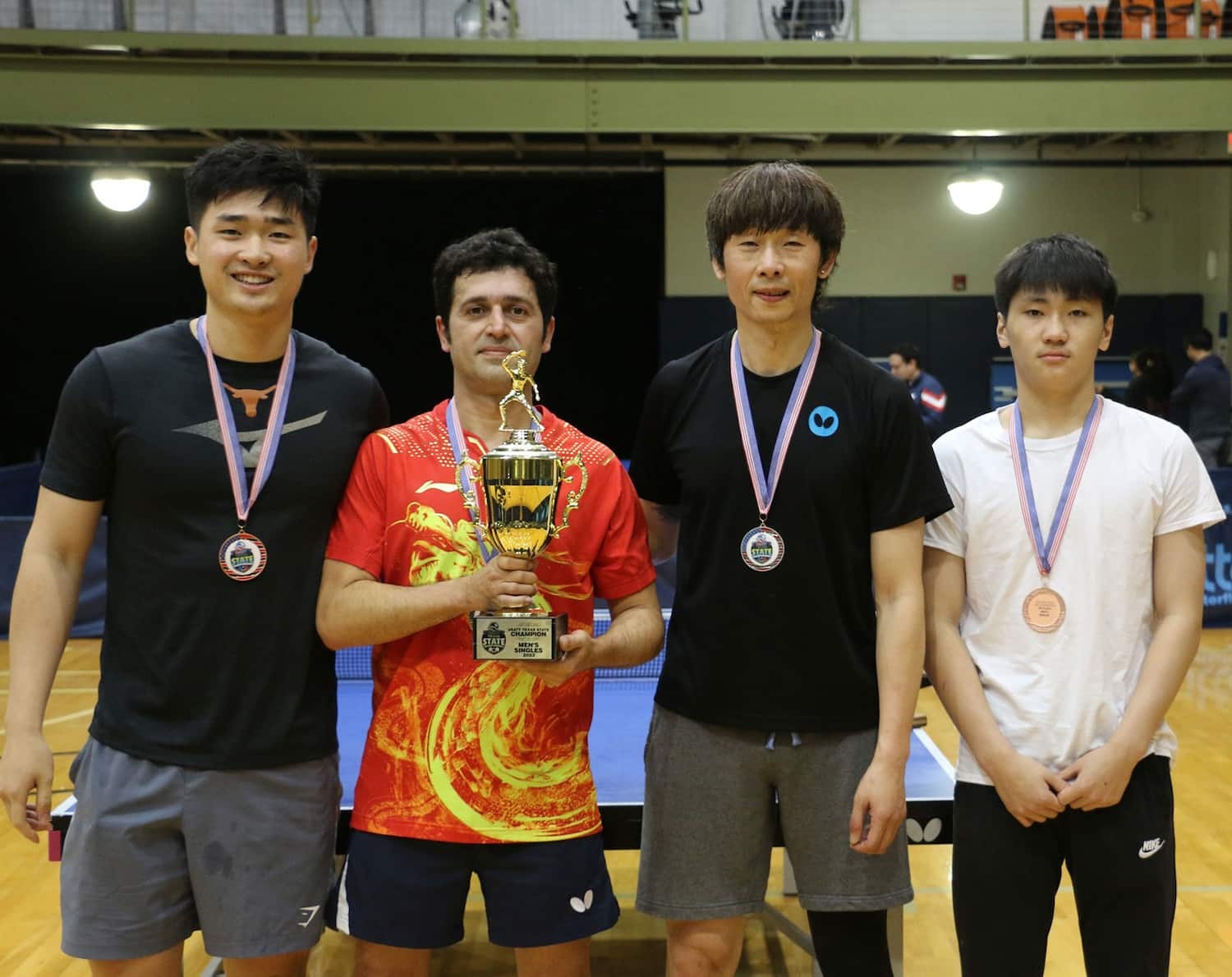 2023 USATT Texas State Championship - Men's Singles at San Antonio TTC. (L-R) 3rd Place Jonathan Li, 1st Place Shahin Akhlagapasand, 2nd Place Kewei Li, and 3rd Place Andrew Cao. Texas. April, 2023.
In the Women's Singles event, 13 participants lined up at the start of the event, including three players rated over 2300. The highlight match of the group stage was between, Hannah Song, former US Junior National Team member, and Shoko Kusuhara, a top-rated Japanese player and coach who recently relocated to Texas. The level of this game was high, even though Shoko won in three straight, these two ladies put on a great match that dozens of people were following from the sideline.
Without any notable upset, Deng Zhen, rated 2475 and representing Texas Wesleyan University won in close, straight games her semifinal encounter against Shoko Kusuhara (9, 7, 13) while Hannah Song put on a good battle winning the first game but then dropping the next three against a more experienced and higher-rated Jiaqi Lin, who is also part of Texas Wesleyan University.
The final was an intriguing encounter between the two teammates, playing each other for the fourth time in a sanctioned USATT event. The match had tremendous rallies, and the score went back and forth. In the end, it was Deng Zhen who clinch the fifth and final set to become 2023 Women's Singles Texas State Champion Title.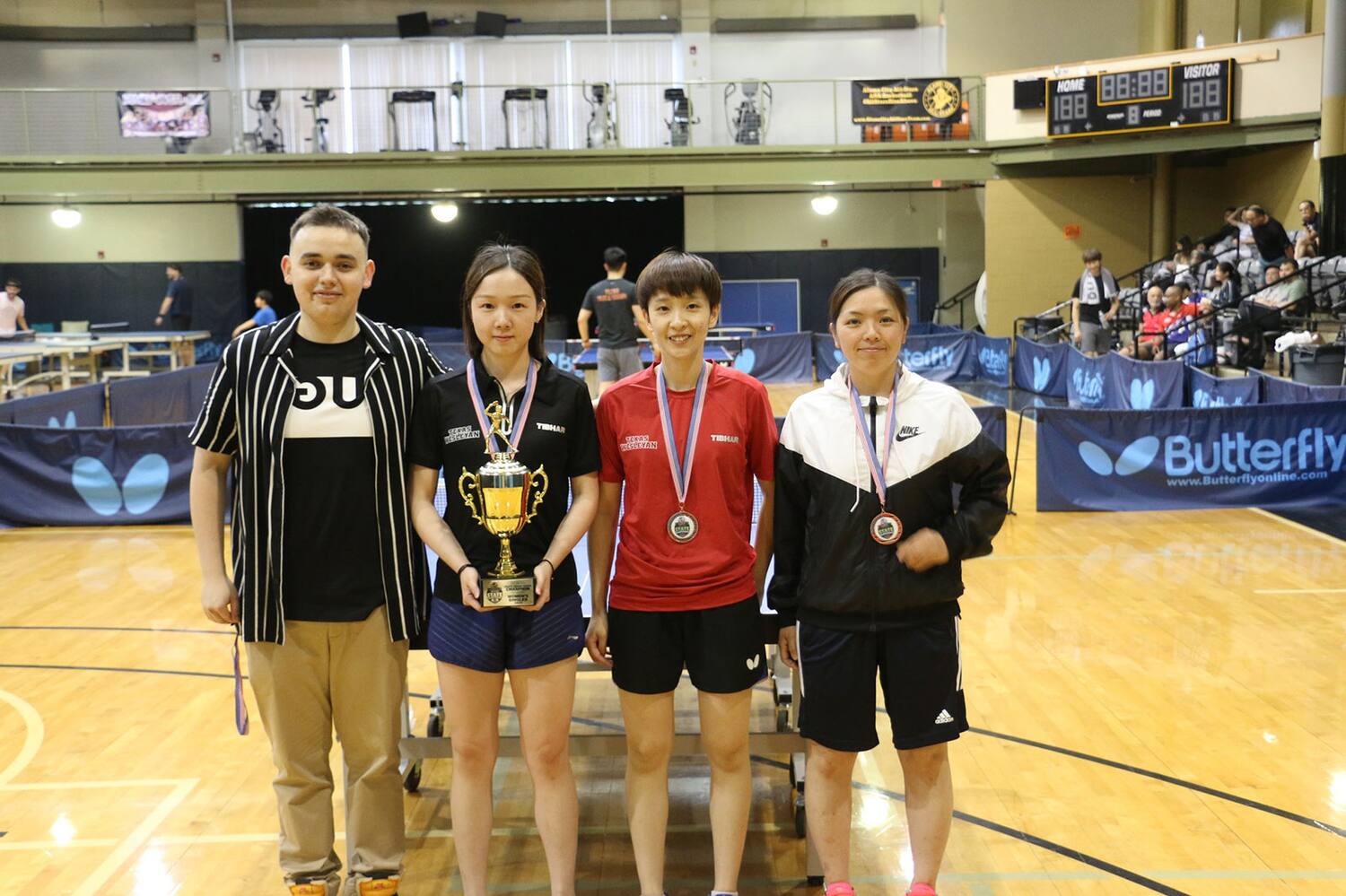 2023 USATT TEXAS STATE CHAMPIONS - WOMEN'S SINGLES at San Antonio TTC. (L-R) Tournament Director Vlad Farcas, 1st Place Deng Zhen, 2nd Place Jiaqi Lin, and 3rd Place Shoko Kusuhara. Texas. April, 2023.
Several other junior players had remarkable performances in the Texas State Championship event, Jayden Cai (11 years old), representing the Houston International Table Tennis Academy - showed great improvements winning three events - the Boy's U15, Boy's U19 and the U2100 rating bracket. Lia Morales (13 years old), representing the San Antonio Table Tennis Club, won the Girls U19 and Doubles U4200. Dhruv Dusad (14 years old) won the U1850 event and placed second in Boy's U19. Ananya Singaraju (12 years old), representing Austin Table Tennis Club won the Girls U15 and placed second in Girls U19. Samuel Altshuler (14 years old), representing MDTTC, and in Texas as part of the US Developmental Para Program won the U1300 bracket.