Kokou Fanny and Amoolya Menon are 2023 USATT New York State Champions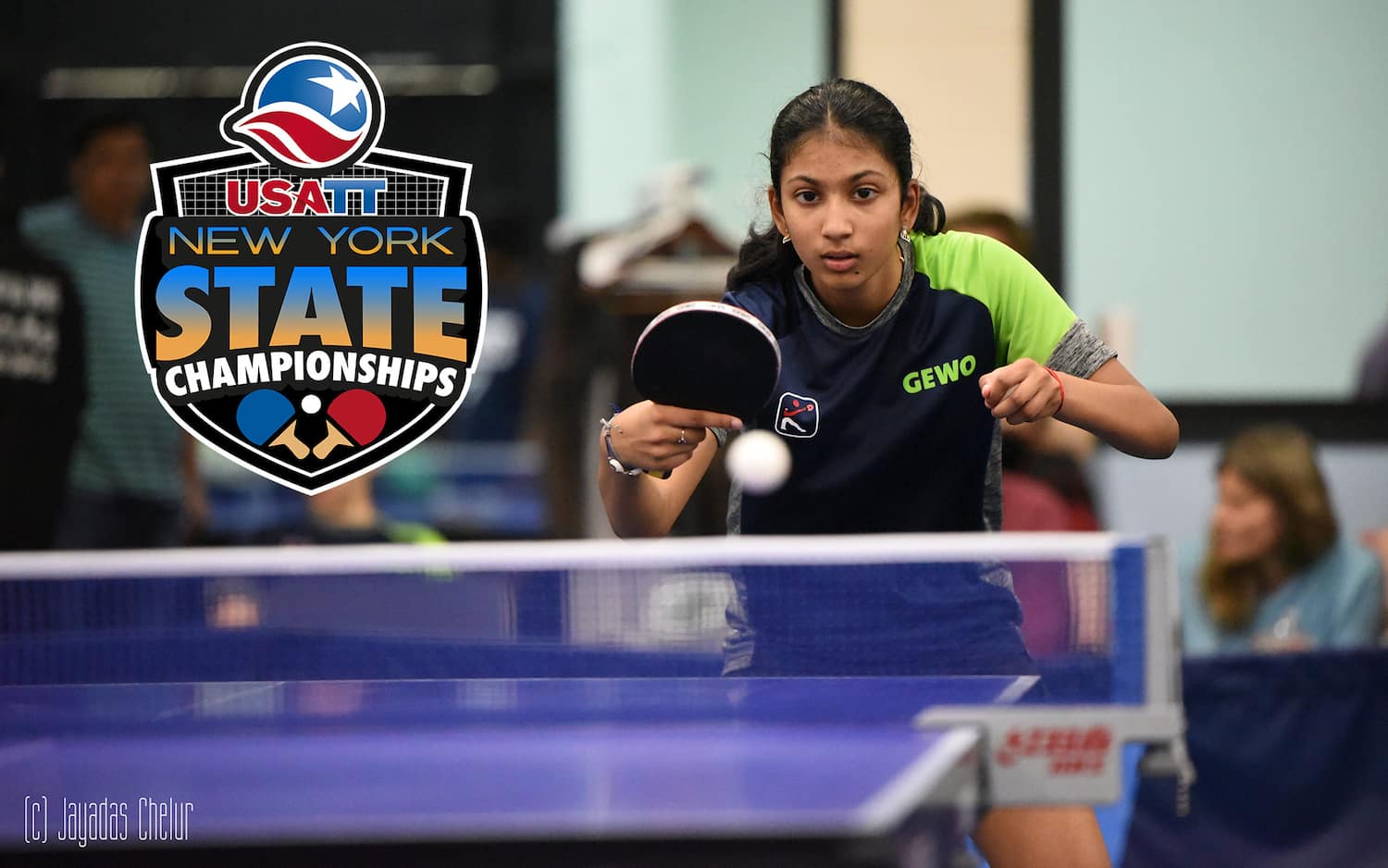 On April 16, 2023, at the world-famous Westchester Table Tennis Center ["WTTC"], fifty-seven players competed for table tennis supremacy in the Empire State. While most events at WTTC feature international stars, this event aimed to bring together the toughest local competition. The event featured two players that everyone who is familiar with East coast table tennis must know: Tahl Leibovitz – Paralympic Gold Medalist for Team USA - and Kokou Fanny – Tokyo Olympian (2021) for Togo.
When it comes to high-level table tennis, Will Shortz (WTTC owner) has seen it, so when he told us that "the quality of play was very high in Men's Singles", we had no reason to doubt his opinion. Number One seed rated right at the 2500 mark to begin the tournament, Tahl Leibovitz, is familiar with the New York State Championship title as he won it multiple times before. Together with Tahl, players seeded two, three, and four: Kaijun Zhou (2484), Hugo Krier (2424) and Kokou Fanny (2405) - all made it to the semifinal stage after comfortably surpassing their opponents in the quarter-final stage.
On the top half of the draw, Tahl Leibovitz met Hugo Krier in a back-and-forth encounter which saw Krier taking a comfortable early lead winning the first two sets (11-5; 11-6). Tahl fought back and leveled the game score by winning game three and four (11-8; 11-7). In the end it was the Luxemburg-born Hugo Krier who won the nail-biting decider (11-9) to book a place in the Finals of the New York State Championship.
On the bottom half, Kokou Fanny took on Kaijun Zhou, for the first time in a sanctioned event in a thrilling 5-set showdown, with Fanny taking first two sets (11-5; 11-9). Kaijun Zhou, originally from China and residing in New York since 2022, battled his way to a fifth set by winning games three and four (11-9; 11-8). In the end it was, the Togolese Olympian who went through to the Finals after winning the decisive game, 11-9 .
In the Finals, Hugo Krier started off strong again winning the first two sets, and now was huge favorite on winning New York State Champion in his first attempt, but Kokou Fanny ruined that plan making a great comeback winning the next three games and taking home the New York crown after falling short last year. Now, Kokou Fanny, adds to his incredible table tennis resume another major title: "2023 Men's Singles USATT New York State Champion".
On the Women's side, 14-year-old Amoolya Menon started the event as number one seed and topped her opposition to become "2023 Women's Singles USATT New York State Champion". After Maria Tran (17 – 2023 USATT Oklahoma State Champion) and Kayla Goodwin (16 – 2023 USATT Florida State Champion) - Amoolya is now the third teen-aged female player to win a State Title.
We would like to thank Westchester Table Tennis Center for putting together this event – and we would like to encourage all table tennis players to participate in the upcoming 2023 Westchester April Open as well as the 2023 USATT Northeast Regional Championships.
More USATT State Championship coming up this month – first in the Alamo City where 2023 USATT Texas State Championship takes place between April 21-23; while the last weekend of April will be the dates for 2023 USATT Wisconsin State Championship and 2023 USATT Michigan State Championship.