888 Team Wins National Club Team Championships in Clean Sweep
by Jim Short & Barbara Wei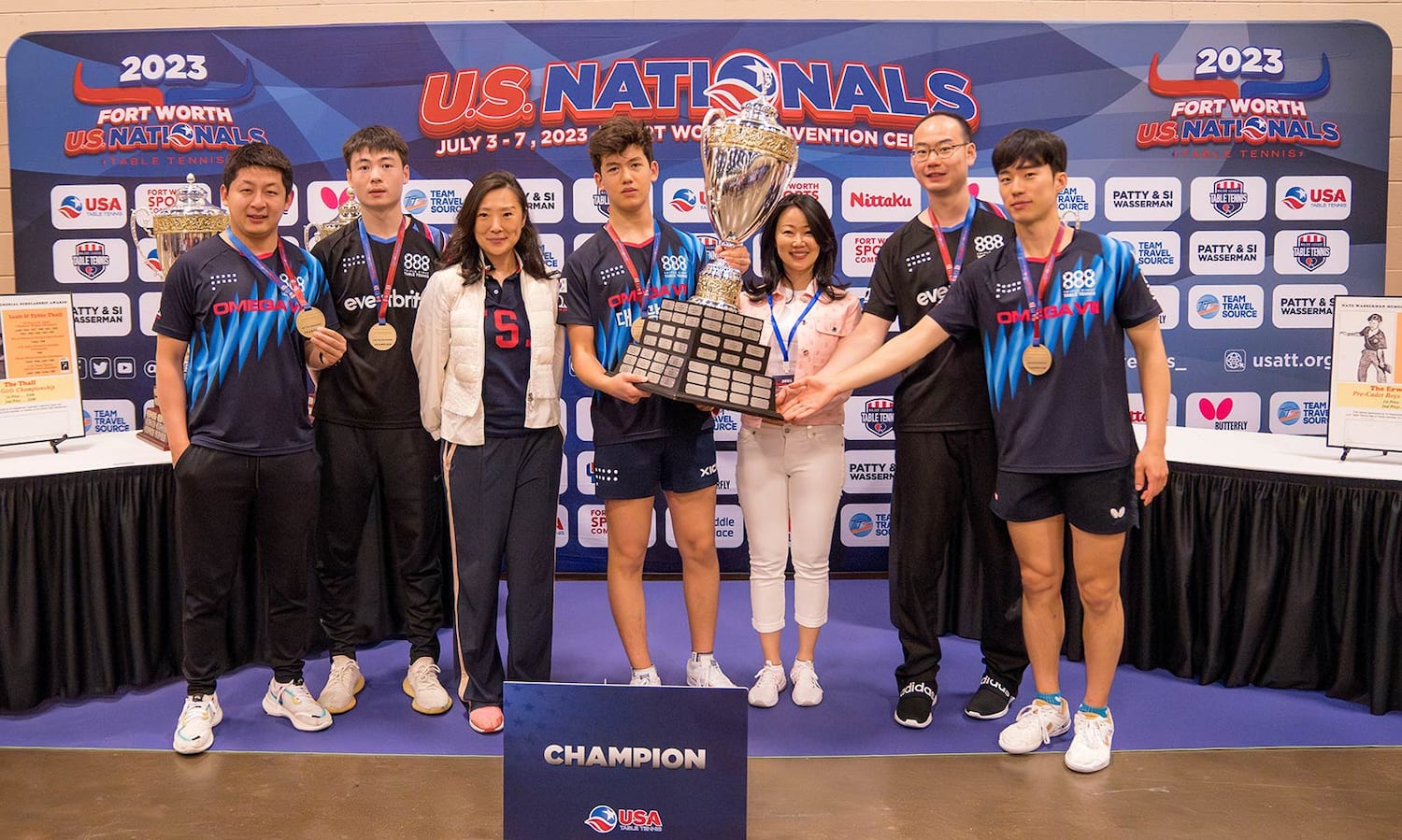 On Tuesday July 4, two incredibly strong teams: 888 Team and Kou Lei TTC, both out of California, met in the championship finals for the first ever National Club Team Championships. 888 Team consisted of Jinxin Wang, JiHyun Park, Jinbao Ma, Wenzhang Tao, and Bosman Botha, while Kou Lei TTC featured Lei Kou, Ye Tan, Koyo Kanamitsu, Revant Kasichainula, and Zhen (Eugene) Wang. The match continued a theme that surfaced throughout the event - it went to the victor three straight, but that doesn't mean we weren't treated to some incredible table tennis.
The doubles match saw Lei Kou/Ye Tan (Kou Lei TTC) take on Jinxin Wang/JiHyun Park (888 Team). Kou served first, and that team took the first game 11-7. Kou's serves and the team's defense made the difference in the opening game of doubles. The second game saw 888 up 8-4, then 9-5, and brought the game home 11-7. In the third game 888 really seemed to be hitting their stride and took it 11-1. In the fourth game, it was a much tighter affair, with ties at 8-8, 10-10, and 11-11, but 888 is eventually victorious 13-11 and they win the first match.
The first singles match had Koyo Kanamitsu play Jinbao Ma. Jinbao Ma recently finished 3rd at the 2022 US Open, having lost to Kou Lei himself in the semifinal. Koyo starts strong, winning streaks of short points and opened up a 6-1 lead. Jinbao then seemed to hit his stride, tying the game 6-6, and eventually winning 11-9. That first game comeback apparently boosted Jinbao's confidence and he took the second 11-5. Koyo battled valiantly but Jinbao takes the final game 11-8. The team match score stands at 2-0 in favor of 888.
The last match of the day was also the tightest. Penholder Ye Tian (Kou Lei TTC) against lefty looper JiHyun Park (888 Team). Tian takes a tight opening game 11-8 that seemed even closer than the scores indicate. Tian is up in the second game 7-1 but Park isn't ready to give up, coming back to 8-9 but the game still goes to Tian 11-9. Tian has a fast long serve that was giving Park fits early but he may have gone to the well too often and Park adapts nicely. Park prevails 11-7. In the next game Park improves his own serve. He also gets a bit of luck. He gets two nets in a row to take a 7-2 lead and wins it 11-3. The match is now tied two games each. In the final game Tian's serve is working well early and with it he takes a 5-2 lead. Park has other ideas, though. In the blink of an eye Park is up 8-5 and wins the match with a final game score of 11-5.
Congratulations 888 Team on winning the inaugural National Club Team Championship, and to all of the competitors for showing great heart and sportsmanship.